Discover the perfect bird feeders for apartment balconies.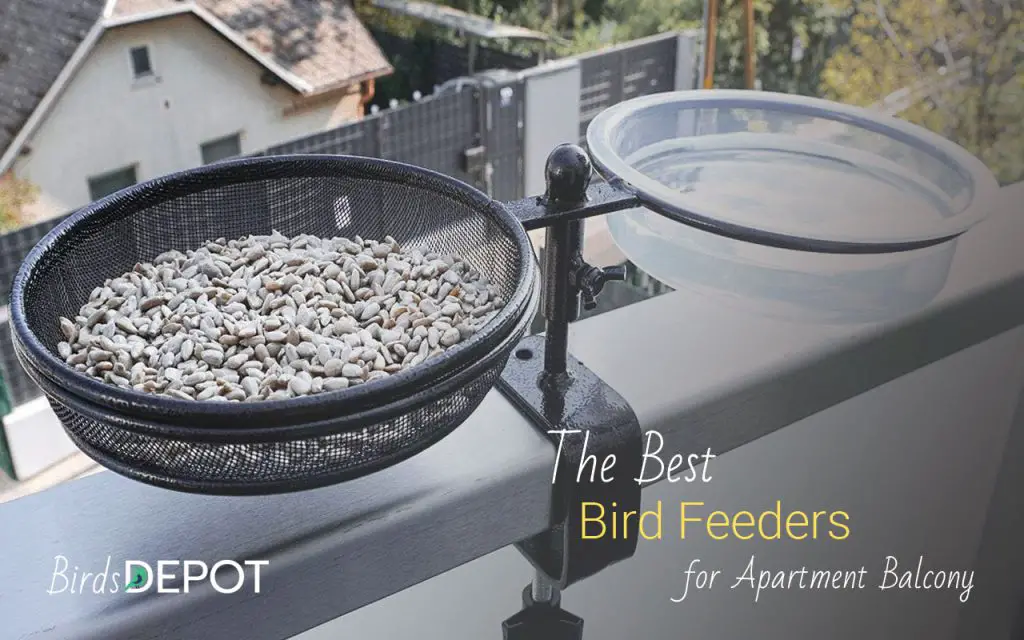 You don't need a big backyard garden to enjoy watching birds. Even if you live in an apartment, you can still feed birds and watch them through a window or railing-mounted bird feeder. Bird feeders for balconies enhance your small balcony and bring nature's wonders to your doorstep. Imagine sipping your coffee while watching colorful birds flit about, their melodic songs filling the air.
Whether you have a tiny balcony garden or a spacious porch, there's a bird feeder suitable for every space. From seed tray feeders to larger feeding stations, these clever gadgets attract a variety of birds, providing them with nourishment and shelter. This article will recommend the best balcony bird feeders for your apartment or condo. Additionally, I will share tips on mounting a bird feeder to your balcony railing and how to attract birds to your feeders on a small deck without any yard space.
Editor's Choice
| | | | | | |
| --- | --- | --- | --- | --- | --- |
| Model | Material | Feeder Type | Mounting | Seed Capacity | Special Features |
| Gray Bunny Hook | Metal | n/a | Clamp | n/a | Hang feeder away from balcony |
| ERYTLLY | Steel | Tray | Clamp | 2-3 lbs | Multi hook and trays |
| Urban Deco | Alloy Steel | Tray | Clamp | 3-4 lbs | Dual use – Bird Feeder and Bird Bath Spa |
| TRIXIE | Wood | Open | Stand | 3-4 lbs | Solid pine construction |
| WOSIBO | Metal | Platform | Ground | 4-5 lbs | Minimalist design |
Finding the Best Bird Feeder for Your Balcony:
There are a few key factors to consider in order to find the best one that suits your needs. From size and design to material and squirrel resistance, each aspect plays a crucial role in attracting birds while ensuring convenience for you. Let's explore some important points to keep in mind when selecting a bird feeder for your balcony.
Size, Design, and Material:
Choose a compact bird feeder that fits on your balcony. Look for one with multiple perches or trays for several birds to eat simultaneously.
Choose a feeder design that matches your balcony's aesthetic. Pick from a range of options, including traditional wooden feeders and modern metal ones. Find a style that suits your taste and balcony decor.
Consider the material when choosing a feeder. Wood looks natural but needs protection from the weather. Plastic is easy to clean but less durable. Metal is long-lasting but can become hot in sunlight.
Easy-to-Clean Models:
Choose bird feeders with removable trays or perches for easy cleaning to prevent harmful mold and bacteria buildup. Look for models with easy access to all parts for thorough cleaning.
Squirrel-Resistant Features:
If squirrels frequently visit your location or if you want to prevent them from accessing the bird feeder, consider choosing one with squirrel-resistant features. These feeders often include mechanisms such as weighted perches or cages preventing squirrels from reaching the food while allowing birds to access it freely.
Check out the detailed guide to Keep Chipmunks Away from Bird Feeders.
Top Picks for Bird Feeders for Balconies and Apartment Railings: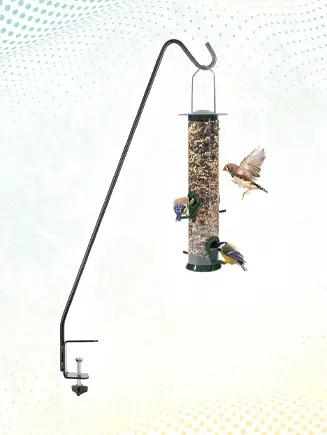 Gray Bunny Heavy Duty Deck Hook
Best Hook for Bird Feeders, Planters, Suet Baskets, Lanterns, and Wind Chimes
This balcony deck hook is built to withstand harsh weather, ensuring it remains durable over time.
Pros
Up to 49 inch long pole
Maximum hanging weight is 10 lbs
1-Year Warranty
Cons
Need to buy feeder separately
Some users complain about paint job
Suppose you want to add bird feeders, planters, suet baskets, lanterns, wind chimes, or other decorations to your balcony or deck. In that case, the Heavy Duty Deck Hook with a 3-inch clamp is a multi-functional essential accessory. Its durable construction and versatile design make it a convenient solution for hanging bird feeders on apartment balconies.
One of the key advantages of this heavy-duty deck hook is its adjustable clamp bracket that securely attaches to deck railings of varying sizes. The adjustable clamp can easily tighten or loosen the bracket as needed to accommodate different railing widths, guaranteeing a snug fit, whether you have a narrow balcony or wider deck railing, without worrying about compatibility issues.
Its robust construction guarantees that it can easily support the weight of heavy bird feeders without any risk of bending or breaking. The sturdy construction ensures that it can support the weight of these items without any risk of bending or breaking. This sleek black deck hook is practical and stylish, blending seamlessly with any outdoor decor.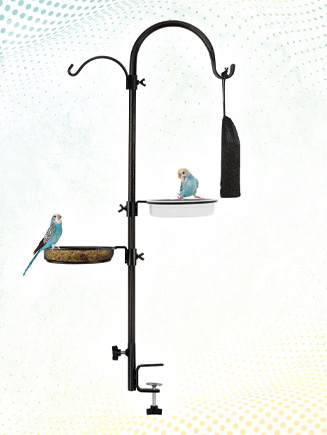 ERYTLLY Bird Feeding Station Kit
Multi-hook bird feeder and water station
The feeder is incredibly convenient and comes with two large top-level hooks and two additional adjustable hooks that can be positioned anywhere on the pole.
Pros
Multiple functionality
Included trays and finch sock
Rust-resistant, sturdy steel pole
Cons
Not suitable for heavy squirrel-proof feeders
I recently had the opportunity to try out the ERYTLLY Deck Hook Bird Feeder, which has proven to be a perfect choice for balconies. As a bird enthusiast, I was impressed by this feeder's stylish and attractive design. Especially its multi-hook bird feeder and water station are functional to set up multiple feeding options.
The ERYTLLY Deck Hook Bird Feeder is made of premium quality, rust-resistant steel, ensuring its durability and longevity. The sturdy steel pole stands tall at 32.3 inches and is 17 inches wide, providing ample space for birds to perch and enjoy their meal. The components of the feeder are easily adjustable, thanks to the wing nuts that can be loosened and tightened by hand without the need for any tools. The forked base prong adds stability and makes placement effortless, whether near a window or on a fence.
The included wire mesh tray is perfect for offering a variety of bird food, such as mealworms, nuggets, and seeds. Additionally, you can hang another bird feeder offering food like suet cake. The included plastic water bowl also serves as an ideal birdbath, allowing birds to quench their thirst and stay clean. The rustic and vintage look of the bird feeder station enhances the overall aesthetics of your garden, providing a charming touch to your outdoor space.
The ERYTLLY Deck Hook Bird Feeder has two large top-level hooks for bigger feeders and two adjustable hooks for smaller ones. It's easy to install and comes with a secure deck clamp for sturdy attachment to railings. Compared to its competitors, the ERYTLLY Deck Hook Bird Feeder stands out with its superior build quality, versatile design, and the added value of a bird food finch sock. The inclusion of this finch sock feeder provides you with the opportunity to offer various food options for wild birds, and it can be easily replaced and washed for convenience.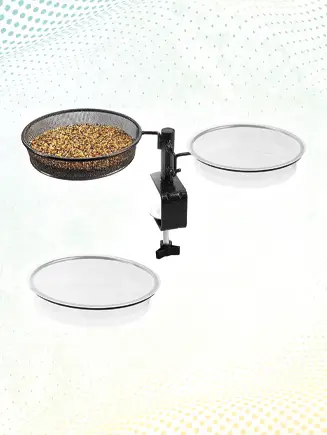 Urban Deco Deck Bird Feeders
2 in 1 – Bird Feeder and Bird Bath Spa
The feeder attracts birds by providing fresh water and food sources alongside a welcoming space for them to rest and rejuvenate.
Pros
Dual purpose
Rotating metal bowl and plastic water tray
Convert to flower pot holder
A fellow bird watcher recommended Urban Deco Deck Bird Feeder. This bird feeder's rotating feature lets you adjust the metal bowl and plastic water tray to fit your viewing preferences and the birds' needs. It adds convenience and flexibility to observing and providing fresh water for the birds.
The attractive and durable metal feeders and the plastic bird bath offer ease of installation. Place the transparent bath and grid tray on your deck porch railing and tighten the deck screw for a secure and effortless installation process. This hassle-free setup lets you quickly enjoy the delightful sights of beautifully colored wild birds visiting your deck.
In addition to its primary function as a bird feeder, you can effortlessly transform the deck bird feeder into a flower pot holder. This multi-purpose feature enhances the natural ambiance of your outdoor space and provides a perfect blend of birds and flowers, creating a captivating environment.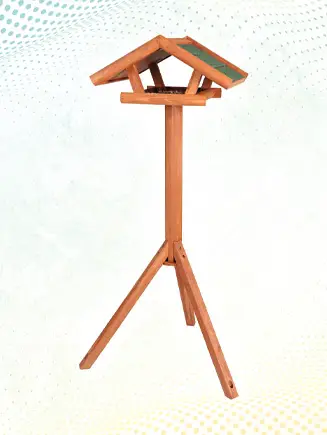 TRIXIE Wooden Bird Feeder with Stand
Classic design adds charm and functionality
The sturdy wooden construction ensures durability and longevity, while the carefully designed stand provides stability and convenience.
Pros
Traditional design attracts more birds
Open design for bird watching
Easy to assemble and install
TRIXIE Traditional Wooden Bird Feeder with Stand showcases excellent craftsmanship and attention to detail. The sturdy wooden construction ensures durability and longevity, while the carefully designed stand provides stability and convenience. It stands out for its classic design and functionality. While some feeders may prioritize modern aesthetics, this feeder maintains a timeless appeal that seamlessly blends with any outdoor setting.
The raised platform gives birds an unobstructed view of their surroundings while eating. Unfortunately, it does not offer protection against squirrels or larger birds. If you live in an area with a high squirrel population or aggressive birds, you might need to use additional measures to discourage them from accessing the feeder.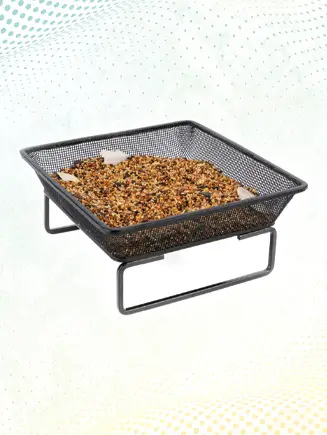 WOSIBO Ground Bird Feeder Tray
Easiest option
The platform ground bird feeder tray with two trays is a great solution for feeding ground-dwelling birds and offers an excellent view for watching birds.
Pros
Suitable for any place
Large tray
Cons
No secure anchoring option
I also use the WOSIBO Platform Ground Bird Feeder Tray with two trays, allowing me to place them in two corners of my patio, which creates a larger feeding space. This metal mesh seed tray is a practical solution for feeding ground-dwelling birds and offers an excellent view for watching birds.
The bird feeder trays are large enough to hold plenty of seeds, which attracts many ground-feeding birds and sometimes squirrels. It's not just doves that come to eat, but also other lovely birds like cardinals, sparrows, and finches. It's been enjoyable to see these colorful birds gathering on my patio.
There are a few minor things to consider regarding the product. It would have been helpful if there was a secure anchoring option to prevent squirrels from easily toppling the tray. Additionally, a removable cover or dome could have been included to protect the seeds from rain or excessive sunlight.
Mounting Options for Balcony Bird Feeders: Hooks or Clamps
Choosing the right mounting option is crucial. You want a method that is secure, practical, and easy to install.
Use hooks to hang feeders from balcony railings
Using hooks is a straightforward option if you want to put up a bird feeder on your balcony. You can easily attach them to the railing, and they provide a stable base for your feeder. Different deck hooks sizes and styles are specifically designed for this purpose.
To hang a feeder with a hook:
Select a deck hook suitable for your railing size.
Position the hook at an appropriate height on the railing.
Ensure that the hook is securely fastened.
Hang your bird feeder from the hook.
Hooks offer flexibility as you can adjust their position based on your preference or to attract different bird species. They also make it convenient to remove or relocate the feeder when needed.
Consider clamps that attach securely to the balcony's edge
If you don't want to use hooks or if your balcony doesn't have proper railings, clamps can be a great option for installing bird feeders. These adjustable tools can be attached to the edge of your balcony, providing stability without the need for permanent fixtures.
To mount a feeder with an adjustable clamp:
Choose an adjustable clamp mechanism suitable for your balcony's edge thickness.
Position the clamp securely onto the edge of your balcony.
Ensure that it is tightly fastened.
Attach your bird feeder to the clamp.
Clamps are particularly useful if you have glass panels or unconventional-shaped balconies where traditional mounting methods may not work well.
Tips for Feeding Birds on an Apartment Balcony:
Choose appropriate bird feed for urban environments
Urban areas often have limited green spaces meaning fewer resources for the birds. So providing the proper nutrition is crucial for attracting different bird species with the right bird feed. Choose bird feed mixes suitable for city birds with seeds, grains, and nuts like sunflower seeds, millet, cracked corn, and peanuts.
Provide fresh water alongside bird feeders
In addition to offering food, it's equally important to provide fresh water for the birds visiting your balcony. Water sources can be scarce in urban environments, especially during hot summer months or dry spells. Placing a shallow birdbath filled with clean water near your bird feeders creates a welcoming environment for thirsty feathered friends. Changing the water frequently is important to avoid stagnant water and the growth of harmful bacteria. Birds need clean water for drinking, bathing, and cleaning their feathers.
Place feeders away from windows to prevent collisions
Birds can mistake reflections in windows as open spaces or potential mates, leading to fatal collisions. To avoid such accidents, it's essential to place your bird feeders away from windows or take measures to make them more visible.
Use window decals or stickers to deter birds from flying into glass surfaces. These visual cues help birds recognize that there is an obstacle present rather than a clear passage through which they can fly.
Clean and refill feeders regularly to maintain hygiene
Maintaining proper hygiene is crucial when feeding birds on your apartment balcony. Regularly cleaning and refilling your bird feeders ensures the health of the visiting birds and prevents the spread of diseases. Clean feeders with warm soapy water at least once a week to remove any accumulated dirt, droppings, or mold, then rinse them thoroughly before refilling them with fresh bird feed.
Following these tips, you can create a welcoming environment for birds on your apartment balcony while ensuring their safety and well-being. Attracting a diverse range of bird species adds beauty and joy to your urban living experience.
Conclusion
To make an informed decision about purchasing a balcony rail feeder or any other type of bird feeder, it's crucial to consider factors such as durability, ease of installation, capacity, and overall design.
Following the above tips and choosing one of the convenient options for a balcony bird feeder, you can easily provide a bird-feeding spot on your apartment balcony. It is important to find the best bird feeder that suits your balcony space and attracts a variety of bird species.
So why wait? Start attracting beautiful birds to your balcony today by setting up a convenient and enticing feeding spot with the perfect bird feeder mounted securely on your railing.
FAQs regarding bird feeders for apartment balconies
Will squirrels be able to access my balcony rail feeder?
If you want to keep squirrels away from your bird feed, consider using squirrel-proof bird feeders and hanging them using one of the above hook options. These feeders have features such as weight-activated perches or squirrel baffles that are specially designed to prevent squirrels from accessing the bird food.
How often should I clean my balcony bird feeder?
To ensure a healthy feeding environment for birds, it's important to clean your balcony bird feeder on a regular basis. Ideally, you should clean it every 1-2 weeks, or more often if you see any accumulation of mold, mildew, or debris.
Can I use suction cups to mount a bird feeder on my balcony railing?
Yes, suction cups can be a mounting option for smaller and lighter bird feeders. However, it might not be a good idea as the surface of your balcony railing needs to be smoother, which is often not the case. This feeder works well on windows with glass surfaces offering better adhesion for suction cups.
What types of birds can I attract with a balcony rail feeder?
Depending on where you live, balcony rail feeders can bring in a diverse range of birds. You could expect to see sparrows, finches, chickadees, cardinals, and even hummingbirds if you offer both seeds and nectar.
Are there any specific regulations regarding bird feeders on balconies in apartment buildings?
To ensure compliance with safety and cleanliness regulations, it is advisable to consult with your building management or homeowner's association before installing bird feeders on your balcony. They may have specific guidelines that you need to follow.