Do you love to watch birds but live in an apartment? Then you get less opportunity to feed birds and watch them from too close to your naked eye. But, The good thing is enjoying their natural beauty is still possible from a high rise or an apartment by providing a bird feeder with proper food. 
But just having a feeder isn't enough if you like to invite birds to your balcony. Along with a feeder, a best quality deck hook is mandatory for providing a strong base for your feeder. Otherwise, Your favorite feeder will fall onto the ground.
Therefore in this following article, we reviewed 5 best bird feeders for apartment balconies as well as hanging hooks to provide you the best experience on bird watching through your apartment.
Editor's Choice
Before You Put Feeders on Your Balcony
If you live in an apartment, you know there are many rules or regulations applicable. So, Before purchasing a feeder, you need to ensure no guidelines or regulations forbid feeders from the apartment.  
You might ask why there are so many restrictions on bird feeders? Because Bird feeders not only attract birds, they also attract lots of unwanted animals like raccoons and bears.
But, If you can convince the property owner or administrator that your selecting feeder won't create much mess, they will allow you to place the feeder on your apartment balcony.
Also, As you live with other people in the same building, you need to notice that your feeder doesn't impact or create any problem in their space. 
Birds That Visit a Balcony Feeder
You will enjoy the beauty of different species of wild birds from your apartment after providing a feeder. Generally, finches, sparrows, orioles, doves, and rangers are common species visiting apartment feeders. But, It entirely depends on what type of feeder and food you implement.
Also, Hummingbirds will be your regular guests if you provide sweet treats and the parrot colonies are present in your residential area.
5 best bird feeders for apartment balconies
In the following article, we only review bird feeders, which are ideal for using your apartment balcony railings. But, If you want to attach a feeder with your apartment windows or condos, then check out this article from here.
Perky-Pet 1 312 Panorama Bird Feeder
The cylindrical ornament feeder requires no setup. Just remove the tag and protective foam surrounding the feeder and hang it on your balcony.
The design of this plastic-made feeder is sharp but straightforward, attractive, and classy. Surely, After placing it in your apartment, It increases the beauty of its rustic brown finish. The powder coating finish makes this rustproof.
The shatter-resistant plastic seed container is hard and ensures better clarity like glass ( but not foggy). 
This durable and sturdy feeder has 2 pounds of seeds capacity. So, You can offer a variety of seed mixes to attract your favorite birds. Thanks to its convenient circular perch and seed tray, which allow multiple birds to feed at once. Also, The large opening allows filling and cleaning the feeder super easy.
Though It comes with a sure-lock cap security system to deter squirrels, it won't be capable of keeping off squirrels permanently.
Overall, Comparing its performance and price, it is our favorite pick for apartment railing. In addition, This perky-pet panorama bird feeder is the no.1 best-selling product on amazon.
Pros
Lightweight but durable design
Easy to set up
Better protection in all weather
No much mess because the seed stays in the bottom tray
Attract lots of birds
Budget-friendly
Squirrel Buster Standard Squirrel-proof Bird Feeder
The squirrel buster feeder features an automatic shroud control system that detects the squirrel's weight and activates the spring-loaded mechanism. Then, It automatically shuts down the seed port. For getting the best outcome, You need to keep a clearance of 18 inches all around the feeder. Otherwise, Anyhow they find support and manage to access the food.
This feeder can easily attract different bird species, but the good thing is you can control the kind of birds you want to watch and attract. 
The seed container has 1.3 pounds of seed capacity which is enough for an apartment. So, you don't need to be refilled frequently.
It has a seed ventilation system that keeps the seed fresh for a more extended period—the feeder tube design keeps the solar energy for maintaining dry seeds. 
This product has four metallic perches, including four ports. You don't need any complex tools to assemble the feeder. Human hands are enough to install this. The green feeder won't fade up easily due to its ultraviolet-resistance feature.
Overall, The superior features of the squirrel buster bird feeder make it the favorite one for the apartment balcony. Also, Considering everything gives you value for your money.
Pros
Capable of attracting different bird species
Durable and lightweight
Chew-proof material
Adjustable weight mechanism
Easy to use and refill
Keeps seed dry and fresh
Value for money
Cons
Birds like Blue jays and cardinals find trouble adjusting with the perches
Sunflower seeds stuck for small dispenser's opening
Twinkle Star Wild Bird Feeder
This twinkle star wild bird feeder comes ready to use. Just unbox and hang it. The transparent plastic container can hold up to 2.15 pounds of seeds. Due to the clear plastic container, You can inquire how many seeds are left and whether the feeder needs refilling. The feeder comes with a 360-degree hexagon shape feeding tray. 
Thanks to its inclined roof, which increases the beauty of the feeder and keeps squirrels out from the food access. But somehow, after a few days, they can manage access to the food. In addition, The roof protects seeds from sun and rain unless the wind is blowing hard. 
The squirrel-proof feeder features a twist-lock cover that allows you to clean and refill it quickly and speedily. But, some previous users mention that after filling or cleaning the feeder, it's a little bit difficult to close the top and lock.
Overall, The twinkle wild bird feeder is an adorable option at a respectable price. Also, This can please your favorite birds.
Pros
Beautiful and elegant design
Squirrel-proof
A twist-lock cover keep the seeds fresh
Easy to use, clean and refill
Capable of a large number of seeds
Inexpensive
Cons
Roof and base made with thick cardboard
A bit difficult to pulling the lid off and putting it back
BOLITE 18005 Hummingbird Feeders
Do you have an extra attraction to hummingbirds and want to attract these migratory guests to your apartment railing? 
The classic style glass feeder from BOLITE ensures that you will enjoy the sight of excited birds feeding on your apartment balcony. As well, This is an excellent option for those who love to decorate their apartment as much as loving birds.
You will get a sturdier container for serving nectar. The container is made of red color glass which easily grabs their attention and won't break easily. The base is made of copper that won't fade over time. The weather-resistant feature also adds extra value.
The Bolite is a large capacity feeder that holds up to 22 ounces of nectar fluid. So, It lasts a few days, and you won't need to refill it frequently. Also, It has 5 brightly colored heart-shaped feeding ports and perches. So, That allows multiple birds to enjoy the food while resting on the perch at the same time.
However, The larger capacity also turns into a drawback, If fewer birds visit your area. Because, Nectar tends to spoil quickly, especially on hot summer days. For solving the issue, Just provide nectar as much as they want and don't refill the feeder fully. Now the cleaning and refilling part, The wide mouth opening makes this job easy for you.
Pros
Easy to setup
Durable and attractive design
Due to the large opening, cleaning and refilling are super easy
bright red color easily grab their attention
Five birds can take meals at a time
Perfect size
Cons
Nectar easily spoil for a larger container ( If less bird on your feeder)
The red flowers on the ports make hummingbirds confused because they don't stand out with the coppery colored base
Deck Bird Feeders Deck Mount Bird Bath
If you want to watch birds drink and bath right on your balcony and take food, this deck bird feeder is perfect for you. Not only that, but birds also like a water source that is easily accessible when they take their food.
This feeder comes with a thick steel-made seed tray and a plastic water bowl. The adjustable clamp is easily attached to most railings but not more than 2 inches thick. Pretty straightforward of how to install this feeder to the balcony railing. In addition, The clamp is durable and made with heavy-duty steel. The bronze powder-coated makes it rust-resistant.
If you need to clean this feeder, just turn the tray face down and clean it with a rinse or dry cloth with water. In addition, Refiling is super easy, like cleaning.
Top 2 bird feeder hook for apartment balcony
Gray Bunny Heavy Duty Extended Reach Deck Hook
It is so easy to attach to the balcony railing. You can install the bracket easily without putting a screw into the apartment railing.
This hook comes with a versatile design. So, you can move the extension to replenish the seed and pull it off in the evening.
Green Esteem Stokes Select Bird Feeder Pole
The hook extends a full-36 inch that is a generous distance from your balcony railing. For the extending hook, a bird can easily find your feeder from trees or when flying up to it. 
You can swing the feeder over to the balcony railing to refill birds' favorite seeds without creating any pressure on the arm. Also, The rotation feature helps to adjust the viewing angle from your bird feeder.
The Green Esteem claimed that it easily helps to deter squirrels, but somehow they figure out the solution. As it comes with a longer extended hook, it isn't fully stable.
How do I attract birds to my apartment balcony?
Birds don't expect to find food sources at high positions. If you live in a high-rise apartment, there is a chance that birds won't see your feeder easily. So, you need to attract them through other manners.
Balcony Garden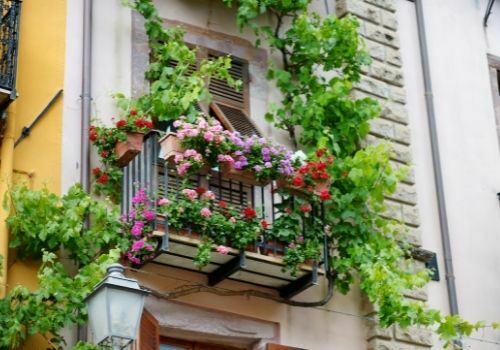 A colorful garden is a natural way to grab their attention to an apartment balcony. So, A proper selection of plants provides birds a visual cue that they might find a food source.
So, now we need to implement plants that birds like. It sounds obvious, but which plants are perfect for attracting them to balconies?
The first step is to select flowers and plants that have beautiful colors and scents that easily attract birds. Also, It depends on which type of bird species you want to attract to your bird feeder. For example, Flower plants like superballs, cigar plants, and fuchsia attract hummingbirds. 
In apartment balconies, space is the primary consideration. So, Select plants that can easily grow in limited space. The hanging and potted plants are an ideal option for an apartment.
Also, You can consult with a trusted botany supplier to find out which plants and flowers are best suited to the climate condition in your local area.
Add Water Source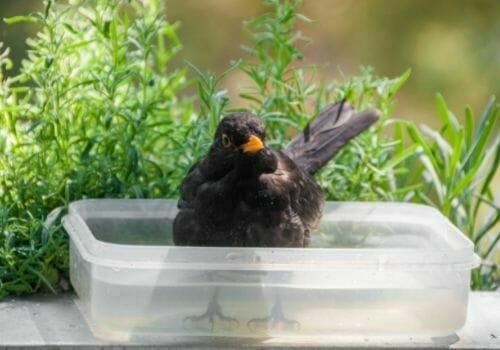 Do you want to make your balcony luxury accommodations for birds? Then, Just provide water along with food. If birds find easy access to water, they prefer your balcony over others, even if neighbors offer delicious food to attract them.
Just providing a shallow dish of clean water is enough. But, If you are able to implement a dripping source of water, surprisingly, it makes your balcony popular among local and wild birds! 
Use Mixed Bird Seeds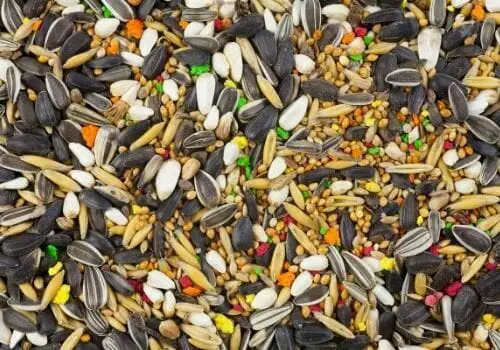 Sticking with one type of food isn't a great idea in terms of attracting birds. Always add a variety of seed mixes to increase the opportunity of attracting various bird species. 
Deter large birds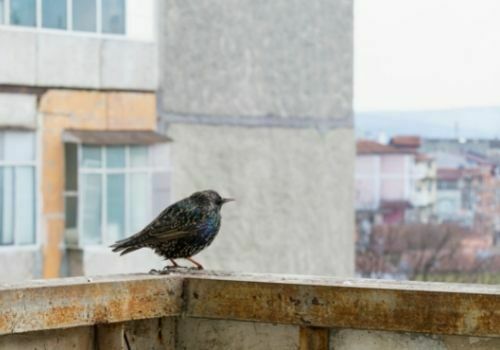 Small birds always avoid larger birds. So, When They watch larger birds taking food from your balcony, then that discourages small birds. In addition, The urban balcony isn't large enough to allow big birds and small birds to feed at once. So, The good practice is trying to attract small birds and deter large birds as they dominate the area.
You need to select the correct type of bird feeder that comes with smaller perches to deter them. Also, Select the right kinds of seeds. Generally, Bully birds won't like Nyjer and sunflower seeds but are favorite among small birds. 
If you want to find out more solutions, then check out this article.
Play Bird Recording
This is a great way to attract some birds to the balcony. Once you place a feeder, Try playing recordings of bird calls and songs at normal volume. So, The nearby birds will be curious to explore the palace. You may keep playing recording until birds figure out that your terrace has a good food and water source.
Note: Don't overuse this trick. It's recommended to play these recordings a limited number of times a week. That can harm certain bird species and cause communication problems for birds.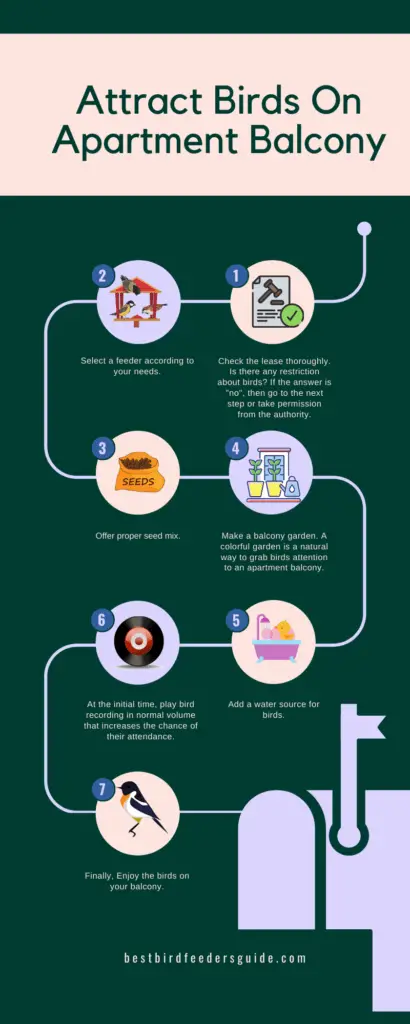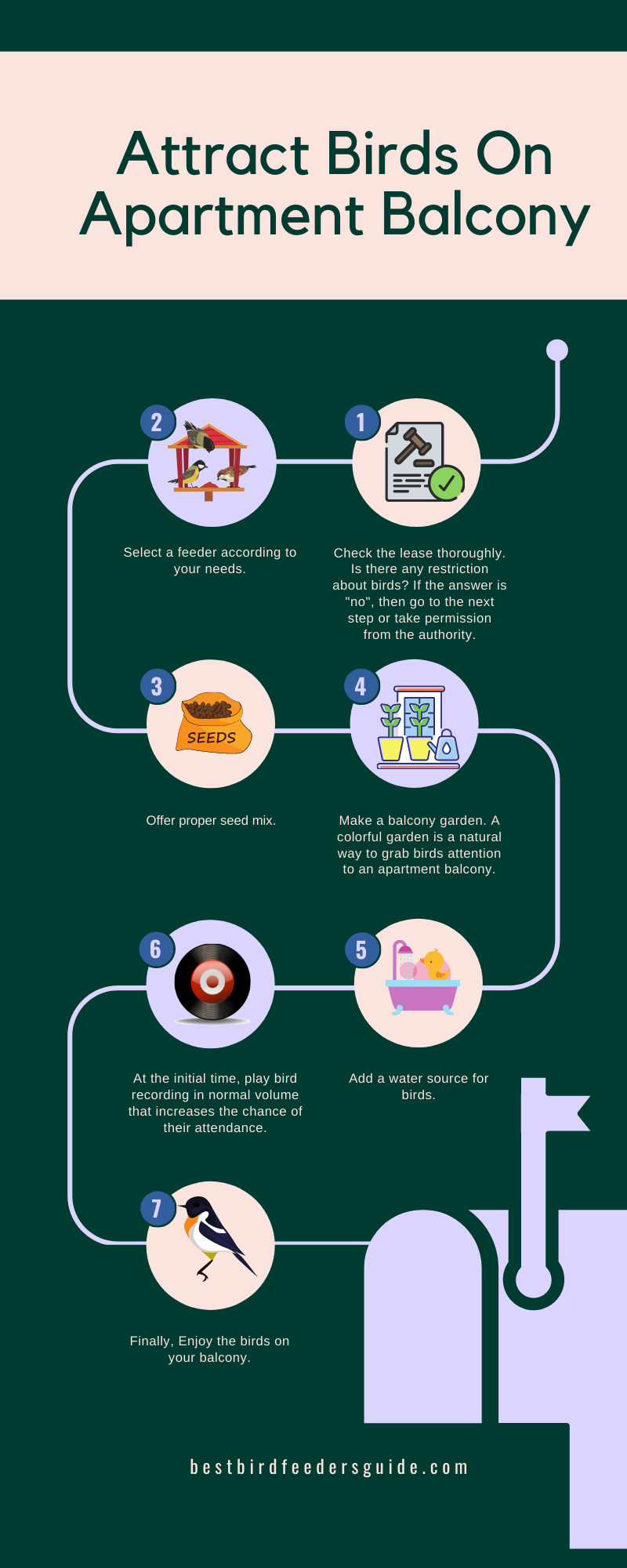 Keeping The Balcony Clean
As you provide food to wild birds, It surely creates a mess. Try to clean your balcony twice a month. But following a few tips, you can limit the mess.
Offer birds a no-mess seed mix that helps to minimize wastage.
Use carpet or vinyl to grab the dropping seeds. These are easy to clean.
Don't clean the feeder at balconies that create more mess because of limited space. 
Remove dust and any hard debris using a brush before disposing of the feeder.
Use the disinfectant solution to clean the bird feeders that kill harmful germs and bacteria.
How to Make a Bird-Friendly Balcony Garden?
Before Starting a balcony garden: As you live in an apartment, You will find lots of rules and regulations are applicable. So get information, is there any kind of restriction about maintaining a balcony garden? Many building management doesn't allow it. Also, Ensure that your balcony is capable of handling the extra weight.
Step 1: Planning
Before you start, You should think about the necessary materials and tools. For example, Materials for the planting process like soil, a seedling pot (with a drainage hole), and plants (you can choose from annuals or perennials) with appropriate spacing between each plant.
Tools include a spade or trowel for digging holes in the ground surface when needed; scissors for pruning dead leaves of plants; hand sprayer for watering the plants regularly if living in a dry area under hot sun conditions. Making a bird-friendly balcony garden is not complicated as long as you have sufficient time on your hands and patience enough to do all these tips properly.
Step 2: Choose the right plants
Planting a wide diversity of plants can increase the chance of attracting different species of birds. It is important to choose flowers and plants whose colors and scents easily grab bird attention. 
The easiest way to select plants is to look out at your nearby natural areas. This provides you with enough information about what plants easily grow in your local area and what birds are like them. 
It will be better if you find plants that produce seeds. Good examples are sunflowers or rose hips. Also, You can plant Berry bushes that turn into winter food sources for wild birds. 
So, Along with attracting them, you can also feed them from these natural sources when they visit your balcony. Climbing plants like ivy is also a better option for balcony gardens.
Also, For an easy solution, you can consult with a trusted botany supplier to find out the perfect plant according to your local environment. That will increase your chance of developing a balcony garden.
Step 3: Use container
I hope you have already decided on the group of plants that you want to plant on your balcony. So, The next step is choosing containers or tubs of different sizes and shapes to plant them. This increases the beauty of your balcony and mainly helps plants to retain humidity. 
But remember attracting birds to high-rise buildings is quite tricky. Along with a garden, you can provide a water source, place artificial nests, anti-collision stickers, and overall proper food to increase the chance to see them on your balcony.
Final Words
Finding the best bird feeder for the balcony railing is a bit tricky because you need to consider several things to select the perfect one. After finishing the article, You will know about a few top-rated railing feeders. So, Select once according to your preference.
Before purchasing one, always focus on bird comforts that provide you with a better outcome.