You like to feed birds in your yard or garden. But, strong wind creates obstacles to feeding them in your yard as it easily blows the bird feeder, which is why you are here. If you live in bay areas or cities like Chicago, the problem is common for you. 
For this, the article will introduce the 3 best bird feeders for windy areas which won't blow out easily. Plus, I provide you with quick tips which make any feeder more windproof than ever.
3 Best bird feeders for windy areas
More Birds 38113 B001M7P3N4 Stokes Select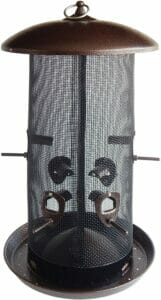 More Birds 38113 Stokes Select Bird Feeder will be an ideal choice for your yard due to its heavyweight. It can hold up to 11 pounds of birdseed which won't blow easily, even in a strong wind. Plus, its large capacity makes it an ideal choice if you live in a heavy bird traffic area.
The feeder is formed with durable metal, which is positive for windy areas. Perching birds can take their food using the six ports. Plus, the clinging bird can take food from landing onto the metal mesh. So, Its unique tube design makes the feeder ideal for both perching and clinging birds.
The feeder comes with dual seed compartments, which distribute the seeds wisely in all ports. So, birds will gather around the feeder rather than one side. In addition, the diverter and drainage holes help to keep the seed dry and fresh. 
You already know that you do not need to refill frequently, but the task is so much easier when needed. You just need to twist the cover, refill it, and hang it. Plus, you need to worry about cleaning due to its apartable base.
However, you need to use a baffle over the top to protect it from the rain as the top is smaller to protect the feeder from rain.
Squirrel Buster Standard Squirrel-proof Bird Feeder

So, you fight with both wind and squirrel and look for a feeder to solve both issues. Then, Squirrel Buster Standard Bird Feeder should be getting top priority on your list. The adjustable weight mechanism deters birds from the feeder. 
When a squirrel tries to access the bird seeds and perch into them, the feeder detects the squirrel's extra weight, rapidly closes the shroud, and denies providing the seeds access. But, the process is completely followed without harming them.
You can attract both perching and clinging birds in the feeder. The perching birds can feed on the 4 ports. Plus, clinging birds can use the metal mesh to take their food. Also, you do not need to worry about seed freshness due to its unique seed ventilation system.
The squirrel-proof feeder can hold up to 1.3-pound black oil sunflower or safflower seeds. Though the feeder capacity is small for a large yard, you can easily refill the feeder with a detachable component system. Also, it makes the cleaning part easy.
Songbird Essentials All Weather Feeder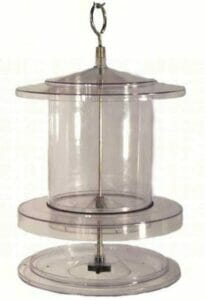 Another feeder for fighting with extreme weather and wind. Plus, the feeder is completely different from a regular bird feeder. Below the feeder, there is a circular perch that can protect the birds in any weather condition, and the above perch feeds them as well. 
The circular perch provides you with a clear view of the beautiful wild birds even from far. It can hold up to 4-quart bird seeds, enough to feed a large flock all day long. Plus, its 5.05 pounds weight can prevent it from dancing in strong wind, and birds can perch and take their meal in such conditions.
You can separate the feeder part by part, making the cleaning process super easy. It also helps for easy refilling. The seed won't be spoiled or clogged due to the dome. Plus, you will notice less seed waste due to the unique perch style.
How to make a bird feeder wind proof?
You can follow various strategies to minimize the effect of wind. Here are some tips which help you to protect feeders and birds from wind:
First of all, predict the wind flow. Generally, it is easy to predict seasonal wind direction. You just need to hang the feeder opposite the wind. 
By hanging the feeder on a sheltered side, such as the lee side of your house or near a tree trunk, you can reduce the wind flow and provide a safe feeding station for birds.
You can use a munted pool feeder or a feeder with extra weight if there is heavy wind.
If you have a lightweight bird feeder in your yard, the best way to save it from wind is using extra wind. For this, you can take one or two small metals and put them into the feeder. Then, you will notice a dramatic result.
Final Words
If you live in a windy area, you can easily feed wild birds having an issue by taking a few steps. I hope the above tips will help you to make your feeder windproof. Plus, you will get the best wind proof feeder from the above list.