The ultimate guide to windproof bird feeders to keep your bird feed secure and stop wasting seed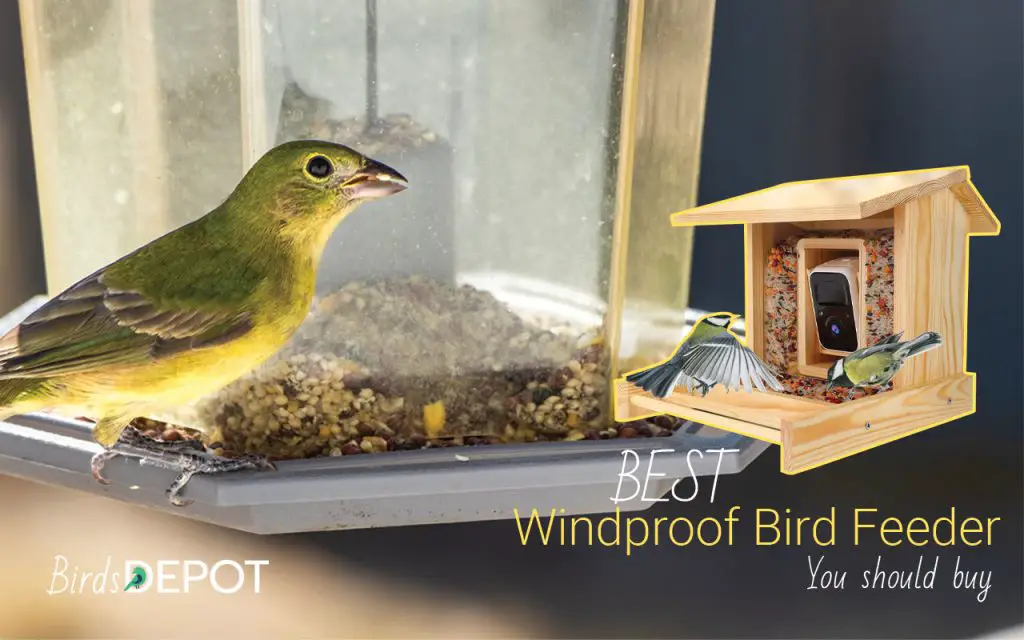 Bird feeding is an enjoyable and fulfilling hobby for many bird lovers and enthusiasts. However, strong winds can often cause problems such as seed spillage and waste, and also swinging bird feeders are not exactly favorable for birds to pick the seeds making the feeding experience less enjoyable and efficient. If you live in bay areas or cities like Chicago, the problem is common for you.  This is where windproof bird feeders come in as they are specifically designed to prevent seed spillage and waste caused by windy conditions, allowing birds to enjoy a mess-free feeding experience.
Top picks of windproof bird feeders
How to Choose a Windproof Bird Feeder?
When choosing a windproof bird feeder, several factors such as design, materials, and construction contribute to the feeder's effectiveness in windy conditions. A good windproof bird feeder should have sturdy construction with durable materials that can withstand windy conditions. The design should also be well-suited to the feeding habits of the birds in your area. Below are the most important facts you should keep in mind.
Chose a closed-design bird feeder that prevents the wind from blowing the seed out of the feeder.
Might come with a special mechanism that allows birds to access the seed but prevents it from being blown out.
A sturdy and solid construction that can withstand windy conditions. For example, a wooden feeder with a strong base and nailed-to tree can keep it stable, even in windy conditions.
Easy to assemble and disassemble for cleaning and maintenance.
These are the Best Windproof Bird Feeder for Windy Areas
Based on the suggestions above, I have compiled a list of the top windproof bird feeders of the year. I have personally used a few of these and satisfactorily they are still in good shape. The others are also widely popular among bird watchers and recommended by many users.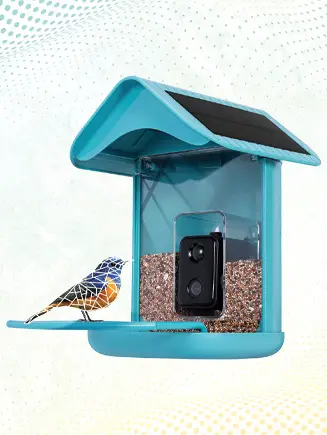 1. Cuckoo – Smart Bird Feeder with Camera
A sturdy bird feeder with extra features
The built in camera feature allows you to identify and analyze different types of birds that come to your feeder.
Pros
Large 1L food container
Dual-sided solar panel provides long battery life
64G SD Card for vidoe storage & Cloud Services
Cons
A bit expensive
Relatively small space for birds
This smart bird feeder with a camera is a game-changer for bird-watching enthusiasts which can detect when the birds come to feed. The Cuckoo – Smart Bird Feeder with Camera is equipped with a high-definition camera able to capture high-quality images and videos. It uses AI technology to identify over 10,000 species of birds and even squirrels and sends you real-time notifications on your phone. You can easily live stream birds directly on your phone or download and share them with others. The camera is easy to install and provides a clear view of the birds without disturbing them. This is an excellent way to identify, analyze and keep track of different types of birds that come to your feeder.
For our main purpose, it is a great choice as the feeder is sturdy and weather-resistant, making it a durable addition to your backyard. It comes with a metal base that can be screwed into a tree or other structure which makes it windproof. The feeder is also easy to use and maintain. It has a large capacity, so you won't have to refill it frequently.
The only downside of this product is its price as it is a bit more expensive than traditional bird feeders. However, the added features and benefits make it well worth the investment for serious bird watchers.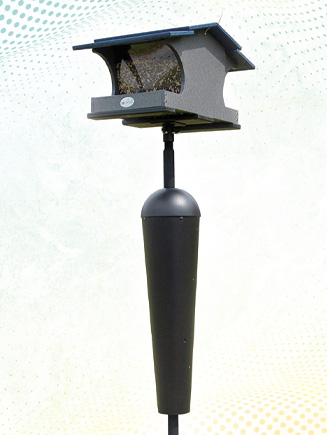 2. JCs Wildlife Large Poly Hopper Bird Feeder
The best bird feeder and pole combo
One of the largest bird feeders with a squirrel-proof mounting pole that fully supports the weight of the feeder with great stability making it windproof.
Pros
Made from recycled poly lumber material
Removable seed tray for easy cleaning
Patented baffle technology
Cons
Difficult to move or adjust after installtioin
I recently purchased the JCs Wildlife Large Poly Hopper Bird Feeder with Denali Squirrel Proof Pole, and it was worth every penny I spent. It is made from recycled poly lumber material, making it durable, weather-resistant, and environmentally friendly. From my experience, it is one of the best squirrel-proof feeders with patented baffle technology that does an excellent job of keeping squirrels away from the feeder, and I no longer have to worry about them stealing the birdseed. Installation is easy with the twist-in ground auger that keeps the feeder very stable so you don't have to worry about strong wind. The included flange on the pole can support the feeder's weight very well with a large amount of seeds.
The feeder is large enough to hold over 2 gallons of birdseed, which means you don't have to refill it too often. The hopper design makes it easy for birds to access the seeds from any angle. The removable seed tray and acrylic sides make cleaning the feeder very easy, which is important for busy bird enthusiasts. It has improved my bird-watching experience and attracted a wide variety of birds to my backyard.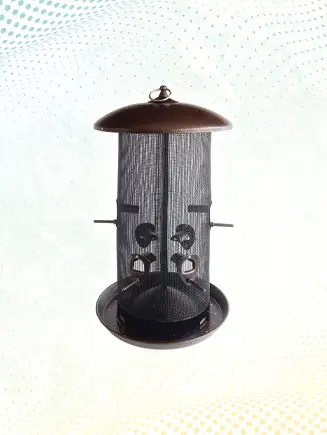 3. More Birds Outdoor Feeder
Extremely durable for withstanding outdoor elements
This heavyweight metal bird feeder can hold up to 8lb seeds making it very stable even in the strong wind blows.
Pros
Sturdy materials that held up well in rain and wind
Adjustable perches
A portion of tge price is donated to bird habitat and conservation
Another great recommendation from many users is Giant Combo Outdoor Feeder from More Birds. The manufacturer is known for a variety of bird feeders and accessories, including sunflower seed feeders, finch screen feeders, hummingbird feeders, and bird feeder poles, among others. The feeder is designed to hold up to 8 pounds of seed and also has a built-in drainage system to prevent moisture buildup and mold growth, ensuring the safety and health of the birds. It has six feeding ports in two compartments with easy access to refill and clean. You can fill one compartment with sunflower seeds for larger birds, and the other with nyjer seeds for finches and other small birds. The feeder can also hold cracked corn, mixed seed, peanut chunks, safflower seed, and sunflower kernel.
The stokess select feeder is sleek and modern, with a black metal finish that blends and looks great in any backyard. The metal hanger lets you hang it from a tree branch or shepherd's hook. Another advantage is its squirrel-resistant design with the weight-activated perches that close off the seed ports when a squirrel tries to access the feeder. The overhead roof keeps the seed fresh and dry, while the twist-off cover and base make cleaning and refilling infrequent but easy. Due to its metal construction and weight, the feeder is very steady in windy conditions.
4. Meleave Bird Feeders for Outdoors Hanging
Best heavy duty metal bird feeder
Another metal bird feeder with a large capacity can be also fixed in a tree branch using some wire.
Pros
Chew-proof cage, and multi-bird perches
360° Eating Platform
Cons
Not designed for nuts or peanuts.
If you are looking for a feeder that can fight both wind and squirrel then Meleave Bird Feeders for Outdoors Hanging can solve all the problems. It is made entirely of metal with a bird-shaped safety lock that keeps animals like squirrels, deer, and raccoons from opening the lid. You can also use some wires to tie the feeder to a tree branch to make it more sturdy for winds. The large capacity of up to 6.5 lbs can stock different bird seeds including corn, peanuts, dark oil sunflower seeds, safflower seeds, nuts, and organic product seeds, and supports a range of birds including finches, cardinals, blue jays, and robins.
The 360° feeding tray features four long, fold-out bird perches that prompt birds landing and allow them to feed from every side. The feeder is crafted with a chew-resistant, waterproof metal finish that can withstand all weather conditions. The mesh paneling on all four sides and the drainage system on the bottom help keep the seeds fresher for longer.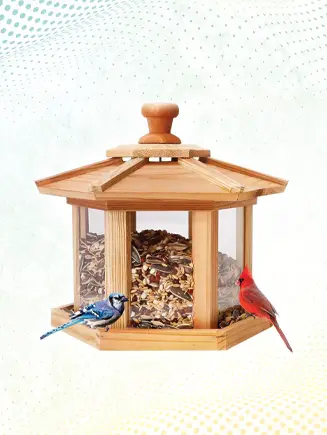 5. Solution4Patio Hexagon Shaped Bird Feeder
Solid Wood construction with 3 years warranty
The Hexagon Shaped design makes it easy to place the feeder in many suitable places in the back yard. Additionally, you can use a clamp to make it windproof.
Pros
Transparent design with plexiglass
Sturdy mesh bottom
Cons
Not sufficient space for large birds
The Solution4Patio hexagon-shaped gazebo bird feeder is also a great choice for those who want a wooden made feeder that is aesthetically pleasant looking in any backyard. The cedar wood material is also naturally resistant to rot and decay, ensuring that the feeder will last for years. The solid wood construction is ideal for gusty weather.
In terms of functionality, the removable plastic pan at the bottom of the feeder makes cleaning up bird droppings and spilled seed much easier. Another great feature is the clear plastic roof that protects the seed from rain and snow with a clearer view of the birds as they feed. The size of the feeder is perfect for attracting a variety of birds including finches, sparrows, and even larger birds like woodpeckers.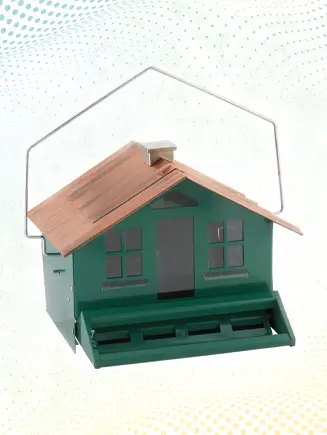 6. Perky-Pet Home Style Bird Feeder
Large capacity outdoor wild bird feeder
Can be hung or pole mounted anywhere around your yard and its weight help to keep the feeder stable in windy weather.
Pros
Holds up to 8 lb of seeds
Removable lid with large opening
Attractive, Rustic Design
Cons
The top gets rusty (A coat pf spray paint will solve the issue)
Perky-Pet 339-1SR is another feeder for fighting extreme weather and wind. The weight-activated system of the feeder closes off the feeding ports when a squirrel or other heavy animal tries to access them but remains open for the birds. The chimney-shaped design is quaint and charming, and it looks great hanging from a tree in the backyard. With its closed design, you can put all types of seeds including black-oil sunflower seed, mixed seed, hulled sunflower seed, or safflower seed.
The feeder is made of durable materials with powder-coated metal that can withstand the elements. It has versatile placement options for windy areas allowing you to hang or mount the feeder to a pole.
How to make a bird feeder windproof?
You can follow various strategies to minimize the effect of wind. Here are some tips which help you to protect feeders and birds from wind:
First of all, predict the wind flow. Generally, it is easy to predict seasonal wind direction. You just need to hang the feeder opposite the wind. 
By hanging the feeder on a sheltered side, such as the lee side of your house or near a tree trunk, you can reduce the wind flow and provide a safe feeding station for birds.
You can use a munted pool feeder or a feeder with extra weight if there is heavy wind.
If you have a lightweight bird feeder in your yard, the best way to save it from wind is by using extra wind. For this, you can take one or two small metals and put them into the feeder. Then, you will notice a dramatic result.
If you live in a windy area, windproof bird feeders are an excellent investment to prevent seed spillage and waste caused by windy conditions. By choosing a high-quality windproof bird feeder and following the simple tips mentioned above, you can enjoy a mess-free feeding experience and attract more birds to your yard.