Birds love to have a bird bath near their food source. If you provide a bird bath in your yard or patio, surely you get enough chance to enjoy the beauty of adorable birds. Now, the question arises that several types of birdbaths are available on the market; what type should you select?
It depends on several factors, but if you want to save some money and want a convenient bird bath that is easy to use, you should surely go with hanging bird baths. I have done in-depth research, talked with neighbors who love birds in their yard,s and read tons of reviews to prepare the list of the best unique bird baths that can attract birds to your yard.
Top picks of Hanging Bird Baths
Do Birds Like Hanging Bird Baths?
Hanging bird baths are among the favorite types of baths due to their easy use. It provides quick access to water sources, and birds can easily trace them from above. Also, due to their higher position, birds treat them as a safer water source. 
However, hanging bird baths are only preferable for small birds due to their size and weight capability. Also, if you live in a windy area, you might find it hard to keep them in place.
What are the Best Hanging Bird Baths?
Based on my experience, discussion with other bird watchers, and the reviews from many other customers below you will find the top five hanging bird baths you should consider checking out.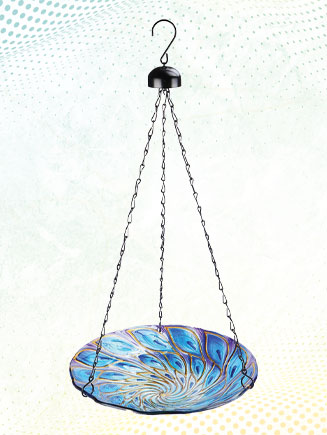 Vcuteka Glass Hanging Bird Bath
The best Outdoor Glass Peacock Birdbath Birdfeeder
Designed with peacock pattern, this gorgoues looking Hanging Bird Bath will make your garden more beautiful and attract cute birds to enjoy it.
If you are looking for a glass-made bird bath with an elegant design pattern, then the Vcuteka Bird Bath will be an ideal option for you. Its attractive handmade design makes it more appealing in any type of yard or garden. 
The paint is formed below the bath. So, there is no chance to fade up or scrub off for overtime use. It will provide you with moderately sturdy feels due to the three high-grade metal chains. 
Also, it comes with an "S"- hook, which makes the birdbath more stable and reduces the shaking while there is wind in your area. Due to the simple design, you do not need to worry about following hard procedures when you want to clean it and fill the water. 
Though in the advertising picture, it looks wide enough, it is only 11 inches wide, which is ideal for small birds like other hanging birdbaths. So, you need to refill the bird bath frequently on hot summer days.
Pure Copper Hanging Bird Bath By Good Directions
The Best Rustproof Birdbath
This 22-gauge pure copper Bird Bath provides sanitary bird bath as copper is a natural germ-killer.
Copper-made bird bath always provides a surety of lasting long due to the quality craftsmanship and durability. The Good Directions comes with a pure copper-made hanging bird bath. The bath is made with 22-gauge pure copper, which ensures its quality. 
Also, copper works as a natural microbial that kills unwanted germs, which means you can ensure that birds will not face any health issues after drinking water from the bath. 
The bath is 2 inches deep, recommended by the Audubon society. Birds can sip water and bathe at the same time. The decorative lip allows birds to perch who only want to drink water.
You can quickly assemble the bath and hang it due to the "S"-shape hook. The hanging chain is made of brass, which keeps it long without rust. The good part is: that if anything unwanted happens, you can easily replace it as it comes with a lifetime warranty.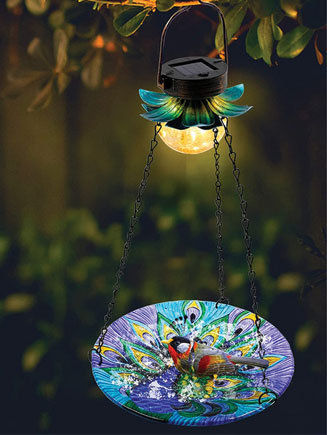 Maggift Solar Hanging Bird Bath
The Best Waterproof Birdfeeder with Garden Light
This beautiful peacock shape glass bird bath has solar powered metal flower decorative LED for landscaping that also can be use for seed tray.
The solar-heated hanging bird bath provides a gorgeous look and ensures that water remains at a drinkable temperature in cold weather. The Maggift Solar Bird Bath is a unique bird bath that provides you with all the facilities you want from it, and also, you can use the bath as a feeder.
The actual bath bowl is made with glass and provides an outstanding look like the Vcuteka Bird Bath. You do not need to use any complicated tools to install the light and hang it. As usual, it is easy to clean like others. Also, the bowl is shallow enough for bird bathing and drinking water simultaneously. 
The solar light comes with a sensor that can detect dusk and dawn. The light automatically turns on at dusk and turns off at dawn. Also, you can use a 1 AAA rechargeable battery if you want. The good part is you can use bath and light separately. Also, you will find a switch to turn on and off the solar light.
Though the company claims that the panel is water-proof, rainwater can get enough space to enter the top. So, there is a chance of damaging the light bulb unit. So, you need to remove the light while there is rain in your area.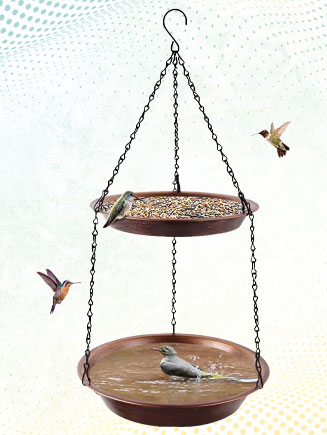 Keygift Hanging Bird Bath with Bird Feeder
The Best 2-in-1 Birdfeeder & Bathbath Bowls
An excelent choice for gadeners to make your yard look more beautiful with the copper painted weather-resistant birdfeeder & bathbath suitable for outdoor
If you want to provide birds with both a feeding tray and a drinking station at the same place, then the Keygift Bird Bath will be a good option. It comes with both a bird bath and a bird feeder. The bottom bowl is around 2-inch depth, which is ideal for use as a bird bath and the above bowl is around 1.5-inch depth which you can use as a bird feeder.
The hanging birdbath is made with a high-quality metal sheet, and the handcrafted production process ensures long-lasting performance. Also, it comes with premium metal dealt, which prevent rusting issue. 
You do not worry about installing the bowls as they come pre-assembled with mounted chains. You just need to hang it on your shepherd hook. 
The birdbath is lightweight. Its weight is 1.3 pounds. Though the lightweight design makes it easy to move from one place to another, it also blows on with the strong wind.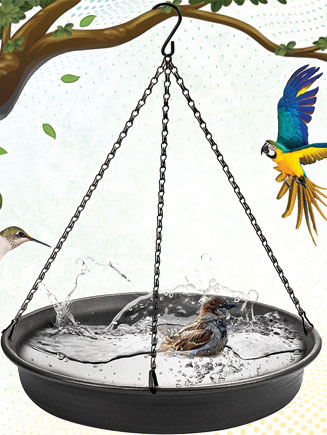 CARGEN Bird Bath Hanging
The Best water or seed hanging bird baths for outdoors
Annother good hanging bird bath tray for outdoor that require no tools to instasll and can use for seed and feed as well.
Cargen Bird Bath is large enough than similar types of hanging baths. So, there is enough chance to watch a medium size in bird bath. Also, a few birds can sit at once and will be capable of drinking and bathing.
The bird bath is plastic made with a resin coating which protects the water from mixing with plastic materials. Also, the coating protects it from UV and keeps the actual look for a long time. 
Also, it comes with three hanging chains with an "S"-shape hook, which is quite similar to other bird baths. Also, the chain will not rust over time due to the rust protection polish. However, you might notice squirrels taking water from it due to its large size.
How To Make Hanging Bird Bath?
If you prefer a DIY thing then purchase one. Then, follow the below step-by-step guide to making a hanging bird bath: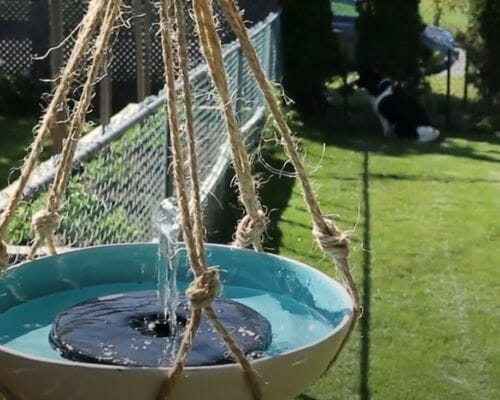 Equipment needed:
Scissors
2-inch shallow dish
Rope
Step 1: First, you need to make the hanging chain. For this, first cut out 4 to 6-length rope. Cut each cord to 80-inch lengths. 
Step 2: To make the hook, you need to bind all the rope on top. To make the hanger more sturdy, you need to bind two rope after maintaining a similar distance and do it one or two times. At the bottom, gather all strands and create a final knot or tie-off.
Step 3: Hang it in your desired place and put the dish into it. Now, fill it with water, and your bird bath is ready to attract birds.
Get the visual instruction:
Where Do You Hang A Bird Bath?
A shady area is always better to hang a birdbath. It keeps the water cool and fresh. But, if you put the bird bath always in the shade, there is a chance of build-up algae. So, choose a place that provides shelter on hot summer days but does not keep it in a shady area all day long. 
The wind is always bad for hanging bird baths. As most hanging bird bath comes with a lightweight design, it has enough chance to blow out in extreme or moderate wind. For this, place the birdbath in your yard, where the wind power is less.
Also, you need to hang the bird bath where the bird can easily locate it, increasing the presence of birds in the bird bath.
How High Should A Hanging Bird Bath Be?
There is not any rule or regulation regarding the height of birdbath placement. You can place it according to your preference. You can place them on a shepherd hook or even place them on a tree branch that is higher than a shepherd hook height. Always you need to hang the bird bath where a bird can easily trace them and come to your yard, which is our main vision. 
Final Words
If you do not want to break your bank but want to provide a safer place for birds to drink and bathe, you should go with a hanging bird bath. Also, those types of bird baths are easy to hang and clean and provide several advantages to attracting adorable birds.
So, we list some best hanging bird baths that have enough ability to attract birds in your yard and help them drink and bathe on a hot summer day. My top priority will go for Pure Copper Hanging Bird Bath by Good Directions due to its make.