Are you a backyard bird watcher who wants to attract wild birds to your yard? If so, then the best thing you can do is place a ground feeder. Ground feeders are specially designed for wild birds and they make it easy for them to eat their favorite food. In this guide, we will talk about 3 different types of best ground feeders for birds that have been proven successful.
Editor's Choice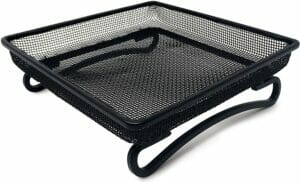 For small yard
Gray Bunny mesh feeder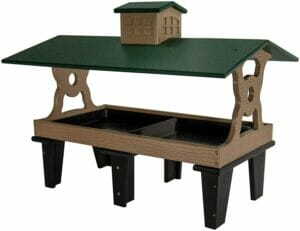 For large yard
JCs Wildlife feeder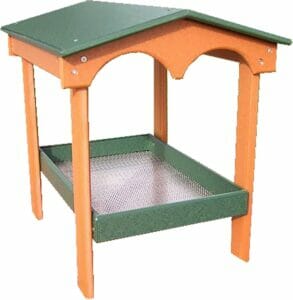 Stylish platform feeder
Amish ground feeder
Top 3 best ground feeders for birds
Gray Bunny mesh ground feeders for birds
Birds can easily perch on the feeder for its raised edges, and its prevent seeds mess. Also, It comes with two curved steel bars, which keeps the feed dry and off the ground. Also, Provide better balance when birds land on it.  So, You can also use this feeder on an apartment balcony.
The cleaning process is super easy, so you don't need to worry about birds dropping.
Measuring just 7×7 inches, The platform feeder is compact enough and holds up to 2 cups of birdseed. 
Sometimes, the top edges come with little sharp weirs that might hurt birds but the replacement policy can ensure you'll get a proper one or you can file down it easily.
Overall, Comparing the price, It does a decent job to keep seeds fresh from the dirt and keeping ground birds happy.
Dimension: 7 x 7 x 2 inches
Capacity: 2 cups
Material:  Steel mesh wire
JCs Wildlife Colossal extra large tray ground feeders for birds
Also, there are two compartments in the seed tray where you can serve two different kinds of food according to your needs. The seed tray is completely removable, so refiling, washing and disinfecting will be quite easy.
The feeder is well made and sturdy enough due to its recycled poly lumber material. A rooftop protects the seeds from rainwater. However, The roof isn't wide enough, which won't fully prevent the heavy rain and snow. But, The plastic tray has drainage holes that prevent the build-up of wet seed.
It is fully pre-assembled and ready to use. To increase, The beauty of the backyard and the feeder itself comes with a cupola but you need to assemble it on your own. 
Dimension: 28.5x 18x 18.5 inches
Capacity: 16 cups
Material: recycled plastic poly lumber
Amish ground feeders for birds with covers
The ground feeder is crafted from a poly lumber frame, and the seed tray is aluminum mesh base. Also, A dedicated cover helps to keep seeds or food dry. 
For its durable build, It is easy to move the feeder location. However, You can't remove the seed tray for cleaning.
Overall, All kinds of birds can enjoy their meal in your backyard because the height of this feeder between the tray and cover provides enough room to perch on the feeder.
Dimension: 19 x 15 x 18 inches
Material: Polly lumber frame and aluminum mesh base
Most common ground feeding birds
Ground feeding birds prefer to feed on the ground. Generally, Almost every bird species likes to investigate ground food, but few birds prefer ground feeders to others. So, here is a list of birds that you might watch in your backyard after placing a ground feeder.
Dunnock, Thrush, Robin, Wrens, Chaffinch, Blackbird, Dove, House Sparrow, Starling, Wood Pigeon, Quail, Grouse, Roadrunner, Ovenbird, Juncos, Northern flicker, Parrot, Bluebird, Pipit, Cardinals, Towhee and many more.
Frequently asked question
What do ground-feeding birds eat? 
Ground feeding birds like different types of foods on their food menu. Here are a few food or seeds you can offer in a ground feeder to attract them to your backyard.
Black sunflower seeds, raisins, White millet, mealworms, Milo or Sorghum, soaked sultans, mild grated cheese, rolled naked oats, fruits( apples, bananas, grapes)  and many more.
Can you feed birds on the ground?
Yes, You can throw bird seeds on the ground and attract them to your backyard.  Many birds like to take food from the ground. But, there is a high chance that it becomes messy and attracts pests if you don't take proper planning before throwing seeds on the ground.
Final Words
Attracting ground-feeding birds in a backyard is an easy task, but you need to provide them with a good quality feeder with proper foods to perch and take their male. In this article, You already find out 3 best bird ground feeders. You can choose one according to your preference. 
Our favorite pick is JCs Wildlife Colossal extra large tray feeder due to its large capacity and a dedicated shade that protect the bird seeds from rain and snow. However, If your budget is tight, then you can go with gray bunny ground feeder.