We don't know about you but teaching our pet parakeet to talk was indeed a special highlight of our lives! As sweet as the whole experience sounds, finding a suitable cage for your little pal wasn't exactly a party.
Even if you get everything right, a jammed door or a stuck poop catcher can ruin your entire day. Get the bar spacing wrong, and you will find baby finches wiggling through the bars with their bottom out.
You need the best bird cage to keep your feathered babies comfy. And we happen to have the perfect solution!
Right now, we'll be reviewing 8 new bird cages for different species. Keep an eye out for yours and prepare to be amazed!
Editor's Choice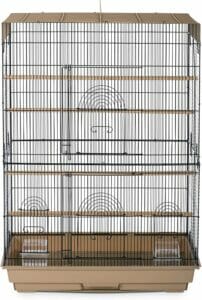 Prevue Hendryx Flight Cage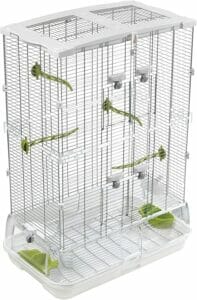 Vision M02 Wire Bird Cage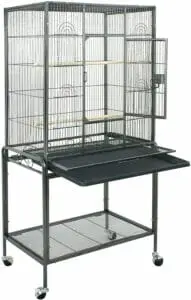 ZENY Wrought Bird Cage
Top 8 best bird cage
| | | | | |
| --- | --- | --- | --- | --- |
| Product Name | Cage Size (L×W×H) | Bar spacing | Rolling Cage Stand | Suitable Bird Species |
| Prevue Hendryx Flight Cage | 26×14×36 | ½ inches | No | Parakeets and Canaries |
| PawHut 63″ Metal Indoor Bird Cage | 18.7×14.6×46 | ½ inches | Yes | Quaker Parrots and Parrotlets |
| Prevue Hendryx Designer Scrollwork | 18×18×25 | ⅝ inches | No | Finches and Budgies |
| Vision M02 | 24×15×34.5 | ½ inches | No | LineolatedParakeets, Lovebirds and Canaries |
| ZENY Wrought Iron Select Bird Cage | 25.2×16.5×26.7 | ½ inches | Yes | Green Cheek, Amazon, Jardine's Parrots and Conures |
| Prevue Pet Products Wrought Iron Select Bird Cage | 17.5×17.5×32 | ¾ inches | Yes | Cockatiels, Pionus, African Greys |
| Yaheetech Wrought Iron Bird Cage | 32.1×30.3×35 | ⅝ inches | Yes | Small Quaker, Sun Parakeet and Doves |
| Prevue Hendryx Pet Products Flight Cage | 31×20.5×53 | ½ inches | No | Finches, Parakeets, and Lovebirds |
Why keep your birds in a prison when you can get them a penthouse? That's right! We have 8 exciting new bird cages that will keep your feathered friends happy, active, and entertained!
Prevue Hendryx Flight Cage
We're starting off with one of the most famous pet product companies, and yes, it's none other than Prevue Pet Products! Reviewing the Prevue Hendryx flight cage was long overdue considering how much we love their bird toys and nesting products!
We're hopeful that this birdcage will be a fantastic new home for your finches and parakeets!
First of all, the Prevue Hendryx cage sports a quality blend of steel and plastic. If you have super active birds that like to jump, fly, and peck around, you will find this birdcage to be a durable one indeed!
As for the size of the cage, we were happy to find out that it's quite large. In fact, the cage has enough room for multiple canaries, conures, and cockatiels.
For example, the birdcage runs 26 inches long and 14 inches wide. If you're like us, you probably hate those low-height cages as well. After all, our beautiful passerines should have all the room they want, right?
This is why you're going to love this parrot cage even more! It has a whopping 36-inch height, to begin with. Considering its size, it makes a delightful parrot cage as well.
Moving on, it has vertical bars at the front and back, and horizontal bars on the left and right. The cage has a total of 4 sliding doors; two of them are big enough for larger birds. We absolutely adored their dome-top design, by the way! 4 wood perches are placed at different heights so your birds can get some exercise.
Finally, the 1/2-inch bar spacing is more than perfect for your parrotlets, finches, and lovebirds. The product as a whole is very sturdy, roomy, and practical.
Pros
½-inch wire spacing is ideal for parakeets and canaries
Pull-out debris guard for easy cleaning
2 large front doors, 4 wood perches and 2 plastic feeder cups
Detachable bottom grills
Cons
The doors don't stay fully open
PawHut Indoor Bird Cage Starter Kit
If you're looking for the best parrot cage, especially of the rolling stand type, you'll love the PawHut bird product a lot. First, it sports a good height for your canaries and lovebirds. They can flap and beat their wings inside the cage. In fact, this birdcage offers plenty of room to hang toys, bridges, and new perches.
What we like about the Pawhut bird cage starter kit is that it's an all-in-one deal. It's got a storage basket, a reliable cage stand, two perches, and two feeders to top it all off. You can move the cage in all directions. This way, your little parrots can feel lively and refreshed in new locations around the house.
You can remove the stand, of course; and hang only the cage from a hook. The cage together with the stand has a height of 63 inches- the eye level of an average 5.5″ person.
Well, the cage itself is 46 inches tall, and honestly, we couldn't be happier. As much as we recommend the Prevue flight cage, it's still 10-inches shorter than this phenomenal PawHut.
Additionally, the 18.7″ ×14.6″ cage stand features a convenient storage tray where you can store extra food packets and toys. There's also a sliding tray at the bottom. It catches scattered food pellets and poop, cutting down your clean-up time in half!
The tray makes up for the missing seed guards, and we're in love with the two lofty front-facing doors. Overall, it's a suitable birdcage for two parakeets, budgies, and cockatiels.
The 0.5-inch bar spacing is exactly what one needs in a solid metal travel cage. You'll also find 4 plastic containers, 3 wooden perches and a wooden swing in the box.
Pros
Comes with a carry handle and a rolling cage stand
A handy storage basket for storing pet food
46-inch-high flying space for small parakeets
A 4.75-inch-tall food door and a 12-inch-long main door
Cons
He bird swing might come off
Prevue Hendryx Designer Scrollwork Bird Cage
This parrot cage is from the Prevue Hendryx Designer Scrollwork series. It exhibits a vintage style, and we're pretty sure you've seen one of these in an '80s movie. We think it's a rare find because typical bird cages can look boring if you don't add colorful toys and plants.
It's not a huge cage but it can be the perfect size for your cockatiels. The classy embellishments on this spectacular cage had us sold on it from the first glance. It was later that we realized how well-made and convenient its other features are.
For example, this parrot cage comes with two plastic cups. Wait; doesn't every cage come with feeder cups these days? The thing with this all-new Prevue Hendryx Scrollwork cage is that it offers hooded feeder cups. It prevents seed hulls from falling out while your pet birds forage for their favorite seeds.
As for the cage size, it measures 18-inch long and 18-inch wide with a generous height of 25 inches. Considering its ⅝-inch bar spacing, you can easily keep small to medium size cockatiels, ringneck parakeets, conures, pionus, and Jardine's.
However, for an iconic birdcage like the Prevue Hendryx, we expected wood perches instead of plastic. It's a small inconvenience compared to its quality bars and flawless construction. Besides, you can swap the perches for toy bridges that would add a fun flair to your parakeet's home.
Pros
Incredible dome-shaped roof
Two hooded plastic cups for food and water
Comes with sliding drawers and a bottom grille
⅝-inch wire spacing is perfect for medium-sized birds
Cons
The bar spacing is not suitable for small canaries
Vision M02 Wire Bird Cage
Well, if you've been a bird-keeper for long enough, you already know how fond the parrots are of climbing! A tall cage is great for your pet birds in more ways than one.
First, it allows them to climb, stretch out their wings and find their favorite perch. Moreover, you can hang fun toys, foraging walls, and pinatas pretty easily.
It's one of the best bird cages you can get on a budget. And the quality speaks for itself. We especially liked its feeder and water cup locations.
Their exterior access can relieve any stress your pet birds might be feeling. Besides, the cage size is suitable for keeping a group of small birds of the same species.
There are waste shields that keep the cage tidy for yourself and the birds. We also liked the removable tray at the bottom of the cage. It sports a solid construction. The deep base retains water and keeps the floor free of any mess.
Now, what's interesting about the litter tray is that it handles different types of bird litter. Hence the raised ridges and the roomy base. It also prevents mold and mildew growth inside the cage by allowing air circulation.
Overall, we're a big fan of the Vision M02 bird cage. Its 34.5-inch height is ideal for finches, parrotlets, budgies, lineolate parakeets, and of course, canaries! Assembling this cage takes only 5 minutes!
Pros
Comes with 2 feeder cups, 2 debris guards and 4 plastic perches
Rugged stainless steel construction
The cage size is suitable for budgies, parakeets, finches and canaries
Excellent bird litter management
Cons
Might feel too stuffy for large birds
ZENY Wrought Iron Bird Cage with Stand
First, the parrot cage itself is plenty tall for a whole group of lovebirds and canaries. They can beat their little wings, fly and hop around from one perch to another.
We noticed how a roomy cage can allow the birds to get some exercise. You'll be happy to know that the ZENY bird cage measures 27.4 inches high and 25 inches long. The cage is pretty wide as well; 17 inches to be exact.
Moving on, we prefer its wrought iron construction to many cheaply made plastic ones. The paint on the cage won't come off by scratching and pecking of the birds. So, you don't have to worry about the durability of these birdcages at all.
The parrot cage stands 53-inches tall with the stand. It has four high-quality rolling casters and storage space as well. Between ZENY and PawHut, we think ZENY has the best bird cages.
The cage is made of wrought iron and is much roomier than the PawHut products. It also features a removable sliding tray, a big front door, and seed guards.
The front door is 15.4 inches long and 8.7 inches wide. The door stays open once you unlock it and closes securely. You also get two smaller doors for filling and changing the feeder cups. Pretty convenient, right?
Pros
Large bird cage for parakeets and cockatiels
Four 360° swivel casters for easy carry
Removable waste tray and convenient seed guards
27.4-inch-tall wrought iron flight cage
Cons
Cockatiels might bend the cage bars
Prevue Pet Products Wrought Iron Bird Cage
In fact, this is one of the best bird cages Prevue offers. Let's see, it has everything you need in a bird cage, from a top perch and ladder, to round seed guards and pull-out poop trays.
Usually, you have to buy ladders and storage boxes to set up the cage. A birdcage manufacturer rarely provides more than one storage tray let alone a ladder for your pet bird.
Lucky for you, Prevue Pet Products are offering all these features and more in this brand-new wrought iron bird cage. If you want, you can decorate this large bird cage and have a wholesome time with your pet birds.
Seriously though, the top section has plenty of room to build your conures a fun playground.
Moving on, this 17-½"×17-½" wrought iron select bird cage has a gorgeous 32-inch height. Its ¾-inch bar spacing seems to be perfect for not only Conures but also mini macaws, African Greys, Jardine's parrots, caciques, and Pionus! There's a debris catcher around the enclosure and a pull-out drawer at the bottom of the cage. All in all, you won't find another cage with these premium features for this price. So, if you are looking for the features mentioned above don't hesitate to get this wrought iron breeder cage right away!
Pros
Comes with a play space with a perch and a ladder
Roomy front door with a push-button door lock
Wrought iron cage for a beefier construction
Raised seed guards for easy cleaning
Cons
Thin wrought iron bars might not support large parakeets
Yaheetech 69-inch Wrought Iron Rolling Large Parrot Cage
Featuring a 35-inch-tall wrought iron cage, a spacious play top, a sliding tray, and a grille, this is one of the coolest parakeet cages you can get. It has a rustproof, hammered-paint finish to beat everyday wear and tear. Our favorite aspect of this Yaheetech cage is the 21.6″ ×11.8″ door with a crescent lock.
We've researched enough pet product brands to know which are made for the long run. As for the Yaheetech parakeet cages, we know for a fact that these are the best bird cages you can get for your pet bird. In fact, its simple structure is extremely durable and easy to maintain.
Additionally, the 360-degree swivel casters are of an industrial build. You can move the cage around the house without shaking the birds. The seed guards are spread out and raised so that bird dropping, seeds, and feathers don't ruin your floors ever again!
There's a single, long wooden perch inside the cage. Your parrot can comfortably rest on the perch or go up the ladder to the roomy play space!
We liked its stainless-steel feeders and two dedicated doors from which you can access the feeder cups. The colorful bungee rope adds a fun touch to the cage.
By the way, it makes an excellent breeder cage for various birds! So, if you want baby finches and parakeets, you can definitely get this wrought iron bird cage. In fact, it makes a wonderful home for your pet birds with durable perches, climbing bars, and an elevated ceiling.
Pros
The roof flaunts a spacious play area
Two stainless steel feeding bowls for food and water
Non-toxic finish on the metal wires
0.6-inch wire spacing for Sun Conures and African Greys
Cons
The bar spacing might be too wide for parakeets
Prevue Hendryx Pet Products Wrought Iron Flight Cage
Yes, the cage doesn't have a fancy play area for your parrot but its key feature is the roomy, rectangular space. If you're not a big fan of a huge debris guard, you'll like this bird cage a lot. It looks standard and beautiful with a ½-inch wire spacing and a functional bottom grille.
The cage keeps the focus on the birds by providing a roomy, space to fly around. Its three wooden perches facilitate a comfy lounge for their afternoon snooze. You can hang plenty of bird toys from the top bars.
Speaking of bars, the wire spacing is kept 0.5 inches apart. This way your pet parrot friend can climb the rails without getting its foot stuck. Thanks to the two roomy front doors, getting your pet bird in and out of the cage is a breeze.
Overall, this wrought iron select bird cage can be an ideal home for your canaries and parakeets. There is enough room to exercise, play and breed.
Pros
31-inch-tall cage with ½-inch bar spacing
A roomy bottom shelf for storing food and water
2 hinged doors and 6 nest doors with push-button door lock
High-quality rolling casters and wooden perches
Cons
No horizontal sidebars for easy climbing
Comparison Table
What to Consider Before Buying the best Bird Cage
Caring for your pet birds is not so different than raising a child. That's why when it comes to choosing a bird cage, you must prioritize their needs and comfort.
We have narrowed down all the important factors that make up a comfy home for your feathered babies. Keep reading!
All About Bars: Spacing, Orientation & Gauge
The bar spacing is so important to get right because the comfort of your birds depends a lot on it.
For example, a cockatiel will feel suffocated if the bars are only half an inch wide. However, it perfectly works for parakeets, canaries, and small bird species. And parrots lets love horizontal bars on their cage as it helps them climb easily.
Strong, active birds can sometimes bend metal bars and escape and in the worst-case scenario, injure their wings in the process. A wrought-iron cage or a stainless-steel cage never goes wrong with bubbly budgies and frisky finches.
Suitable Cage Size
There are only so many places where you can hang a bird cage. But if you have a nice, airy location with walls on either side, a hanging bird cage can be a suitable option.
A general rule of thumb is to get your pet parrots a roomy cage and introduce them to exciting new toys often.
Cages that are less than 32-inches-tall can be inconvenient for canaries and lovebirds. For a flight cage, besides the length and width, height is the more important factor.
Big Doors & Dropping Trays
Always consider big, front-facing doors with reliable locks in parakeet cages. Your birds should be able to get in and out freely through the doors. Small doors on the left and right will help you refill the feeder cups without disturbing the birds.
Finally, a detachable bottom grille is going to save up so much of your time. It catches droppings and other wastes. You can take the tray out for a quick wash, and slide it back in.
Speaking of cleaning, you should get the best bird cage cleaner out there. It should disinfect the cage off possible bacteria and make it brand-new again!
Feeder Cups & Seed Guards
It's a plus if the cage comes with hooded feeding bowls, water reservoirs, and a birdbath. You need all these to turn a large bird cage into a proper home. Stainless steel feeder cups are sturdy, but eco-friendly terracotta pots are much better options.
Unless you want bird mess all over your floor, seed guards are a must. They catch scattered seeds and pellets so that the leftovers don't fall through the cage bars.
Convenience
To help your budgies feel happier in the cage, consider building a playground on the roof. Nearly all the latest bird cages feature a captivating roof design. It may include a fun ladder, raised perches, and a tub. There may also be a plain area exclusively left for you to decorate.
As for your own convenience, getting a practical bird cage with grippy bars and ample flight area is a no-brainer. Of course, two feeding bowls come in handy. So does a removable dropping tray.
Types of Bird Cages
Whether you like it or not, birdcages come in all shapes and sizes- making the selection a little more confusing. Don't worry! Here are some common bird cage types. Scroll down and find out what you need!
Hanging Cage
These bird cages are usually short and made for small, mated birds such as canaries, lovebirds, and canaries. We don't recommend keeping more than a couple of birds in a small size bird cage.
It's because their fluttering can cause the cage to swivel at times. Hanging travel cages are good to give your birds a nice view of the porch or the balcony.
Breeding Cage
There are breeder cages for different kinds of bird species. These cages are often stackable and divided to keep the male and female finches apart at times.
You'll find nesting doors on the sides, and multiple low-height perches in between. Most divided breeder cages have the option to take apart the divider entirely.
Wrought Iron vs Plastic Cages
Compared to plastic cages, wrought iron bird cages have a much stronger and durable build. You'll need a wrought-iron cage for multiple cockatiels and Amazon Greys because they are energetic by nature. On the other hand, finches, lovebirds, and small size birds are more comfortable in a plastic cage.
Rectangular Cage with a Stand
A cage that you can roll from one room to another is convenient for many bird keepers. We personally like these cages because the tall stand adds more length to the cage, and you can relocate the cage anywhere anytime!
Types of Pet Birds
Let's face it, some birds won't like you no matter what you do for them. They are just not cut out for the domesticated life.
However, there are friendly birds that can't have enough fun with their human friends.
Parakeets
What we love about parakeets is that they are small and energetic with a flair for words! They absolutely love it when you gently scratch their backs and wings. Budgies are the best talkers of the lot, and they learn words quicker than you know!
Finches
These are tiny, low-maintenance birds that love having a social life. So, it's cool if you keep a couple of finches together. Finches aren't picky about what they eat, and they have that easy-breezy attitude new bird owners like.
Canaries
Next up, we have canaries, and they are our all-time favorites. They come in many colors and have a beautiful voice as well. It's super easy to care for them, and they love going to town on vegetables and inexpensive pellets.
Cockatiels
Speaking of social, fun-loving pets, cockatiels indeed made it to the top 4. They not only look fantastic with a blast of colors but also are intelligent creatures. Cockatiels make great pets and enjoy spending time with you as well.
Some Common Disorders of a Pet Bird
Your pet parrot can often feel under the weather. The worst part? It's easy to miss their signs of discomfort. What otherwise seems like a lazy day, could actually be a cry for help.
We're mentioning the most common symptoms pet birds show when they're sick and stressed. Make sure to look out for them!
Loss of Appetite
Birds like parakeets usually have a high metabolism rate; they work up a good appetite from hopping around all day. A loss of appetite might mean that your pet bird isn't liking the food or feeling unwell.
Losing Feathers
Your pet parrot can lose feathers for plenty of reasons. But the most common cause of missing feathers is long-term stress. Compulsive preening, irritability, aggression, or not eating healthy can be the underlying reasons.
Lethargy
It's common for pet birds to spend a certain time in the afternoon nodding off. However, if your birds spend a large amount of time on the perch and show no interest in moving, it means that the bird is ill, and needs veterinary care ASAP.
Preventative Care for Birds
As new bird keepers, your experience with these feathered beauties will be nothing but remarkable! That is, once you keep them in a nice cage and take care of them! Here are a few extra tips for making your pet bird feel more at home!
Toys & Perches
You can use cardboard boxes, foraging toys, pinatas, bells, links, and carabiners as toys. Birds like parakeets and cockatiels prefer wooden perches at different heights. But it's best if you motivate them to climb.
Bathing & Cleaning
Make sure to bathe your pet bird with clean water two times a week. It regulates their normal preening practices, promotes healthy feather turn-over, and prevents diseases.
Preventive Medicine
Even if your birds look healthy, make time to visit the vet at regular intervals. We recommend a check-up every 3 months or so. Keep new birds quarantined from the old ones and be extra careful with antibiotics.
Where Should You Place the Cage
If you're having a hard time deciding where to put the birdcage, we can help!
Against A Wall: Pet birds like to feel secure in their cages. If you have other pets such as cats or dogs, you should definitely place the cage against a wall. As they can move to that side when they feel stressed.
By the Window: Never keep your birdcage directly facing the window. Storms, other birds, and predators can stress out baby parakeets. Make sure that your birds have a sufficient view of the outside and feel safe at the same time.
Commonly Used Rooms: If you don't want your birds to feel lonely, place the cage where you and your family members visit frequently throughout the day. Cages often include a stand with rolling casters so that your birds can enjoy different landscapes.
Frequently Asked Questions
What size bird cage should I get for my finches?
Finches need a cage that is at least 30 inches tall and has a square-shaped bottom. You'll notice that most breeder cages for finches are wider, shorter, and sometimes divided. The wire spacing should not exceed ½ inches.
What's the difference between a flight cage and a normal cage?
A regular breeder cage isn't a tall one. It's because both the male and female birds stay busy incubating the eggs. On the other hand, a flight cage is where your pet birds can fly from one perch to another and climb up the metal bars. Therefore, flight cages are much taller compared to regular ones.
What type of toys should I keep in a birdcage?
Foraging toys and a hanging rope perch are a must for growing parakeets and cockatiels. They love climbing and keeping busy. A foraging toy is where you hide special bird treats and your parakeets have to hunt/forage for the snacks. Toys keep your birds active and healthy.
How can I tell if my bird is sick?
The symptoms of a sick bird range from excessive preening behaviors, anxious bird calls to inactivity and loss of appetite. Birds like finches, canaries, and lovebirds often stand at the lowest part of the cage when they are sad.
Why should I get a rolling bird cage?
Here's the thing, pet birds get bored quite often, and a little change of air can lift their spirits like nothing else. And this is where rolling cage stands come to save the day. They have four swivel casters and carry handles so that you can place the cage in a different room whenever you want.
Bottom Line
With a little bit of luck (and hours of work!), you can find a life-long companion in an ordinary parakeet. So, it's important that you get the very best bird cage for your feathered friend!
If we are to picture a suitable birdcage for healthy and active birds, it would look a lot like the Prevue Hendryx flight cage. It tops everything else with its deluxe size, 4 sliding doors, and perches.
Thanks for reading!