If you love to watch birds using binoculars but wear glasses, you know how painful the situation is. It happens due to short eye relief of the binoculars. If you wear glasses, you need to select binoculars that come with good eye relief and perform well for watching birds.
The guide will help you find the best birding binoculars for eyeglass wearers without sacrificing any expectations and provide you with outstanding performance. At the same time, you can stock birds when they are on a flight.
Editor's Choice
Can I Use Binoculars if I Wear Glasses?
You can use binoculars if you wear glasses without facing any issues. But, you need to select a pair of binoculars that come with better eye relief to adjust your glasses with the binoculars. We will discuss this in the next section.
What Is The Ideal Eye Relief For Glass Wearers?
Before you know the ideal eye relief, you need to know the basic concept of binocular eye relief. Eye relief is the distance between your eyes and the outer layer of the binocular lenses. It allows you to position your eyes on the binoculars to watch without any vignetting.
But, if there are minimal differences between the tip of your eye and the lens, then you will notice everything going fuzzy from the edge, and you fail to gain the real enjoyment of using binoculars. And this problem is common for eyeglass wearers.
I hope the basic concept is clear to you. So, which is the ideal eye relief for glass wearers? 
You should select binoculars that come with more than 14 mm eye relief. However, the ideal eye relief for glass wearers is around 17 mm to 18 mm. For more surety, you can go with 20 mm eye relief that is compatible with all sorts of spectacles.
5 Best Birding Binoculars For Eyeglass Wearers
Celestron Nature DX 8×42 Binoculars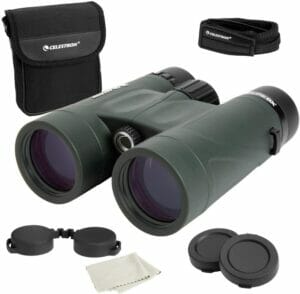 If you want to take your birding experience to the next level, you should try the Celestron Nature DX 8×42 Binoculars. The right combination of magnification, a field of view, and close focus distance make the binoculars a true gear for birding. Plus, it is featured as top pick binoculars under $200 by the Cornell Lab of Ornithology.
Let's talk about our main purpose: why are we here? The binoculars come with 18 mm eye relief. So, there is no chance to miss the beauty and details of birds if you wear glasses. Plus, the twist-up eyecups with multi-stop functions allow better eye positioning.
The 8 power magnification with a 32 mm objective lens allows you to watch the object closer to you without losing the quality. The mid-sized binoculars come with BaK-4 Prisms, which are considered the best type of Porro prism and have enough popularity to produce clear images. Plus, the fully multi-coated lenses take this to the next level. 
The larger field of view will help you not miss any birds' movements. The 8X42s binoculars will perfectly fit your hand due to their compact size. The lightweight polycarbonate housing makes it easy to carry anywhere you want and protects it from unwanted damage. In addition, the rubber adds extra security and durability.
You do not have to worry about carrying it when there is rain or fog in your area. The binocular comes with waterproof features and purges with nitrogen gas, which prevents creating fog from the inner parts.
Pros
Feel secure in the hand and well made
Good eye relief for eyeglass wearers
Better field of view
Easy to focus
provide a clear and crisp image
Waterproof and fog proof
Affordable price
Cons
Hasn't micro-adjustable eye relief
Quick Specification Summary
Eye Relief: 18 mm or 1.8 cm
Magnification: 8x
Objective Lens: 42 mm
Field of view: 388 feet @ 1000yds
Prism Type: Fully Multi-coated with BaK-4 Prisms
Weight: 1.75 lbs
The package includes: Carrying case, a lens cloth, objective lens caps, a neck strap, an eyepiece rain guard, and an instruction manual
Nikon PROSTAFF 3S 8×42 Binoculars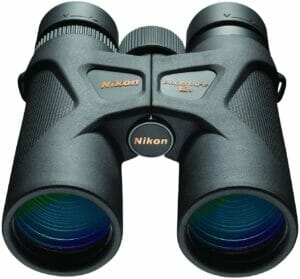 If you want a pair of binoculars that come in an affordable price range with better eye relief without vignetting, the Nikon Prostaff will not disappoint you. The binoculars come with 20.2 mm eye relief which means you can use the binoculars using all sorts of glasses. 
You might think surely the birding binoculars sacrifice some important feature to cut down the price. Let me clarify. You are wrong. You will get everything which is needed for good quality binoculars.
You will get a better feeling when you grab the binoculars in your hand due to their lightweight, compact, and softness. It also has a rubber-armored coating that provides extra security from unwanted drops. It ensures better hold of all types of weather.
Like its build quality, it does not disappoint you in performance. The lenses are made of multilayer coating, which means better light transmission and better image quality. The good amount of magnification and objective lens add extra benefit to watching birds from far away.
You can carry the binoculars in the field in any weather condition due to their waterproof and fog proof feature. The binoculars were sealed with O-Ring and filled with nitrogen, which obstructed the fog to build up in the lenses and inserted water in the inner portion of the device.
The Nikon PROSTAFF 3S also comes with turn-and-slide rubber multi-click eyecups, which means you can trace the birds in a flight in a matter of seconds. However, the eye caps are a little clunky, which provides a low-quality feel, but it is acceptable in this price range.
Pros
Compatible with any type of eyeglass
Crystal clear bird viewing
Wider field of view
Waterproof and fog proof
Limited lifetime warranty
Budget value
Cons
Eye caps are a little clunky
Quick Specification Summary
Eye Relief: 20.2 mm or 2.02 cm
Magnification: 8x
Objective Lens: 42 mm
Field of view: 377 feet @ 1000yds
Prism Type: Roof Prisms with multilayer coating
Weight: 1 pound
The package includes: A neck strap, lens caps, an eyepiece cap, and a soft case
Swarovski 8.5×42 EL Binocular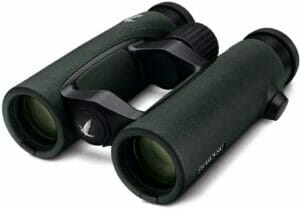 Swarovski has an adequate reputation in the high-end binos market due to their outstanding performance, and day by day, it is getting better. You will find the same flow in the Swarovski EL Binocular. 
The binoculars are a good option for any birder, whether you wear glass or not. The 20mm eye-relief makes it easier to position your eyes at the correct distance. Plus, it provides a great hold due to its cut-away section, reducing the extra weight.
The binos come with magnesium alloy for producing the mainframe, which is far better and premium than the commonly used polycarbonate plastic and aluminum frames. The materials make it more robust and resistant to corrosion. You will feel the premium-ness while you hold the device in your hand.
In terms of clarity, they do not compromise anything. Even they bit some reputed binoculars like Zeiss Victo and Leica Noctivid. Plus, the multi-coating ensures better brightness along with a clear image. Also, you find almost zero fringing or chromatic aberration due to their fluoride coating.
To make the binoculars waterproof and fog proof, they sealed inert gas in the internal cavity of the device. However, they do not mention whether it is filled with nitrogen or argon, commonly used in binoculars. Yet, they tested the binos' ability by submerging them in water up to 13 feet / 4 meters.
Pros
Incredible clarity and brightness
The open bridge body design
Comfortable in hand and sturdy
Can use dusk and dawn
Long eye relief
Fog and waterproof
Easy adjustment
10 years warranty for parts
Cons
Not a dedicated tripod mount is available 
The focusing mechanism is exceptional in the price point
Quick Specification Summary
Eye Relief: 20 mm or 2 cm
Magnification: 8.5x
Objective Lens: 42 mm
Field of view: 399 feet @ 1000yds
Prism Type: Fully Multi-Coated Roof Prisms with P-coating
Weight: 835g
The Package includes: Field bag, Eyepiece cover, Objective Lens cover, lift carrying strap
Nikon 7548 MONARCH 7 8×42 Binocular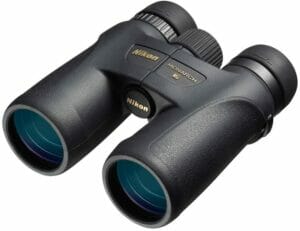 Here are another Nikon binoculars which can enhance your birding experience in a medium budget range. The 8-time magnification with a 42 mm objective lens ensures that you will not miss the bird's movement from far away for a better FOV. 
The binos come with 17.1 mm eye relief, which is not an exception like the above-selected devices but enough for using it when wearing glasses. Also, it provides you a comfortable hold due to its rubber armor and makes it robust and capable of standing out in any extreme condition.
You will not miss the bird's movements due to its easy adjustment feature and hold the adjustment perfectly. Also, you can bring the device into the field in any weather condition, and it won't create any fog from the internal parts due to the nitrogen gas. The device can be submerged to 3.3 feet deep.
The MONARCH 7 binos ensure that you will find clear and bright image quality for this, thanks to the high-reflective multi-layer prism coatings. Plus, the low-light performance is far better than you think.
Though the device provides a clear image from far objects, you will notice chromatic aberration, and it will increase in a bright overcast sky.
Pros
Ideal for birdwatching with and without eyeglass
Produce crystal clear image
Durable build quality
Accurate Color Reproduction
Better eye relief
Easy to focus and adjust
Lightweight and sturdy
Waterproof and fog proof
Wide field of view
Cons
Noticeable chromatic aberration in edges
Quick Specification Summary
Eye Relief: 17.1 mm or 1.71 cm
Magnification: 8x
Objective Lens: 42 mm
Field of view: 420 feet @ 1000yds
Prism Type: Roof Prisms with multi-layered
Weight: 649.0 g
The Package includes: Carrying case and lens covers
SkyGenius 10 x 50 Bird Watching Binoculars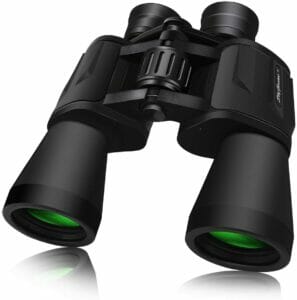 Are you searching for birding binoculars but budget low? Then, Skygenius Binoculars will be the cheapest but good option for you. The binoculars come with 18 mm eye relief, which is enough for stocking birds and positioning your eye perfectly while wearing glasses.
At the cheapest price point, the build quality is pretty decent. Its odorless rubber armor provides a better grip and makes it shock resistant.
The main attraction of the binos is the 10-time magnification and 10 mm objective lens. It will allow you to see birds from far away without dropping the quality. The binoculars come with a corrective optical coating which will help to produce better contrast and resolution of the objects.
The manufacturers provide contradictory information regarding the lens coatings. You will find that the manufacturer claims that the lenses are "Fully Multi-Coated," which is better than multi-coated. But, on amazon, they address the lens as multi-coated. After emailing them, they do not clarify the fact.
The binoculars come with many drawbacks like weather resistance issues, slight chromatic aberration, etc. But, below the $40 price point, it is acceptable, and believe me, it will not disappoint you at this price range.
Pros
Good for eyeglass wearers 
Wider field of view
Compact design and provide better grip
Easy to control the Focus and central hinge
Cheapest price
Cons
Not waterproof
Chromatic aberration presence
Quick Specification Summary
Eye Relief: 18 mm or 1.8 cm
Magnification: 10x
Objective Lens: 50 mm
Field of view: 367 feet @ 1000yds
Prism Type: Porro Prisms
Weight: 1.80 lbs
The Package includes: Carrying case, Strap, Cleaning cloth, lens caps
Related: Top 5 Best binoculars with camera for bird watching
Final Words
If you want to watch the colorful birds far from you, then nothing better than having good quality binoculars. But, many glass wearers think that they can not find ideal binoculars that easily adjust without sacrificing performance.
However, you know the above statement is completely wrong if you read the above guide. After reading the whole guide, I hope you find the best bird watching binoculars for glasses wearers to enhance the birding experience.