Whether you are a casual bird watcher or a professional naturalist, binoculars with built-in cameras are essential to any serious birder. They allow you to capture better quality images and videos of birds in the wild.
Binoculars and cameras go hand-in-hand for bird-watching enthusiasts. So, lots of manufactures produce digital camera binoculars. However, it can be hard to know which ones are worth your time and money. Also, it's easy to get overwhelmed when trying to make a purchase decision.
Don't worry! I've done all the hard work for you. Read the guide below to find out the best binoculars with camera for bird watching, which is right for you.
Editor's Choice of best camera binoculars for bird watching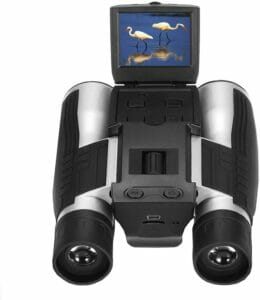 Overall best
Vazussk Binoculars Camera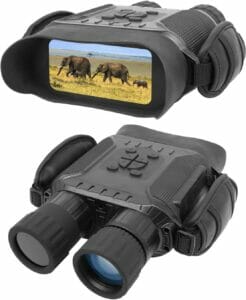 For multi-purpose
Bestguarder Binocular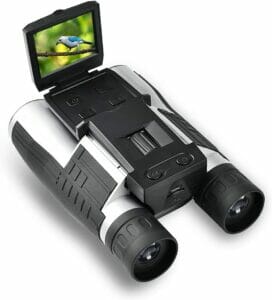 Budget Value
GT HITGX Binoculars Camera
5 Best binoculars with camera for bird watching
Vazussk 2″ HD Digital Binoculars Camera
The unit comes with a 2″ LCD screen. The large screen helps you to monitor what you're capturing. You can take video and images with 1280 x 1080 resolution. The plenty timer option allows you to set it according to your need.
You'll get a decent image and video quality with the camera but don't expect that to beat the DSLR Cameras ( This term is applicable for all the binoculars cameras, So I'll don't mention it in other review sections.) 
The binocular camera comes with an in-built Li-ion battery and a 16GB TF card. You can use a max 32GB SD card with it. You need to use a TF card for capturing video. The binoculars are compatible with a tripod, which allows you to take shake-free images or videos.
The ABS shock resistance materials make the binoculars lightweight as well as sturdy enough. Also, its rugged rubber armor and non-slip grip provide you enough comfort when you grab it. 
If you're a glass wearer, then Vazussk will be a good option for you as it comes with decent eye relief. But, The field of view isn't great for the camera binoculars. The binoculars have a field of view 96 meters at 1,000 meters, which is less than the ideal FOV.
Bestguarder Digital Night Vision Binocular
You'll get a close-up view of your target objects due to its 4.5x optical magnification and 5x digital zoom. And, the 40mm objective lens ensures that you'll get a bright image. Also, you'll get a great FOV which is 400m at 1400ft. However, most of the users said that it's good, around 100 to 300 meters.
You can get better quality images and videos during the daytime, even at night. Also, The CMOS sensor allows you to capture high frame rate videos and pictures with detailed views. The good thing is: you can also record the video with sound. In addition, the multi-coated optics can enhance light transmission while reducing glare.
The binoculars come with a multi-shot function that allows you to trigger 3 images at a time. So, you'll not miss any beautiful moments when birds are on the flight. Also, you can use the replay function whether you get a perfect shot or not.
You will get a 32GB memory card with the device. Also, you can easily mount it with a tripod which is highly recommended to get a shake-free image as the birding binocular is a little bit heavy. 
The night vision feature provides you more than which they mention. For example, you can inspect long-distance objects for its 850 NM 3W infrared LED. Also, its user-friendly interface makes it easy to use even in darkness.
However, The device doesn't come with an in-built battery which should be. For this, you need to purchase 8 AA batteries separately. 
Digital Binoculars Camera Telescope Camera
The digital binocular comes with a 5 MP camera which provides a better image quality. Also, you can capture videos at 1280x 1080 resolution. Furthermore, you can inspect whether you capture a perfect image or video using the 2 inch LCD screen.
The digital camera comes with an 8 GB TF card which you can extend up to 32 GB. So, you cannot use it for a long time without transferring the file on your computer, but this is also applicable for most digital camera binoculars. You'll also get a rechargeable lithium battery which is lacking on Bestguarder digital night vision binoculars.
You don't need to worry about unwanted damage due to its rubber coating and shock-resistance features. Also, It's compact enough, which allows you to carry it without any hassle. 
The field of view is 96 meters at 1000 meters which isn't perfect. Also, The compact binoculars come with enough eye relief to watch through them without removing your glass.
GT HITGX Binoculars Digital Camera
Want to know the best part? The digital camera binoculars come with an anti-shake feature. So, You can take better quality images and videos in any condition. Also, The 2 inch LCD screen on the camera gives you quick control over different functions.
If you wear glasses, then you don't need to remove them to use them due to its 8 mm exit pupil. The binoculars support up to 32GB sd cards. But, you don't get an SD card with it. The binoculars are easily compatible with a tripod.
 It comes with a built-in lithium battery. It can stand for around 2 hours which isn't terrible at this price point. You can easily carry it anywhere for its compact design, and easy-to-use functionality allows it without any hassle.
Camonity Digital Binocular with Camera Camonity
The good thing about this 2″ LCD screen is the 1080 x 1280 resolution which resembles what you see on computer screens. The screen is also convenient and easy to use.
You can capture videos in 30 fps, where my expectation was 60 fps. As it comes with a manual focus, you'll find it hard to focus if you haven't before such a manual focus device.
You can store the images and videos in a 16 GB TF card which will come with the package. But, the device can support up to 32 GB SD card.
You don't need to worry about taking it outside due to its heavy-duty design. In addition, the bird watching binoculars come with a shock-resistance feature. Also, The non-slip grip with surrounding rugged rubber ensures that it doesn't easily slip from your hand. 
The device is compatible with a tripod. So, you can capture stable images constantly. You can use a lithium-ion battery for long runtime, but it doesn't come in the package.
Related: Top 5 bird watching lightweight binoculars.
What is a camera binocular?
A camera binocular is a device that combines the optics of a camera and binoculars. The camera and lenses can be mounted on one side, and the eyepieces of the binoculars on the other, or vice versa. 
Camera binoculars can come in all shapes and sizes. They're usually used during outdoor excursions such as bird watching, hiking, or hunting.
The digital camera binocular has the ability to capture both live and still images. This allows you to get more out of your view with this type of binocular. The pictures and videos you take can be stored on an SD card or directly transmitted to your smartphone, tablet, and computer via Wifi for easy sharing online.
Also, The camera binoculars come with two different prism options: roof prism binoculars and Porro prism binoculars.
Are binocular cameras worth it for bird watching?
Birding binocular cameras are great for birdwatching. They allow you to take photos of birds from a distance without scaring them away. But, If you're looking for a cheaper quality binoculars camera, it isn't worth for this task. 
Final Words
A binocular with a camera is an excellent choice for bird watching. It will allow you to take high-quality pictures of birds in their natural habitat.
The best binoculars with camera for bird watching are those that allow you to zoom in without sacrificing clarity. You want a device that offers sharp, clear optics and the ability to capture images of your subject at various distances.
If you're looking for such binoculars for your next bird-watching trips, the above list will help you find one without any hard work.
Happy Bird Watching 🙂