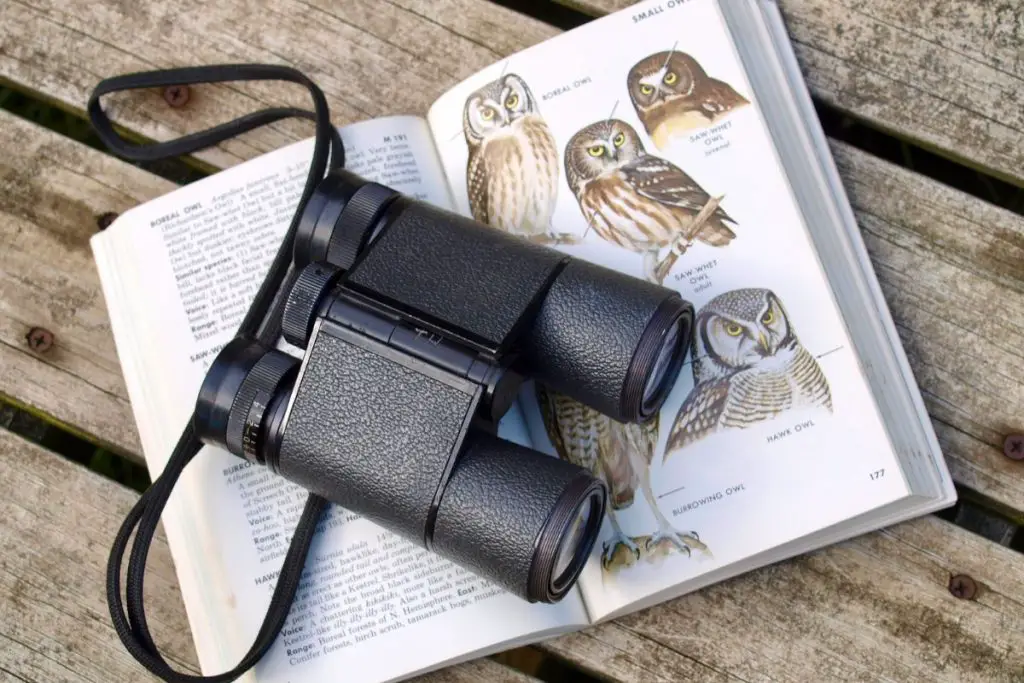 There's a whole world of birds out there that are full of joyful surprises. Birdwatching is a hobby that will take you places – bring you closer to nature, present opportunities for you to make new friends in the big community of bird lovers, offer a whole other perspective on the world, and so on.
To get into the birdwatching bustle, you need to get yourself a good pair of binoculars. When it comes to bird watching, lightweight binoculars are often preferred as they are easy to carry and maneuver. To help you find one, we are going to discuss the best lightweight binoculars for bird watching in this article. 
Top picks of lightweight binoculars
What Do The Numbers Mean On Binoculars?
You will see that there are numbers on binoculars – something like 8 x 42 for example. These two values each represent a function that refers to the objective lens's magnification and size. The first number represents the magnification power, while the second number represents the diameter of the objective lens.
For example, "8×42" means that the binoculars have a magnification of 8 times and an objective lens size of 42 millimeters. The magnification number indicates how much larger an object will appear through the binoculars compared to the naked eye. So, if you look at an object that is 100 yards away through 8x binoculars, it will appear as if it is only 12.5 yards away.
The objective lens size refers to the diameter of the front lens element, which affects the amount of light that can enter the binoculars. A larger objective lens size generally results in a brighter image but also makes the binoculars heavier.
When choosing binoculars, it's important to consider the right magnification and objective lens size for your intended use. For bird watching and other nature observations, a magnification of 8x to 10x and an objective lens size of 30mm to 42mm are generally considered good options. Higher magnification and larger objective lens size may be more appropriate for more extreme activities such as hunting or long-distance observation.
Factors to consider when choosing lightweight binoculars for bird watching
When choosing lightweight binoculars for bird watching, it is crucial to consider several key factors in order to find the best fit for your needs and preferences.
Magnification: A magnification of 8x to 10x is considered good for bird watching because it provides a good balance between image magnification and stability. At this magnification range, the image is magnified enough to provide a clear and detailed view of the bird while still allowing the user to keep the binoculars steady and stable without excessive shaking.
Objective lens size: Binoculars with a larger objective lens diameter or larger front lens element generally leads to brighter images, but it also increases the weight of the binoculars.
Weight: Lightweight binoculars are easier to carry around and less fatiguing to hold for extended periods of time.
Durability: The binoculars should be able to withstand the elements and be resistant to damage from impacts or drops.
Image quality: The binoculars should provide clear, bright images with good color representation and contrast.
By considering these factors and trying out different models, you can find the perfect lightweight binoculars for bird watching that meet your specific needs and preferences.
Top 5 Best Lightweight Binoculars For Bird Watching
If you're looking for compact binoculars that will give you long-standing service, then these five that we have lined up for you will be right up your alley.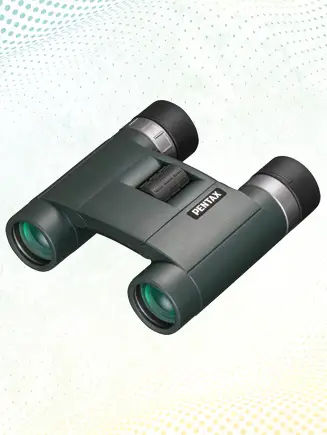 Pentax AD 8 x 25 WP Roof Prism Binocular
The best compact binoculars for bird watchers
The roof prism design provides a compact and durable structure, and the binoculars come with a comfortable neck strap for easy carrying..
Pros
Compact and lightweight design
8x magnification for a clear and detailed view
Roof prism design provides durable structure
Cons
Some users may prefer a wider field of view for bird watching
The Pentax AD 8 x 25 WP Roof Prism Binoculars are great for bird watching and outdoor activities. The compact size and lightweight design make it easy to carry, and with waterproof construction, you can use it in a variety of weather conditions. The 8x magnification provides a clear and detailed view of birds and their habitats, and the 25mm objective lens size allows for ample light transmission, resulting in bright and crisp images. Overall, the Pentax AD Binocular is a high-quality and reliable choice for bird watching.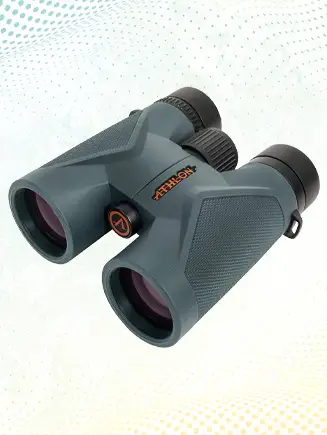 Athlon Optics Midas Binoculars
The best binoculars for bird watching
The binoculars feature a wide field of view, making it easy to track birds in flight.
Pros
Shows clear images with decipherable details
Accurate colors and shapes of the images
Excellent light transmission and optimal brightness
Ergonomic, well-placed knobs and attachments
The Athlon Optics Midas Binoculars promise you better with their particularly formulated ED Glass. The binoculars also feature a wide field of view, making it easy to track birds in flight. Blurring happens quite often on binos as a result of fringe reflection. But this special glass cuts through the fringe and gives crystal clear sharpness to your lenses that elevate your viewing experience altogether. The adjustable focus and eyecups allow for a comfortable viewing experience, and the binoculars come with a carrying case for protection and easy transport.
The lenses in these binoculars have been treated for advanced FMC to give you top-notch light transmission balanced out for optimum brightness. You are going to see colors in the whole spectrum; nothing shall be dulled or muted out by any means.
To protect the longevity of the lens service, the glass has been purged with argon. This keeps the moisture out so that your binoculars stay waterproof and have thermal stability. You don't have to deal with wiping your binos every few seconds when you go out watching birds in the evening drizzle.
The lossless reflection results in sharp images that stay true to color and clarity. Therefore, with these lenses, you will be able to watch birds in the distance as if they are just a few meters away from you. The experience will be highly rewarding, to say the least.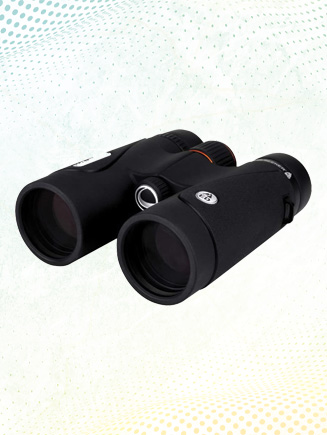 Celestron – TrailSeeker ED 10×42 Binoculars
The best Compact ED Binocular for Birdwatching
The ED objective lenses provide sharp and true-to-life images, and the fully broadband multi-coated optics enhance the overall image quality.
Pros
Doesn't fog up in any level of humidity
Contrast to resolution ratio allows great details
Waterproof binoculars
Fully Broadband Multi-coated Optics
Cons
Has a central focus with dioptric adjustment but not for individual eyepieces
Eye caps uncap voluntarily sometimes
When you're watching birds, observing details will become a fundamental joy. You will achieve that with Celestron – TrailSeeker ED 10×42 Binoculars for their high resolution, contrast, and color accuracy. The ED objective lenses provide sharp, true-to-life images, and the fully broadband multi-coated optics enhance the overall image quality.
The objective lenses that are packed in the eyepieces are particularly made to cut out purple fringes so that everything you see through it looks as good as it does with the naked eye. Moreover, the glass has multiple coatings to ensure that reflections don't interfere with the images from any viewing angle. As a result of this, images are clear, crisp, and sharp. You get BAK4 prism glass in these binoculars. First, let us mention that this is the best glass for binoculars right now.
The glass has a very high refractive index, which means that light won't bend too much as it enters your eyes through the lenses. Objects will appear true to size and dimensions, allowing you to identify birds and enjoy their tiny details much more. These binos excel in terms of usability and durability hand-in-hand. The chassis is waterproof, and on top of that, it has nitrogen packed inside that soaks up any excess moisture that builds up inside.
The eyecups are padded so that you don't feel any discomfort in your eyes whatsoever. You can twist them up as per your necessity. They're very well built as well. In fact, the whole body of these binoculars has been armored fully into the new Celestron Industrial design. It also comes with a carrying case for protection and easy transport.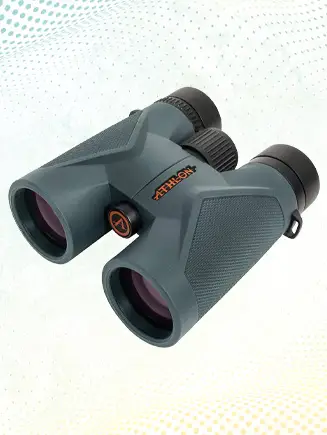 ZEISS Terra ED Pocket Binoculars
The best Binoculars for Fast Focusing
Optimal Clarity in All Weather Conditions for Bird Watching, Hunting, Sightseeing.
Pros
Big focus wheel in the center
Eye caps with full adjustments
Waterproof binoculars
Multi-layer coated glass
Cons
Drpping it might put bins out of sync
The ZEISS Terra ED binoculars are top-performing with the ability to transmit 88% of light, thanks to its hydrophobic multi-coated Schmidt-Pechan ED glass which delivers clear and accurate images. The focus wheel is simple to use, with a fast and comfortable focusing mechanism. Its compact size, lightweight, and waterproof fiberglass reinforced casing make it both strong and easy to carry. The binoculars also feature ZEISS's anti-reflective coating for high-contrast images in any lighting and a hydrophobic coating for clear viewing in all weather conditions.
The design of the binoculars enhances the user experience by keeping the focus control within reach of your fingertips. You can effortlessly control the binoculars and adjust your viewing paths with no extra effort. The focus wheel is conveniently located in the center, easily accessible with your index finger, making focusing fast and immediate. This helps reduce the chance of missing any birds in flight.
The Zeiss Terra ED binoculars have T-coated lenses for maximum clarity and high contrast, allowing for easy identification of birds and intricate details. The binoculars maintain high standards in build quality and performance, ensuring a satisfactory experience for the user.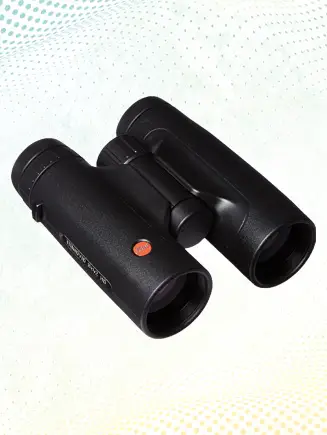 LEICA Trinovid HD Binocular
The Most Durable Lightweight Binoculars
Optimal Clarity in All Weather Conditions for Bird Watching, Hunting, Sightseeing.
Pros
Large depth of field
Rugged, Shock-resistant and waterproof
Only 1.38 Pounds
The Leica Trinovid-HD binoculars are a prime example of what a high-performing optical instrument should be. With a constant pursuit of development, the latest generation of the Trinovid-HD line boasts unmatched durability, ruggedness, and state-of-the-art image quality. Outstanding color fidelity, sharpness, and compactness are the hallmark of the Leica brand, and these binoculars are no exception.
The full rubber armor protects the binoculars from impact, and the ergonomic design provides a steady grip, allowing for intuitive and precise focusing. The compact design and low weight make them the perfect companion for the adventurous traveler, fitting easily into any backpack.
Leica's powerful HD optics provide an impressive balance of light transmission and bright, natural colors, resulting in breathtaking images with fascinating levels of detail and brilliance. The binoculars are shock-resistant and waterproof to a depth of 5 meters, making them a reliable and affordable choice for outdoor enthusiasts.
The new Leica Trinovid-HD 32 models are the ultimate choice for anyone who wants to see more and travel light. Its timeless, rugged design and numerous advantages make it the perfect tool for nature lovers and bird watchers.
How To Choose Compact Binoculars For Bird Watching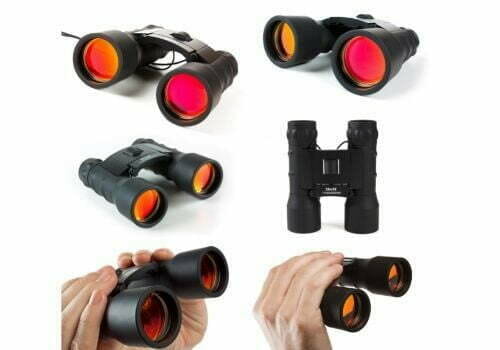 A good pair of binoculars can significantly affect the quality of your bird-watching experience. Here are some tips to help you choose the best compact binoculars for bird watching:
Magnification and Objective Lens Diameter: The first thing to consider is the binoculars' magnification and objective lens diameter for a good balance between magnification and field of view. For bird watching, a magnification of 8-10 and an objective lens diameter of 30-40 mm is ideal.
Field of view: The field of view (FOV) is an important factor to consider when choosing compact binoculars for bird watching. A wide FOV provides a broader view of the bird's environment, making it easier to keep track of the bird if it moves. There is a correlation between FOV and magnification, as higher magnification leads to a lower FOV. However, binoculars with a magnification of 8x or 10x have a good balance of FOV and magnification for bird watching.
Image Quality: Look for binoculars with high-quality glass and coatings to get clear, sharp images with high contrast. Binoculars with Extra-Low Dispersion (ED) or High-Density (HD) glass are great choices.
Optical Coatings: Multi-coated lenses will help reduce glare and improve image quality.
Size and Weight: Compact binoculars should be lightweight, easy to carry, and won't weigh you down on traveling.
Durability: Choosing durable and waterproof binoculars is important as Bird watching is mostly outdoor. Look for binoculars with a rubber coating for added protection against the elements.
Focus: A good focusing mechanism with a smooth focus wheel makes it easy to use and enhances the viewing experience without any frustration.
Price: The price of binoculars can vary greatly. It's important to find a good balance between price and quality. Don't sacrifice quality for a lower price, but don't overspend on features you don't need.
How to Use Binoculars for Birding
Before you start using the binoculars, you have to adjust them to suit your measurements and preferences. Here's how you do that.
Start with the Eyecups
You will see eyecups on almost all binoculars. If you wear glasses, you have to look through them. So keep the eyecups down so that it accommodates your eyewear. And if you don't wear glasses, then just keep the eyecups up so that they act as a shade for you.
In your binoculars, there are two long eyepieces that are connected to each other by a hinge in the center. You can move this hinge to increase or decrease the distance between these eyepieces. So you gotta do that first.
Pull the two eyepieces farthest apart, then hold them to your eyes and pull them back closer to each other until the two vision circles you see through the two eyepieces merge into one whole big circle.
There is a focus wheel on the top middle part of your binoculars. There's only one wheel, so you can't miss it. Hold the bins to your eyes and adjust the wheel to focus on objects that are at different lengths from you.
You will need to keep a finger on this wheel at all times to learn to automatically adjust the focal length with it so that you can follow birds at different levels very quickly. The better you get at controlling this wheel, the more birds you will be able to spot within a short time frame.
How to Use Binoculars with Glasses
If you wear glasses and need to use binoculars, there are a few options to ensure a comfortable and clear viewing experience.
Use Binoculars with a Longer Eye Relief: Binoculars with a longer eye relief will allow you to see the entire field of view, even if you're wearing glasses. Eye relief is the distance between the eyepiece and your eye.
Use Binoculars with Twist-Up Eyecups: Binoculars with twist-up eyecups can be adjusted to accommodate glasses by twisting them up, thus creating a gap between the glasses and the eyepiece. The most comfortable distance for spectacled eyes is 12 mm.
Use Binoculars with Fold-Down Eyecups: Binoculars with fold-down eyecups can be adjusted by folding them down to create a gap between the glasses and the eyepiece.
Invest in Binoculars with Interpupillary Distance Adjustment: This feature allows you to adjust the distance between the eyepieces, which is particularly important if you wear glasses.
Wear Glasses with Thin Frames: Wearing glasses with thin frames can reduce the chances of interference between the eyepieces and the glasses.
Cleaning Binoculars Internally
Your binoculars are quite intricate, and they shouldn't be treated roughly. You need the proper equipment to clean them thoroughly. We're going to describe the process briefly here.
Step 1: Air Blasting Time
Use an air blaster in order to blow air into the lenses, knobs, and all other crevices you can find.
Step 2: Small Brush Time
Get a small brush tool with fine and delicate bristles to brush off the dust and debris that still remains in the crevices after you air it out. At this point, give the lenses a thorough brush down so that you don't miss any spots. Your binos shouldn't have any dust after this step has been completed.
Step 3:Time To Gently Scrub It Down
Now take a lens solution and a microfiber cloth. Then soak up the cloth with the solution and gently rub the lenses down. Do not use any other means of cleaning your lenses or any other part of your binoculars because that might leave scratches on them. And that's it; you're done!
Roof Prisms vs. Porro Prisms For Birding
Roof prisms and Porro prisms are two different types of prism systems used in binoculars to reflect and redirect the light to the eyepiece.
Roof prisms are used in compact and waterproof binoculars and have a straight shape, which makes them more compact. They reflect light straight through the prism and thus have better image quality compared to Porro prisms. Roof prisms also require high precision in manufacturing and are, therefore, more expensive.
On the other hand, Porro prisms have a zigzag shape, making them less compact but less expensive than roof prisms. They reflect light twice, leading to more light loss, but provide a wider field of view and more depth perception than roof prisms.
| Feature | Roof Prisms | Porro Prisms |
| --- | --- | --- |
| Optics | Aligned in a straight line, resulting in a compact and sleek design | Bent at a 90-degree angle, providing a wider separation between the lenses |
| Image Quality | It can produce slightly inferior image quality due to the bent optical path | It can be more delicate and susceptible to damage due to the bent shape |
| Durability | Usually more durable due to the compact design, which minimizes the number of moving parts | It can be less comfortable for people with glasses as the eyecups do not fit as closely to the eyes |
| Cost | Typically more expensive due to the higher level of precision required in manufacturing | Often less expensive, but still provide good quality images |
| Size and Weight | Usually smaller and lighter due to the compact design | Usually larger and heavier due to the bent optical path |
| Comfort | Can be more comfortable for people with glasses as the eyecups fit more closely to the eyes | It can be more comfortable for people with glasses as the eyecups fit more closely to the eyes |
In birding, the type of prism system used depends on personal preferences, budget, and the purpose of use. Both roof and Porro prisms can be suitable for bird watching, but roof prisms are favored for their compactness, waterproofing, and higher image quality.
In the end, the perfect lightweight binoculars for bird watching will depend on your personal needs, preferences, and budget. By considering the factors discussed in this article, you can find the binoculars that best meet your needs and help you make the most of your bird-watching experience.