There's a whole world of birds out there that are full of joyful surprises. Birdwatching is a hobby that will take you places – bring you closer to nature, present opportunities for you to make new friends in the big community of bird lovers, offer a whole another perspective on the world, and so on. The joys are endless.
To really get into the bustle of birdwatching, you need to get yourself a good pair of binoculars. Get ones that are easy to carry and work with. To help you find one, we are going to discuss the best lightweight binoculars for bird watching in this article. 
What Do The Numbers Mean On Binoculars?
You will see that there are numbers on binoculars – something like 8 x 42, for example. These two values each represent a function. The first number, that is, 8 represents the magnification power, while the second number, 42, represents the diameter of the objective lens.
Objective diameters are lenses that are closest to the object that you're viewing through your binoculars. The diameter of the objective lens also gives you an idea of how big the binoculars are. The bigger the lenses in your binoculars are, the more light they will be able to draw in to make the object appear clearer to you.
5 Best Lightweight Binoculars For Bird Watching
If you're looking for compact binoculars that will give you long-standing service, then these five that we have lined up for you will be right up your alley.
1. Athlon Optics Midas Roof Prism UHD Binoculars
If you have spent any time birding with blurry binoculars, you have definitely felt the pangs of frustration deep in your heart. But Athlon Optics promises you better with their particularly formulated ED Glass.
Blurring happens quite often on binos as a result of fringe reflection. But this special glass cuts through the fringe and gives crystal clear sharpness to your lenses that elevate your viewing experience altogether.
The colors that you see through the binoculars have great accuracy produced by the merit of ESP dielectric coating, which is a multi-layered coating with a prismatic effect that reflects nearly 100% light back to the eyes.
And what about those lenses that make everything look dull and gloomy? Outside is a bright sky, and through your binoculars, you see a valley of doom. Well, that's because of poor lenses. But thank God that's not the case with Athlon Midas.
The lenses in these binoculars have been treated for advanced FMC to give you top-notch light transmission balanced out for optimum brightness. You are going to see colors in the whole spectrum; nothing shall be dulled or muted out by any means.
To protect the longevity of the service provided by the lenses, the glass has been purged with argon. This keeps the moisture out so that your binoculars stay waterproof and have thermal stability. You don't have to deal with wiping your binos every few seconds when you go out watching birds in the evening drizzle.
The lossless reflection results in sharp images that stay true to color and clarity. Therefore, with these lenses, you will be able to watch birds in the distance as if they are just a few meters away from you. The experience will be highly rewarding, to say the least.
Pros
Shows clear images with decipherable details
Accurate colors and shapes of the images make birding more enjoyable
Excellent light transmission and optimal brightness
Comfortable viewing perspectives
Ergonomic- has well-placed knobs and attachments
Cons
Weak strap – breaks easily
2. Celestron – TrailSeeker ED 10×42 Binoculars
When you're watching birds, observing details will become a fundamental joy, and this you can do with great pleasure due to the great resolution, contrast, and color accuracy of the CelestronTrailseeker.
The objective lenses that are packed in the eyepieces are particularly made to cut out purple fringes so that everything you see through it looks as good as it does with naked eyes.
Moreover, there are multiple coatings on the glass to ensure that reflections don't interfere with the images from any viewing angle. As a result of this, images are clear, crisp, and sharp.
You get BAK4 prism glass in these binoculars. First of all, let us mention that this is the best glass being used for binoculars right now.
The glass has a very high refractive index, which means that light won't bend too much as it enters your eyes through the lenses. Objects will appear true to size and dimensions, allowing you to identify birds and enjoy their tiny details much more.
These binos excel in terms of usability and durability hand-in-hand. The chassis is waterproof, and on top of that, it has nitrogen packed inside that soaks up any excess moisture that builds up inside.
The eyecups are padded so that you don't feel any discomfort in your eyes whatsoever. You can twist them up as per your necessity. They're very well built as well.
In fact, the whole body of these binoculars has been armored fully into the new Celestron Industrial design.
Pros
Lenses are refreshingly clear to see through
Produces true to life images
Contrast to resolution ratio allows great details to come through
Stable and sturdy body that can be traveled with
Doesn't fog up in any level of humidity.
Waterproof binoculars
Cons
Has a central focus with dioptric adjustment but not for individual eyepieces
Eye caps uncap voluntarily sometimes
3. Zeiss Terra ED Binoculars
Using these binoculars is a particularly pleasing experience because of the way that it is designed. The focus control stays at a natural distance to your fingertips. There is no extra effort involved. This allows you to have effortless control of your binos and manage your viewing paths with greater accuracy.
The glass on the eyepieces is built to take in optimum amounts of light. This makes images look bright and crisp clean.
Each of the lenses has special T-coating on it to maximize clarity and keep contrast levels high so that you can pick out details with just a glance through them. All the details are clearly exposed so that you can instantly identify birds or note intricate details of any new bird you see.
The focus wheel sits in the middle. It is accessible to your index finger by its natural placement. There is no calculation involved in the movement. The focus will be fast and immediate – the chances of you missing any bird in flight will be much reduced because of this.
Another thing you need to know is that you can travel freely with these binoculars around your neck.
You won't feel uncomfortable because it's a compact, lightweight device. And in case you accidentally drop it somewhere, don't worry. The casing has been deeply reinforced with glass fibers to keep it strong and sturdy beyond the normal impact level.
We love the Zeiss Terra ED because it keeps up the standard in terms of build quality and performance. You will never have an unsatisfactory moment with these bins in your hands.
Pros
Waterproof binoculars
Image has great clarity, color, and resolution
Focus wheel position is perfect for easy reach and activity
Has a lightweight, compact and robust body frame
Cons
Strap eyelet is very weak
4. LEICA Trinovid HD
These binoculars provide 8x magnification and produce high-quality images so that you get great output from them every time. Everything from contrast level to ease of use will impress and satisfy you without ever making you raise an eyebrow at it.
You get 8x magnification with this device. And that is among the two best magnifying powers which are most popular in the bird world. With such magnification, you will get perfect images of close-range objects that will allow you to appreciate birds in a much more fulfilling way.
Over long distances, your vision will still be perfect, and you will observe details over there too. But note that there will be a difference in the amount of light gathered.
Long-distance images will be a little less light than close-range images, but the difference won't be significant because it will be balanced out by the level of contrast in the images. The optical performance will be amazing at all times, be it bright or dim light outside.
Its body is designed to be very ergonomic. You will have a steady grip on it because of the rubber armor coating, which is sweat-proof and comfortable at the same time. And then we have the focus wheel at the center, which is easily reachable and demands nothing more than intuitive handling.
The rubber body definitely stands out the most among its features because it is much more comfortable than those with hard casing. Rubber can take more impact pressure than hard cases, and thus it is far more efficient at soaking up shock energy upon impact.
Pros
Versatile – shows objects far and near with easy clarity
Rubber body makes it easy to hold
The design is very user-friendly
Can handle any kinds of weather
Cons
Product doesn't have a flaw on its own, but it comes without the shoulder strap that the company promises
5. Zeiss Conquest HD Binocular
The 8×42 binoculars are your best friend when it comes to going out there in the open. They offer great colors and accuracy. The lenses are waterproof and thick enough to resist scratches from extreme activities.
The Zeiss Conquest is packed with HD lenses that produce color accuracy and have great color depth. Shades of different colors appear true to their own depth. You won't have a problem identifying little subtleties in colors and depth.
To enhance the effect of the colors, the lenses have been given a t-coating that brightens up every image and adds dimensions to what you see. Also, the lenses have an external LotuTec coating on them that protects them against water and fog. Thus, you will be able to take this out with you in any kind of weather you want.
The eye caps are easily adjustable, and they are comfortable for glass wearers as well. The focus wheel sits right at the center, but it's a bit small. You will get used to it pretty fast, and once you do, there's no going back. The scopes have comfortable width for your hands to get a firm grip on.
Overall, we love these binoculars because this is a no-hassle, easy-to-use device that is lightweight, compact, and does the job well.
Pros
Produces great colors and contrast
Doesn't catch scratch marks easily
T-premium coating on the glass brings in a lot of light
Cons
The two scopes are misaligned
Poorly made
How To Choose Compact Binoculars For Bird Watching
When you get into birdwatching, life without your binos will become unknown to you. So it's very important to get binoculars that are of good quality. So here are some features that tell you how to find the best binoculars for birding.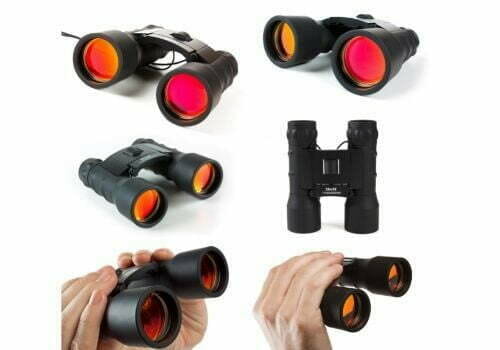 Choose Magnification
There are two choices when it comes to binoculars for birding – 8x and 10x magnification. There are slight differences that we are going to point out in the next section, so jump to that bit if you want the full details on these.
Field of View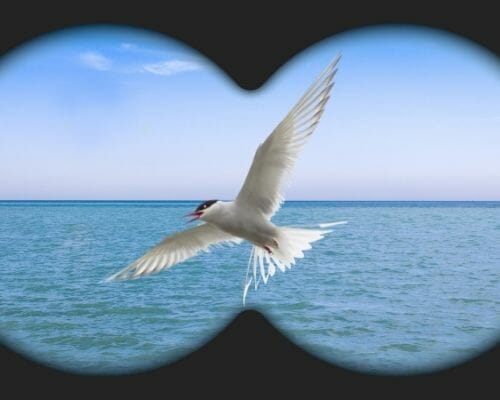 Let's call it FOV for convenience. Well, FOV determines the width of the image you see through the objective lenses.
A wide FOV is always good when it comes to birding binoculars in particular because they allow you to see more of the space where your bird is. So, if your bird suddenly moves (which is highly likely), you're less likely to lose focus from it if your binos have a wide FOV.
Now, this has a correlation with magnification. The higher magnification your binos have, the lower its FOV will be. It's a no-brainer if you think about it. But with 8x and 10 models, you have nothing to worry about – the fields of view are just right for these two magnifying powers.
Objective Lenses
Lenses are very important – these are the tools that pull light in through the binoculars and reflect it into your eyes so that you can see through them. When it comes to binoculars, you will hear about objective lenses a lot.
Now objective lenses are those lenses that are closest to the object that you're viewing. These lenses have a very complex unit that especially enhances performance, determines clarity, magnifies objects, and so on.
When you are buying binos, look in through the lenses and check for brightness, clarity, and sharpness in details. Do not compromise on any of these, and do not buy compact binoculars because they are all quite compromised on the lens area.
The bigger the lenses, the more light enters through them, and the brighter your image appears. Bigger lenses also mean heavier binos. So there's that caveat that doesn't allow you to pick the biggest lenses you can find in the market. You have to balance it out between the ratio of weight and lens power.
For birding photography, experts say that 40 mm is the sweet spot where weight and lens focal balance out.
You can go higher than that if you need more light gathering, but then you have to prepare to get a heavy bino. If you go lower than that, you will get portable binos that are easy to carry and chase birds with, but you will have to deal with low-lit images.
Eyewear Friendly
Don't worry about it! You can wear your glasses while watching birds through your binos without any discomfort because lightweight binoculars usually have eyecups that will retract to make space for your glasses.
If you don't wear glasses, then these adjustable eyecups will have a different function to you. They will provide shade over your eyes so that you are able to focus without having any residual light from the surroundings distract you.
Not all binoculars will have lens covers, though. If you don't need eye assistance, then you can skip this part, but it's very important for glass wearers to get one with eyecups and inspect it properly to see how functional it is.
Test the eyecups by adjusting them to their minimal position and look through to make sure no black rings form along the circumference of your vision.
Useful Extra Features
Well, there is the durability that you should care about. And then there is waterproofing.
Your lightweight binoculars will definitely be more durable if they are waterproof. Being fog proof is also a very good feature that you should look into because it will prevent your lenses from fogging up while you're out birding in highly humid areas.
We would also suggest that you look into multi-coatings on lenses – multiple coatings cut out image distortion and reflection so that you are light glares and halos don't annoy you while you're focusing on your bird.
8x or 10x Binoculars for Birding
In general, binoculars that have a narrow field of view are usually heavier than those with a broader field of view. With narrow FOV binos, you will have to fix the focus frequently, but broad FOV binos will stay stable without needing much tweaking.
8x will allow you to look at birds in the distance, but the 10x magnification will be even better for it. The view you get through the 8x will be brighter in low light than 10x images. On the other hand, the 8x has better stabilization than the 10x.  
If you're using a telescope, then you can just go with either one of these two – differentiate between them based on your preference of the type of birding you want to do.
8x is better for chasing birds around and locating them in unusual places, whereas the 10x is better for looking at birds that appear quite unobstructed over great distances.  
How to Use Binoculars for Birding
Before you start using the binoculars, you have to adjust them to suit your measurements and preferences. Here's how you do that.
Start with the Eyecups
You will see eyecups on almost all binoculars. If you wear glasses, you have to look through them. So keep the eyecups down so that it accommodates your eyewear. And if you don't wear glasses, then just keep the eyecups up so that they act as a shade for you.
In your binoculars, there are two long eyepieces that are connected to each other by a hinge in the center. You can move this hinge to increase or decrease the distance between these eyepieces. So you gotta do that first.
Pull the two eyepieces farthest apart, then hold them to your eyes and start to pull them back closer to each other until the two vision circles that you see through the two eyepieces merge into one whole big circle.
There is a focus wheel on the top middle part of your binoculars. There's only one wheel, so you can't miss it. Hold the bins to your eyes and adjust the wheel to focus on objects that are at different lengths from you.
You will need to keep a finger on this wheel at all times so that you learn to automatically adjust the focal length with it so that you can keep following birds at different levels very quickly. The better you get at controlling this wheel, the more birds you will be able to spot within a short time frame.
How to Use Binoculars with Glasses
The eyecups are your saving grace. You have to adjust them once for your glasses, and you're good!
Inside the eyecups are ocular lenses. These lenses are located at the most optimum position from where they can magnify images without putting any strain on your eyes. The position is set for maximum eye relief – so that your eyes don't hurt after focusing on something from such close proximity.
Also, the outer part of these eyecups is extendable. You can retract them or extend them as you wish.
If you wear eyeglasses, retract the eyecups. Twist them so that they are pushed right down to the ocular lenses. The most comfortable distance for spectacled eyes is 12 mm. So with the eyecups retracted and glasses on, that is exactly the distance that you'll be at from your binos. Thus, it won't be strenuous for your eyes at all.
At the same time, due to the retracted lenses, you will have a wider field of view that will help you spot birds more with more ease and accuracy.
Cleaning Binoculars Internally
Your binoculars are quite intricate, and they shouldn't be treated roughly. You need the proper equipment to clean them thoroughly. We're going to describe the process briefly here.
Step 1:Air Blasting Time
Use an air blaster in order to blow air into the lenses, knobs, and all other crevices you can find.
Step 2: Small Brush Time
Get a small brush tool with fine and delicate bristles to brush off the dust and debris that still remains in the crevices after you air it out. At this point, give the lenses a thorough brush down so that you don't miss any spots. Your binos shouldn't have any dust after this step has been completed.
Step 3:Time To Gently Scrub It Down
Now take a lens solution and a microfiber cloth. Then soak up the cloth with the solution and start rubbing the lenses down very gently. Do not use any other means of cleaning your lenses or any other part of your binoculars because that might leave scratches on them.
And that's it; you're done!
Roof Prisms vs. Porro Prisms For Birding
Remember when binoculars used to be these ragged-looking serious machines that looked like they were made by conjoining small arms of metal? Well, those rickety raggedy things were Porro prism binoculars. They looked cool but very complicated too.
In reality, Porro prism binoculars are the less complex cousin of the normal binoculars that you see today. Let's talk about them in more detail.
So, in Porro prism binoculars, the objective lenses aren't lined straight up with the lenses. There is a zigzag through which the light has to travel through the lenses to reach the eyepieces.
Roof prism binoculars, on the other hand, are more straightforward. Their lenses are lined up straight with eyepieces. These binoculars look simpler, and they're easier to work with.
However, the reality is that roof prism binoculars have a more complex internal build than Porro prisms. The light travels through a more advanced path in order to project images that are clearer than Porro prism binoculars.
Now, although Porro prism binoculars are more affordable in comparison, we would suggest you get a roof prism binocular because these are more accurate in every way.
Final Words
Birding is a hobby that is as pleasurable as it is rewarding. You learn to get closer to nature and closer to yourself both at the same time. It's something that shows you a different side of the world in every season, every day. We hope you found these 5 best compact binoculars for bird watching. Kudos to you if you did.
As soon as you enter the community, you're going to make a lot of new friends. Nature lovers are a very wholesome company, so thanks for your interest in birding. You can only come further in from here, so we welcome you. Happy birding!