One of the things common for every birdwatcher is that they like to enjoy finch birds' beauty. Finch birds are some of the most beautiful birds in different colors, like Red, orange, and yellow. So, It attracts every age of people and peoples wants to observe them in their backyard! It will be done by the best finch feeders.
If you want to observe them in your backyard and enjoy the beauty of these active and entertaining birds, Then you need to provide the best finch feeder for them to attract them to your backyard or garden.
On the market, you will find several feeders for finch, but they all are not enough to attract them to your yard. Here you will discover a few top-rated finch feeders, according to the expert, which assets you to attract the smallest and cutest finch birds.
Best finch feeders
Perky-Pet No/No Finch Feeder GB5F00340
The functional and attractive design of this Finch Tube Feeder makes it a must-have for any backyard birdwatcher. This  Feeder features a unique mesh wire design and is made of all metal without any plastic or wood, making it worth every bit of the price. Also, Its Patented design ensures the highest quality.
This feeder helps you add style and flair to your backyard because of its green baffle and tray combined with a black mesh seed tube. Its metal construction forbade squirrels and other small animals from trying to access bird seeds. Its top baffle attached gives extra protection seeds from the squirrels and provides shelter in different weather conditions.
No/No Green and Black Finch Feeder can feed up to 15 birds at once and is capable of 1.75 lb seed so that you can keep enough seed among backyard birds. Seeds stay fresher for their all-metal feeder protection.
You won't need to worry about installation and cleaning. You can easily hang it without any assembly and find pure enjoyment and relaxation, watching birds feeding in your yard or garden.
Most bird enthusiasts rated this feeder 5 out of 5 for its unique functionality and finch-friendly design.
Though it can handle rainfall, it is better to place them in a protected area for keeps seeds dry and fresh.
Pros
All-metal and steel construction
Easy to hang without assembly
Can hold up to 15 birds at once
Easy to clean and low maintenance
Cons
Lack of finch friendly color(yellow)
Costly
Stokes Select 38194 Bird Feeder
Finches are fond of yellow color, so stokes select bird feeder (38194) quickly grabs the finches' attention because of its vibrant yellow color to the top and bottom. This feeder provides finches with a natural feeding position, which keeps them in your backyard for a long time. Though this feeder doesn't create only for finches, it easily attracts finches for its fantastic design.
You won't need to worry about falling this feeder because its strong large hanging ring protects it from falling and gives stable feeding conditions. You will be upset after hearing this; the feeder makes with plastic construction. But, This plastic material makes the feeder more durable and not rust. Also, the feeder is excellent for clinging birds for its wire mesh body.
Refilling and cleaning are super easy for their wide opening makes. You need to remove the top and a bottom tray to access the feeders inside for cleaning. So, It will help you enjoy wild birds unlimited spend less time refilling and cleaning.
Its baffle top protects the seeds from squirrels because the baffle top looks like a garden flower so that squirrels won't jump into the feeder. Also, this feeder comes with built-in drainage holes to keep the seeds dry and fresh.
Pros
Capable of ½ pound seeds
Easy to fill and clean
Attract birds for its vibrant yellow color
Strong metal ring
Built-in drainage holes
Cons
Small size
Seeds will wet during heavy rainfall
Droll Yankees New Generation Finch Flocker Bird feeder
Because this tube feeder has 20 ports and is 40 inches long and is capable of 3.5 lbs of Nyjer or thistle seed or premium Nyjer mix, with this feeder, you can have up to 20 goldfinches feasting on your thistle feeder all at once that provide you lots of enjoyment and entertainment.
You won't need to worry about attracting finch in your yard because Its yellow base and cap easily attract goldfinches. The internal baffle leads the seed to the bottom level, ensuring that the feeder will empty and keep the seed fresh and avoid seed buildup.
The beauty of this finch feeder is not just its design. The polycarbonate tube feeder is constructed of UV-stabilized durable plastic, so it prevents makes the feeder from discoloring over time, and the metal tops and bases are made of zinc The seed ports restricted larger birds and squirrels to access the seed because seed ports are the perfect size for finches.
Droll Yankees feeders are a very user-friendly design. If you want to refill the feeder, only need to slide the metal cap up the hanger, and drainage holes keep seeds dry and fresh. So, You won't need to worry about bacteria and mold from outdated seeds.
Though, This feeder cost higher than other finch feeders, I recommend this feeder for you because of its durability and design. But also, This feeder lasts long and comes with a Lifetime Warranty also. If squirrels damage the feeder, the warranty covers it.
Pros
Yellow top and base made by Zinc die-cast metal.
Large Capacity
Squirrel-proof
Stainless steel wire hanger loop.
Lifetime warranty
Cons
Rainfall will ruin seeds
Challenging to clean for tube length
Squirrel Buster Finch Squirrel-proof Bird Feeder
The Brome 1016 Squirrel Buster feeder provides an innovative design that easily attracts Goldfinches, Purple, and House finches to your yard while keeping squirrels at bay. This feeder is capable of holding 1.4 quarts of bird seed, and eight birds can feed simultaneously, which provides you enough time to watch the natural beauty of finches and spend quality time.
Only a few finch feeder provides the highest security level to keep squirrel away among them this thistle feeder is one such product. Because while squirrels or other large birds jump into the feeder, Its weight automatically detects and shuts down the feeder. A negative grip tube won't provide access to squirrels for grabbing the wire hanger without hurting the squirrel or large bird and blocked from accessing the food.
You can hang the feeder anywhere you want. This feeder hangs easily using a wall bracket, branch hook, or extension hook and provides you with great close-up views of your favorite birds.
UV resistant all components keep your feeder looking new, and Transparent seed tubes block the escape of the heated air by trapping solar energy using its Transparent seed tubes. Humidity and hot air replace it with fresh air through the vents at the top of the feeder, and the seed remains fresher, attracting more wild birds to your backyard.
However, this feeder only holds nyjer seed.
If you are fading from squirrel, then this feeder is highly recommended to improve your birdwatching experience.
Pros
Seed level indicator
High security to prevent squirrels
UV-resistance
Made with chew-proof materials
Kaytee Finch Sock Instant Feeder
Also, you won't need to worry about the seeds because it already pre-filled with quality Kaytee Nyjer Seed, so you need to hang the finch feeders outside after purchasing and watch the beauty of finches.
Finch prefer mesh bag to plastics. This feeder sock is constructed from mesh material and capable of holding up to seven pounds of food. This mesh bag is perfect to attract a golden finch to the backyard.
This socks feeder only lasts a few weeks or refills. Because after some times holes get become bigger and stretched for constant poking and perching. If you use this feeder for a long time, then lots of bird food will waste. So, It is the right decision to have dozens of them.
Kaytee Finch Sock Instant Feeder is highly recommended if some finches visit your area or you're a seasonal birdwatcher.
Pros
Pre-fill Nyjer Seed
Budget-friendly
Replacement socks available
Easily refill from the top
Cons
Low durability and stand a few weeks
Discolor after few times
Perky-Pet 080086 YSSF00347 Shorty Finch Bird Feeder
The unique diamond-shaped metal mesh surface and seed tray (360-degree) provide the feeder attractive to both clinging and perching birds, and an all-over dining area allows more bird feeds at once. Also, Its all-metal construction makes it durable and helps prevent squirrel damage.
This feeder needs low maintenance and is easy to clean. If you need to pour the feeder, just the lid and cleaning, remove lid and base, making it easy to clean every inch of the feeder.
The draining holes keep the seed fresh and dry, but the feeder won't protect the feeder from heavy rainfall.
This feeder comes with a minor downside, but compare to the features it provides, you can ignore that one and buy it to attract the birds.
Pros
Strong metal hanger
Capable of holds 11.2 oz seeds
Mess design allows more birds to feed
Drain holes keep seeds dry
Cons
Heavy rainfall damage the seed
not squirrel proof
Aspects 398 Quick-Clean Thistle Tube Feeder
You can easily understand that this feeder is cleaning-friendly. Its Quick-Clean mechanism allows you to clean thoroughly. Just need to push its two buttons, then it slides easily out, and you can get easy access to the whole feeder.
The metal cap and base ensure seeds' safety in harsh weather conditions like heavy rainfall or snow. And the UV stabilizer prevents the feeder from turning into discolor.
Measuring its size 19.88 inches, a lot of finches can feed at once, and its ten feeding ports and five perches (made by plastic) give space for finches to spend a lot of time in your yard or garden. 
You don't need to worry about seed wasting because the Built-in seed deflector provides birds access to remove every last seed.
However, You can only provide nyjer seeds and squirrel to find easy access to the feeder.
Pros
Easy to clean
Capable of 1.75-quart seed
UV stabilized
The hanger on top is long enough
Cons
squirrel find easy access
Store only nyjer seeds
Droll Yankees 021964410735 DROCJTHM15Y Finch Flocker Feeder
Durable design provides the feeder classy look and polycarbonate seed tube designed as UV-stabilized that keeps the feeder new after using several months.
This plastic tube feeder comes with 6 feeding ports which can provide enough space for 6 to 8 birds and this feeder is capable of 1 pound of birdseed, so you don't need to make frequent refills and keep finches longer time on your feeder and gives you or kids a lot of enjoyment and pleasure.
You won't need to worry about seed spoiling because of the Internal baffle, which prevents seed buildup and provide ventilation to keep seed dry and fresh by using Drainage holes.
This feeder can easily hang either using the stainless steel hanging wire or pole mounted.
However, You will find it a bit inconvenient when clean inside of seed tube, and the tube is plastic made so using over time makes it pliant and more prone to cracking.
Pros
Well-built and durable
Easy to fill
Seed buildup prevents by an internal baffle
UV-stabilized keeps the feeder like new
Cons
The tube is plastic made
Holes on this feeder are small
Perky-Pet 399 Patented Upside Down Thistle Feeder
If you wanted to attract the goldfinch in your yard or garden, you can serve Thistle seeds to attract them because they like thistle seeds more than other seeds. So, You can choose this perky-pet, 399 thistle feeder. Also, Its rotating seed port makes it unique and invites the goldfinches into your yard.
The 2lb thistle seed or finch mix seed capacity is the perfect size for a feeder and enough for thistle feeds moderate visitors on your area, and this feeder can hold six or more birds at once.
It's relatively easy to hang the feeder with its built-in hanging hook. So, this feeder easily holds the weight of finch flocks.
Except for other birds, The finch has the ability of perched upside down while feeder. Each feeding port of this feeder provides this type of feeding station that attracts more goldfinch than other birds and gives you enough opportunity to enjoy a better view.
Many users don't like plastic tubes to use (I agree with this statement) because of their lower quality, and the plastic is thinner. Also, the top cap won't be suitable for extreme weather conditions. 
However, Comparing its design and value, this is the best goldfinch feeder.
Pros
Capable of two pounds of seed
A unique upside-down design
Easy to clean
Cons
Lower quality plastic
Won't suitable for all-weather condition
Perky-Pet FF10 Metal Finch Feeder
Perky-Pet FF10 feeder is an excellent finch feeder, and this feeder is highly recommended if more finch birds visit your local area. Because The full circle of perforations on the feeder helps to more finches, feed seeds at once. So, You won't need to worry about its durability, and this feeder lasts long and provides the best birding experience without any headache.
This comes with a sturdy design. Its all-metal design prevents it from different obstacles like an attack of squirrels. So, You won't need to worry about squirrels after installing this feeder.
Drainage holes provide protection of seed from sticking together and spoiling by rain. So you rest easy knowing that the seeds won't wet and stick together in a block. Also, It's rust-proof.
Although This feeder is not popular in the market like other bird feeders, this feeder has enough capability to attract a lot of goldfinches which you surely noticed after the first few days of use.
Also, This finch feeder earns a mix of reactions from the birdwatcher, few birdwatchers claimed that this feeder won't attract the finch where others reported success.
Despite its limitation, If you are looking for a durable and stable feeder, then I would still recommend this feeder for you.
Pros
All-metal construction makes it durable
Rust-proof
Enough place for feeding birds
Last long time
Cons
Single color option
Mix reaction among the users
Ultimate buying guide of Best Finch Feeders
Types of Finch Feeders
Tube Feeders
The long tube bird feeders are among the most common types of bird feeders that help keep seeds wet-free. This type of tube feeder also provides multiple feeding ports, which offer enough space for several finches to eat at once. These tube feeders' durable construction and easy maintenance make this type of finch feeder an excellent choice for your backyard or garden.
Sock Feeder
These finch feeders are great for attracting birds and the oldest way to feed birds but popular till now. Usually, this type of feeder shape like long socks made out of nylon netting. Allows multiple birds feeding at once and finches to cling on the large surface of the finch feeder when feeding. However, After using a few months, holes worsen and stretch for constant poking and perching, causing seed waste.
Mesh Feeder
Mesh bird feeders offer finch birds enough feeding space while protecting your birdseed supply and resisting squirrel damage. Even better, Mesh Feeders are durable and rugged construction gives you live long enjoyment.
Rotating Port feeder
This type of finch feeder is entirely different from other types of finch feeders for their positioning of the perches and provides the best experience in bird watching. Also, finches like to take their food while hanging upside-down. So, The feeding ports are located under the perches in the feeder. Therefore birds can hang upside-down while feeding.
Type of Food which Finches love
If your target is to attract finches in your yard, you need to provide the food they like most as like thistle feed. So, Make sure to purchase seeds with an intense black color because finches want to eat those types of seeds. There are two favorite seeds that get their attention.
Nyjer Seed: Nyjer seed is the favorite seed among goldfinches, Redpolls, and other small-billed seed-feeding birds and is specially designed for bird feeders. This seed provides an excellent energy source for finches because of its high oil content.
Though This type of seed relatively comes at a high price compared to other seeds, you won't need to refill it more often as bird feeders contain a general bird mix.
Also, This seed lasts longer than other seeds because most of the large birds and squirrels won't like this type of seed, and for its tiny size, it takes a long time for finches to eat.
Sunflower seeds: This is the best seed type for feeding birds. Also, Finches loves to eat sunflower seeds. If you want to attract finch birds, hands down, sunflower seed is the right pick, and you need to make sure it's already shelled. Plus, you need to offer the perfect sunflower seed feeder for them to access food easily.
However, the only drawback of using shelled sunflower is other birds like this type of seed, such as blackbirds, European starlings, and grackles (especially when served in a tray feeder.)
Best finch feeder selection tips
Before you purchase a feeder, you need to consider a few things which provide you the best experience in an extended period. Let's find out which item you need to consider before purchasing the feeder.
Colour of the feeder:  If you want to attract the birds on your feeder, select a feeder with a well-finished bright color. The top recommendation is to go with yellow color Because finches love the yellow color, not only that this color will provide you a great value to your well-maintained garden or yard.
Durability: Anywhere you place the feeder, it is sure that your feeder will face different weather conditions like wind, sun, and rain. You won't like your feeder cracks or damaged by weather or other causes after a couple of months. So, It is a better decision to always go with metal material which provides you durability.
However, If you like to purchase plastic made, then give enough look at thickness.
Size and capacity: This factor depends on your local area. If you don't find enough finches in your local area, it is better to start with a small feeder because seeds like nyjer is expensive and quickly spoil.
Always buy a feeder that capacity at least one or two pounds of seeds because this will remove the stress of refilling twice or more a day and provide the best birding experience.
Easy to clean and minimize waste: Finches don't like outdated and moldy seeds, so you need to keep clean your feeder. So, It is better to choose an easy cleaning feeder.
Finch's favorite seeds come at a high price, so you need to buy a feeder that has some mechanism to minimize seed waste.
The best position to hang finch feeder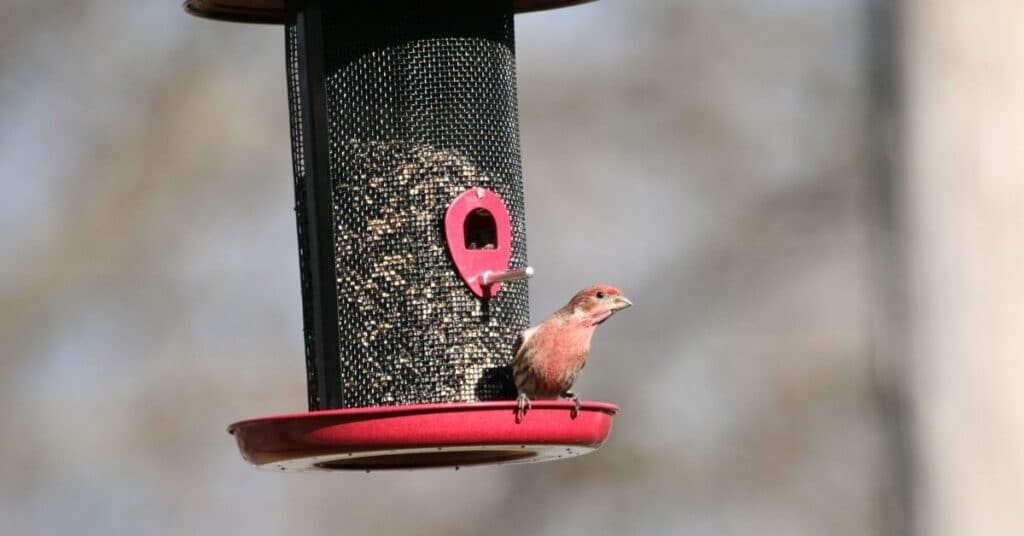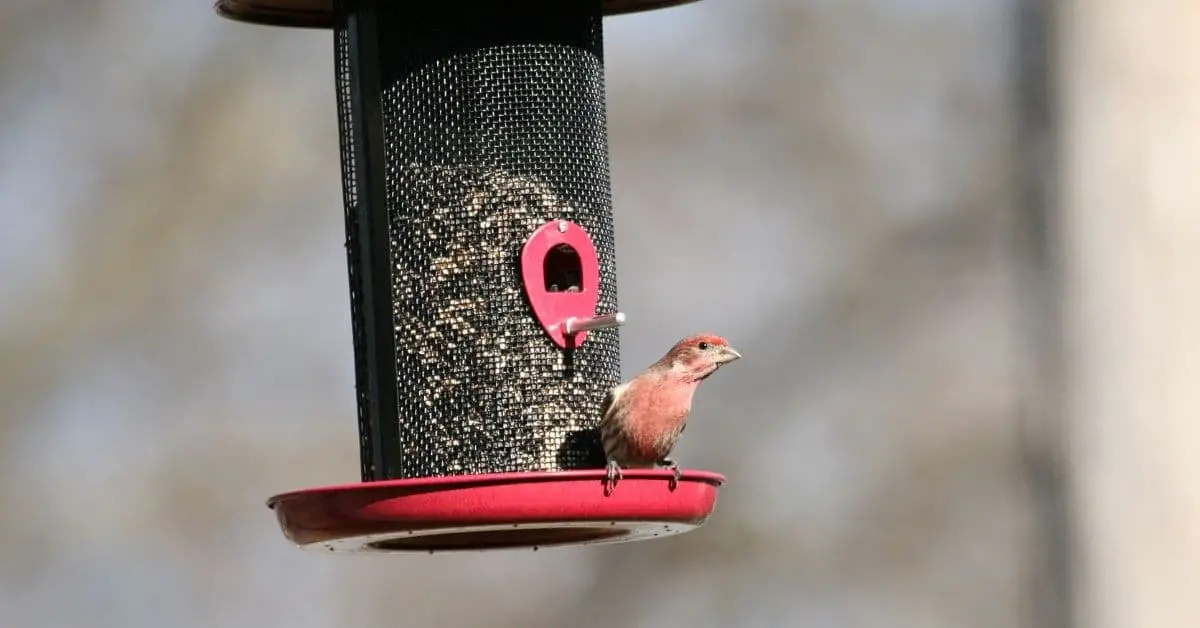 Finches like to perch in a high position like trees, and they don't want to feed on an open yard. It will provide you a better result for attracting finches if you hang the feeder near trees, and they will fill enough safety when feeding and stay more extended time on the feeder.
Finches are typically friendly to small birds about the same size and keep them away from other large birds. So, Place the feeder away from other large bird feeders. Trying to place a birdbath near the feeder, which also invites them more to visit in your yard, .and it will appeal the better decision if you remove the old feeder for a couple of days to send them to the new feeder.
Helpful tips for Attracting Finches
Safe place: If you set the feeder in an open yard, then finches will avoid your feeder because they feel vulnerable to predators. So, Place the feeder where they trust more like near a shrub or tree.
Seeds: Always provide good quality seeds that keep them more on your feeder and visit daily. So, It is a better decision to buy seeds that has an intense black color.
Keep cleaning the feeder: It is better to change the seed every two weeks because finches like fresh food. If they are eating it slowly, try to fill up half the feeder at a time. 
Add bright color ribbons and plants: Birds easily attracted by bright colors. Adding a colorful ribbon can attract finches, as the wind's movement gives them a signal like that another bird has explored the new feeder and remove their safety issue. It is also a better decision to use a colorful and flowering plant in your backyard, so birds spot your finch-friendly backyard easily from the sky.
Frequently Asked Questions (FAQ)
How to use a finch feeder?
Using a feeder is relatively easy. You need to hang the feeder in a safe place that easily attracts birds and provides seeds that they like most, like sunflower seeds or nyjer seeds.
What kind of feeder is best for nyjer seed?
For nyjer seeds, open metal mesh feeders are popular designs. These bird feeders allow the birds to cling directly to the feeding area while they pluck seeds.
Why are finch feeders yellow?
Yellow colors easily attract finches, That is why feeder manufacturers use yellow caps and bases to attract the finches.
Do squirrels like nyjer seed?
No, squirrels do not like nyjer seed. Nyjer seed is a type of bird feed that is made from sunflower seeds. The only way that they would like it is if they are starving.
How long does it take for finches to find a feeder?
Its depends. It might take 2 seconds to 2 months for birds to use a new feeder! It depends on feeder placement, feeder type, and which type of seeds you provide for finches. You can know more about how birds find a feeder from this article.
How do you attract house finches?
The proven way to attract House Finches to your backyard or garden is to offer them black oil sunflower seed, which they like most, and a birdbath.
How do I attract goldfinches into my garden?
Goldfinches are one of the most common birds found in gardens. They are attracted to a variety of plants and flowers. You can attract them by providing a bird feeder with their favorite nyjer seeds on it.
Final Word
If feeding birds are your hobby and want to watch finches, goldfinches, purple finches, and house finch in your backyard, you can follow the choices we provided above and get an okay result.
 But you need to remember that hanging the best finch feeders is not enough. You need to keep the feeder through adequate maintenance, which provides you with the best birding experience.