Trying to watch birds using binoculars doesn't satisfy compare to watching them quite close. I hope you also enjoy watching wild birds so close to your eyes. To serve this purpose, here comes the window feeder.
You will get the opportunity to watch their beautiful, unique beaks, plumage, or the color of their eyes while comfortable sitting on a chair. Your Kids and pets also like to see the birds a few inches away from their faces.
But, finding a good quality window feeder is a tricky task. For this, I come up with the 10 best window bird feeders which can sturdy attach to your window and serve their purpose.
Editor's Choice
Do window bird feeders work?
You can surely go to watch birds in your window if birds are present in your area. But, you should remember that there have been so many incidents occurred where birds dead after hitting the window. So, you should take steps to stop such incidents.
Also, birds are easy targets for many predators like cats, when they come to a window feeder. So, you should also keep them safe from the issue.
Best window bird feeders
1. Nature's Hangout Window Bird Feeder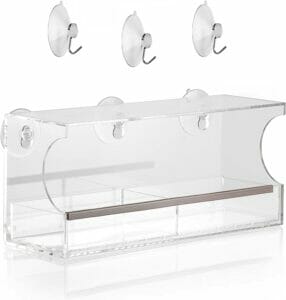 If you consider quality over anything, Nature's Hangout Window Bird Feeder will a good choice for you. It is large enough to feed several birds at once. So, if you live in a heavy bird traffic area, you can go with it.
You can get ultimate visibility for its high transparency acrylic material. You will not find obstacles to watching the beauty of local bird species and the beautiful markings of each bird.
The feeder comes with a removable tray. You can easily apart it from the main frame for cleaning and refilling purposes. This feeder also has drain holes in the tray so the seed can dry out if there is rain.
Suction cups are always a headache due to being poorly made. But, the feeder suction cup will not disappoint in this term even after squirrels sit on it. The suction cup holds up like a superhero. If the feeders get old, it has a replaceable feature so you can replace it when noticing any issue.
However, You need to place it in a higher place from the ground because the container is open enough so has the possibility of attacked by raccoons and cats.
Pros
Suitable to use all-weather condition
Good seed receptivity
Easily attract the birds
High-quality suction cups
Easy to clean
Cons
Raccoons or pets easily get a chance to enter the container
2. Nature Gear Window Bird Feeder
Many people like to share bird food with squirrels. If you are different from that type of person, you can choose the Nature Gear Window Bird Feeder.
The glass-made suction cups are sturdy enough which ensures their quality. So, you do not need to worry about displacement with an extra heavyweight. The suction cups will keep the feeder in the right position.
Premium crystal clear acrylic is used to make this feeder so you can enjoy beautiful birds' unique beaks, plumage, or the color of their eyes near you. You can't find any obstacle to watching them.
Also, You do not need to worry about cleaning. Simply unhook the acrylic housing from the suction cups for cleaning. You can also remove the seeds tray easily and clean it.
Pros
Squirrels proofs
Easy to clean
open back facing glass window provides the best view
Premium and durable acrylic
Weatherproof Design
Cons
The water tray is missing
3. Wild Birds of Joy Window Bird Feeder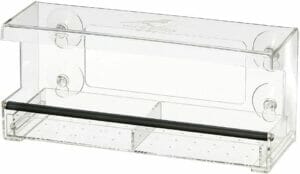 If you have a tight budget and do not want to compromise the quality, the feeder will not disappoint you. At a budget value, it has all the features you need from a window feeder.
It's small but attracts all kinds of birds. Due to its small design, squirrels will find a hard time raiding the feeder. Also, the clear transparent acrylic provides a clear view. Also, the quality and design are far superior.
You will be very pleased with the strong suction. After purchase, you just put it up, and it looks cute on your window filled with seeds.
The feeder can withstand all weather conditions. Also, you can easily clean and refill the feeder. But, if your window doesn't have better cover, the seed gets wet when it rains.
Pros
Clear acrylic transparent construction
100% refundable
Suctioned is quite good
Weather resistance
Easy to clean
Cons
The seed gets wet when it rains
4. Nature Gear XL Window Bird Feeder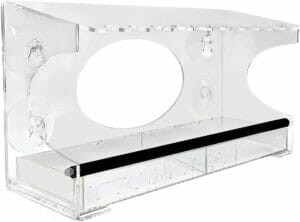 If you worry that rain can spoil the seeds, you can try this feeder. So, you can enjoy bird feeding when it rains because it has an extended roof covering. Obstacles will not build up between the window and the feeder because of the acrylic material.
It comes with 4 cups of seeds tray, So you don't need to worry about feeding more birds at once. Also, four suction cups keep the bird feeders stable. The seed tray features a dual compartment tray and drains water to keep seeds dry. So, if you live in a heavy bird traffic area and want to satisfy them, you can go with the feeder.
The window feeder has some drain holes. As a result, moisture doesn't build up on the feeder. For refile seeds, You don't need to remove the whole feeder. Instead, you can refile them by removing the sliding feed tray.
Pros
Extended roof
Easy to refile seed
Several suction cups
Keep seeds wet free
Weatherproof
Cons
The suction tray will lose grip
5. Birdscapes Clear Window Feeder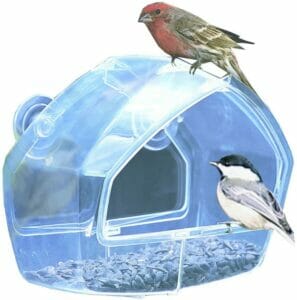 Are you do not like to watch large birds in your window feeder? If the answer is yes, then the solution will be the Birdscapes window feeder. Due to its small size, large birds avoid the feeder. So, you can only witness the beauty of colorful small birds.
The window feeder is capable of holding only 1 cup of seeds. So you don't need to worry about big birds. They even do not adjust themselves to this feeder.
This feeder is designed like a traditional birdhouse, so it attracts more colorful birds. The good part is its squirrel-proof feature. A squirrel cannot release its full weight due to its size and weight capacity.
It's made of shatterproof plastic, and the crystal clear design helps you watch up close without making any obstacles. However, It is a bit hard to clean because you need to remove the whole feeder to clean it.
6. Perky-Pet Window Mount Hummingbird Feeder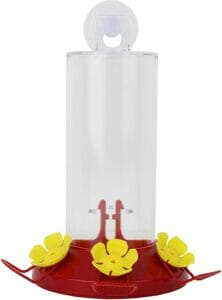 Do you like to watch hummingbirds right from your couch without blocking your glass window, then Perky-Pet Window Mount Hummingbird Feeder is a perfect choice. It is held on average 8 ounces of nectar.
By attaching this feeder to the window with suction cups, you can enjoy closer and more hummer sightings and watch hummingbirds sipping nectar and buzzing.
A transparent plastic reservoir, and bright red base, capture hummingbirds' attention ( Red attracts the hummingbirds).
The bright color and realistic three hollyhock-inspired ports are soft and flexible for a natural feel shape, and ports are perfect for attracting hummers. The flower shape ports are also helping keep out bees.
You can also easily separate the base, bottle, and lid to make it easy when you try to clean it.
Pros
Easy to clean
Easy setup
Quicker nectar drips release
7. Entirely Zen Superior Window Bird Feeder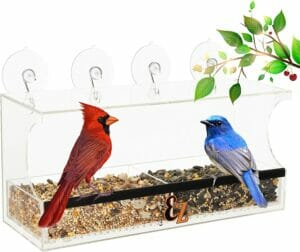 The Entirely Zen Superior comes with four suction cup mounts for increased stability. So, It will not drop down even with many birds taking their meal at a time. For its durability, you can also use this as a Squirrel Feeder.
This Suction Cup Bird Feeder is so clear, so it allows you a close view of birds without any obstacles. Compare to other window feeders, It can hold more seeds because of the easy-lift removal tray and keeps seeds in place.
Also, Raised Drainage hole system prevents wet seeds. So, Birds will find the fresh, dry seed that keeps those beautiful birds on the feeder. You can also attract different kinds of beautiful birds by serving different seed types on two seed trays. This lightweight, durable bird feeder has an easy installation and clean process.
It has included the product like two extra replacement hooks with an extra replacement suction cup. Also, you can find two downloadable color illustrated eBooks.
Pros
Easy-lift removable seed tray
Easy to install
Keeps seed wet
Find gifts with the bird feeders
Cons
The mirror film is too big
8. Tranquil Outdoors Large Acrylic Window Bird Feeder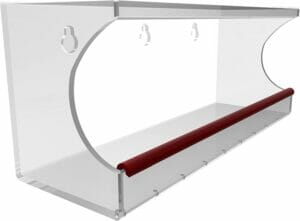 If lots of birds in your local area, It is better to choose a large feeder. For this, Tranquil outdoors is one of the best options. Its large acrylic is pretty well built and gives you a crystal clear view to enjoy the birds. You don't need to worry about the feeder falling off because it comes with three healthy window clings.
The suction cups with a hook help to attach the feeder. Same time It gives you advantages and disadvantages. The good thing is that when you enjoy the beautiful birds, the suction cups won't block your view. So it helps you to take great pictures of the birds.
However, The suction cups are steady, but the hook is the cause of swaying the feeder. It doesn't affect the birds, but when more giant birds land, it will cause issues on your glass windows. If you remove the hook and attach the feeder with suction cups, it doesn't create any problems.
Pros
Pretty well built
Bigger size to hold many birds
9. LANSCOERY Clear Acrylic Window Bird Feeder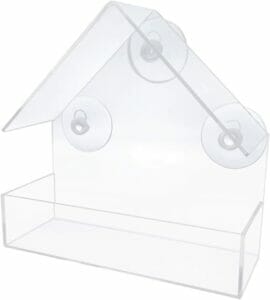 LANSCOERY Clear Acrylic bird feeder is made of durable transparent acrylic material so you can enjoy and appreciate the beauty of local birds. You can also use this for long periods. You can choose the feeder's size and other design features according to your preference.
It comes with three suction cups that help keep the feeder stable even won't fall from the rain or the wind. However, The tray and bottom of the feeder have holes, so any water that gets in it doesn't make the seeds all moldy.
Pros
Powerful suction cup
Durable
All-weather design
Cons
The tray and bottom of the feeder have holes
10. Roamwild Beautiful Arch Window Wild Bird Feeder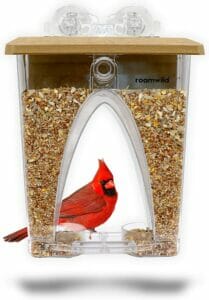 Excellent in all regards and one of the best squirrel-proof bird feeders, when you talk about quality and performance, everything you find in this Droll Yankee flipper feeder. This squirrel-proof bird feeder also gives you maximum guarantee to keep away squirrels from your birds' seeds and provides the best birding experience.
Roamwild Beautiful Arch Window Wild Bird Feeder made with 100% crystal clear ultra-strong polycarbonate plastic provides a crystal clear view of local or wild birds close to your eyes.
The feeder won't fall in different weather conditions because of its ultra-strong unique spring-loaded dual suction. Also, Its built-in window protector helps to prevent falling from the feeder.
This feeder keeps the seeds fresh for a long time and is capable of 4 LBS seeds. Also, The multiple perches allow you to feedlot of birds at once.
The good thing about this feeder is you can open the lid and pour seed. Also, You can easily apart it for easy cleaning and rinsing.
Pros
unique spring dual suction cup
Enough capacity for refill seeds
Perfect for all-weather condition
Multiple perches
Cons
Suction cups need a significant redesign.
Buying guide: window bird feeder
You have different preferences when want to select a bird feeder. For this, you should know which factor you should consider while selecting a bird feeder for a window. So, to solve the puzzle here is the step-by-step guide on how you can choose a window feeder.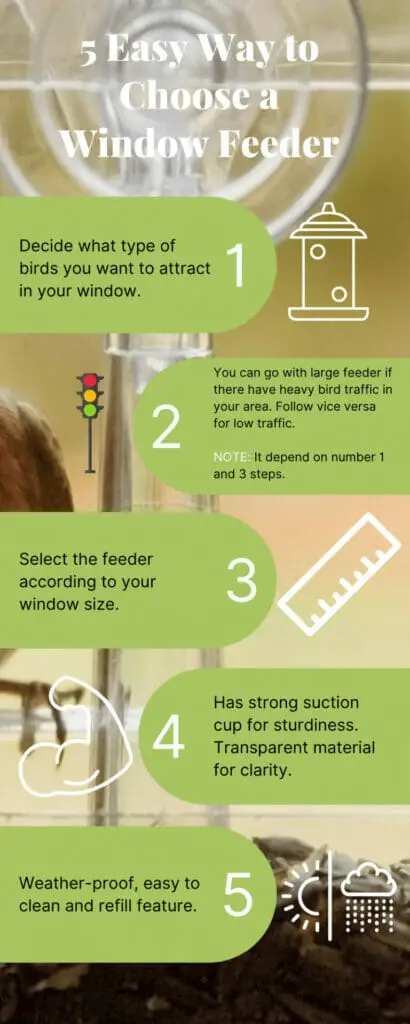 Feeder type
You need first to choose which type of feeder you want. The majority of window feeders have standard seed feeders with a try.
There are three types of feeders available in the market.
Outside Window Mount: These are the standard type of feeders. This feeder directly connects with suction cups or Velcro, and the cling is directly attached to the window's outside.
Hanging Feeders: You can use this hanging feeder in any place where you want. If you're going to use this as a feeder, you can use a hanger or hook that sticks to a window.
Solarium Feeders: That type of feeder rest on a windowsill or protrude into the house. If you wanted to purchase solarium-type feeders, you need to know that you can't open your window after setting it. For this reason, First, determine whether you are comfortable having a window closed.
However, You can also find different bird feeders, like window hummingbird feeders, where you can discover reservoirs quickly with hummingbird nectar.
What type of birds do you want to attract
Before purchasing the feeder, You need to decide what kind of bird you want to attract. For example, Suppose you want to attract a cardinal bird. In that case, you need to set a bigger feeder, whereas a hummingbird will require a smaller feeder which contains nectar or sugar water.
Size and capacity
Size is a crucial factor in buying bird feeders. The overall dimensions of a best window bird feeder are around 6 to 12 inches. However, Birds like hummingbird needs smaller feeder.
Also, Remember the placement. Yes, window. But you need to measure the size of your window. So, Check if the feeder will fit on your window before buying.
A few window feeders come with either their seed or nectar capacities in ounces, giving you the best idea when you need to refill it.
Clear view
Ask yourself why you want to buy a window feeder? Because you want to enjoy the natural beauty of birds. So, Clarity is a significant factor need to consider before purchase.
To improve the clarity choice, crystal clear acrylic or with hanging or cut-out design. That type of feeder provides the best experience.
Fixtures
Generally, suction cups are used to attach the feeder to a window. If the suction cups are well, It gives you the best experience. However, the Cheap quality suction cups will ruin your enjoyment. So, Give better attention to suction cups.
Weatherproof
It is also one of the main factors to consider. It would be best if you chose a feeder which survives different weather conditions. If your window is wet easily when it rains, choose a feeder with a roof to protect the seeds.
Window Feeder Installation Tips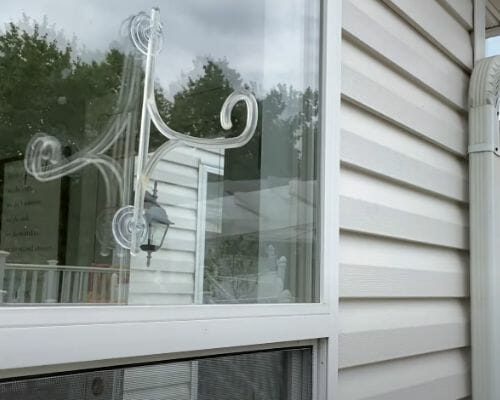 First, start with cleaning the window and suction cups. It's essential to use a glass cleaner to wipe down the window surface. Also, give a close look at Suction cups that don't stick to dirt.
Install the feeder on a warm window. If you want to put it up in cold weather, it is a wish to put it during the warmest part of the day. Also, try to use a hairdryer to warm the window because Warm glass helps to stick more firmly than in cold weather.
Before hanging, use a little bit of oil on the inside of the suction cup. Though oil makes your glass look Grimmy, it is worth it when the feeder stands firm throughout any storm.
Your window feeders will stick to your window all season by Following these tips.
Needs to Avoid When Installing a Window Feeder
Make sure that your feeder position isn't much closer to your window. It is better to install the feeder 3-ft away from the window to avoid collisions that can harm birds.
Use a baffle above the feeder to deter pests.
Avoid a spot where experience the strongest winds to minimize swaying.
How do attract birds to a window feeder?
When you're new to bird-watching, It is quite a hard job to attract birds to the feeder. So here are a few super pro tips on how you can attract birds to window feeders.
You should avoid installing the feeder where bees, cats, and squirrels visit frequently. Because Wild bird avoids mixing with other animals.
Regularly replace the supply of seeds, nectar, or mealworms to attract birds, keep them coming back for more, and give you a chance to watch more.
If you manage a birdbath next to your feeder, the feeder can attract birds to your location and window.
Try to provide edible seeds, like high-quality seed mix like sunflower seeds. Also, provide food on the tray that kind of are favorite according to your local area.
Sprinkle some seed on the ground near your feeder to attract them because birds usually try to find food on the ground. If the feeder has a roof, also sprinkle a few seeds on it. Plus, you can use a ground feeder near the window feeder which will easily attract birds.
If you have already installed a feeder on your window, remove them for a few weeks to attract the birds to the new one.
Some common questions you might have
How often should I clean the window bird feeder?
If your window feeder successfully attracts the wild birds or local birds, It is a wish to clean the feeder twice a month because Large flocks of birds mean lots of bird waste. When you wash the feeder, first dry the feeder before setup.
Should window bird feeders be in the sun or shade?
Birds like to feed in the sun, so it's recommended to place the feeder in a sunny spot. However, the sun can damage or spoil hummingbird nectar more quickly. It is better to put a hummingbird feeder in the shaded area.
How far be a bird feeder from a window?
Place the window feeder within three feet of the nearest windows because it provides birds enough space, and birds won't hurt themselves when liftoff.
Which window bird feeder attracts most birds?
It is very difficult to say which window bird feeder attracts the most birds because there are so many different types of bird feeders available. However, hopper bird feeders attract birds the most.
How to squirrel-proof a window bird feeder?
The best way is to position the feeder around halfway up a window, so squirrels can't climb there. Also, don't set the feeder near the tree because tree squirrels can jump into the feeder and ruin the seeds. Select Smooth glass feeder, which makes it impossible to climb due to grip.
What are the best window bird feeder brands?
There are several good feeder brands for birds on the market, such as Nature Gear, Nature Anywhere, Droll Yankees, Perky-Pet, Nature's Hangout, and Gray Bunny. Those all provide good quality window bird feeders.
Final Words
Finding the best window bird feeders is a tricky task when there are a dozen brands available on the market.  However, If you know your needs, then you easily spot your desired bird feeders.
Always remember before purchasing a feeder, focus on bird comforts. You will enjoy the most beautiful and colorful birds on your window feeder, which gives you or your child or pets ultimate pleasure.