Do you know why birders like to invite chickadees into their yard? Because of their cuteness and social personalities. They aren't afraid of humans and don't hesitate to take their food from different types of feeders.
You can attract them in your yard without any hard work by placing the best bird feeder for chickadees. In the following guide, we will review the 6 best chickadees feeders that attract them in your yard. 
We select these bird feeders according to which food you want to offer them as they are fond of different types of food. So you can find your favorite one, which provides you the best experience to watch those bold and charming little birds and provide them with a healthy feeding station.
Editor's Choice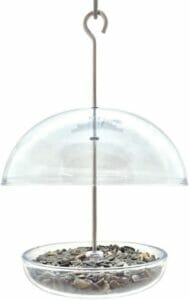 Overall best
Droll Yankees Feeder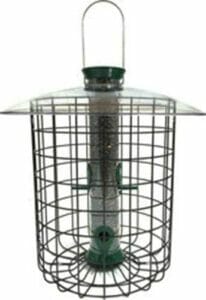 Squirrel Proof
Droll Yankees Bird Feeder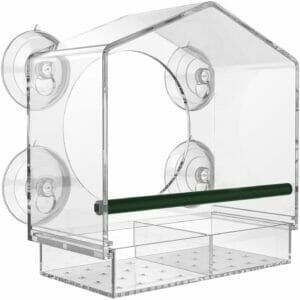 Clear bird view
Mrcrafts Window Feeder
6 Best Bird Feeder For Chickadees
Droll Yankees CUTE Chickadee Feeder
The feeder has an adjustable dome. You can control the bird size and presence and prevent squirrels from accessing the food by using its 9.5-inches brass rod. So, our favorite chickadees can feed on Droll Yankees Cute Feeder without predators interfering.
The 6-inches dome cover ensures that rain won't get into the dish. If somehow rain or waterfalls into the dish, a drainage hole keeps the seed fresh and dry.
You can offer 1 cup of seed or mealworm, which is enough to keep them happy all day long.
Pros
Attractive Design
Clear view
Last long
Keep large birds and squirrels away
Rain Cover and a drainage hole keep seeds dry
Hold various types of foods such as seed, mealworm, and peanut
Cons
Frequently refiling is needed for less seed capacity
Haven't any perch
Verdict
Droll Yankees CUTE Chickadee Feeder is best for you. If you like to offer different kinds of foods to chickadees. The size is small enough, which makes it ideal for a small yard.
Perky-Pet 312B Blue Sparkle Panorama Bird Feeder
You can offer 2 pounds of seed mix, which is enough for keeping them happy. A built-in drainage hole keeps the seed dry and fresh. The seed capacity made it ideal for larger yards or where large flocks visit. 
You will like the esthetically pleasing design. The top and bottom parts of the feeder are made of metal that allows the feeder to stand out in bad weather. The clear plastic seed container allows you to get a better view of birds and helps to know the seed level.
Panorama feeder has a wide mouth opening which allows you to clean and refill the feeder with ease. It also comes with a sure-lock cap system to prevent squirrels. But the ironic fact is this feature can't stop them from accessing the feeder. So instead, you can spray the perch with canola oil, providing them less grip and avoiding the feeder.
Pros
Circular perch allows comfortable feeding
Good look and sturdy built
Large seed capacity
Easy to clean and refill
Verdict
The feeder is large enough, which makes it perfect for a larger yard. The shorter perch makes it ideal for chickadees though you can also invite other mid-size birds.
C&S EZ Fill Suet Basket
Suet cakes are important for chickadees to get energy in the harsh weather of winter. Not only that, suet is the most popular food on their menu year-round. If you want to enjoy their beauty all year round, hanging a suet feeder is a good option.
C&S EZ Fill Suet Basket is perfect for attracting chickadees in summer and winter. The cheapest price value makes it our favorite pick to offer suet cake. 
It can perfectly hold most of the suet cakes measuring its 1.81.8 x 4.7 x 5.5 inches dimension. The suet basket has a vinyl coating that lasts long and provides a comfortable seat in hot summer weather and frozen winter. 
C&S EZ Fill Suet Basket has a built-in chain hanger. You don't need to buy or get hooks to place it in a pole or tree, but it isn't strong enough. The basket's simple design allows it to be cleaned and filled more easily. 
Pros
Cheapest price
Easy to fill and clean
Simple design and well made
Last longer
Hold most suet cakes
Cons
Consider the price haven't any
Verdict
This low-budget basket is perfect for offering suet cakes to chickadees all year round. If you like to invite other suet-loving birds along with chickadees, It will be a perfect addition to your yard. 
Droll Yankees SDC Gre Squirrel Proof Feeder
The cage is formed with a die-cast metal base, and the tube itself is made of polycarbonate plastic. The feeder won't discolor over time for UV-stabilized plastic. A dedicated dome protects the birds and seeds from extreme weather.
The seed containers hold up to 1 pound of birdseed which cuts down the frequent refill problem. It has four feeding ports. These allow small birds to land comfortably on the feeder and take their male. 
If you find a large flock visiting your yard and this option can't control their population, you can go with the 20-inches option, which comes with six feeding ports and holds 2-1/2 pounds of birdseed.
However, Droll Yankees Squirrel Proof Feeder is a little bit pricey, and baby squirrels or small squirrels might enter into the feeder and take seed access.
Pros
Keep away large birds and squirrels
Well made and sturdy
Dome is strong enough; squirrels won't destroy it
Large seed capacity
Easy to remove the feeder for cleaning and refilling
Don't lose color by longtime uses
Verdict
The cage tube feeder is better for inviting small birds and keeping large birds and squirrels away. The two different options allow you to select the perfect one according to the bird's presence.
Nature's Way Bird Products CWF3 Cedar Platform Tray Bird Feeder
It comes fully assembled. Nothing needs to be done at your end. Keep it out of the package and hang it. It's capable of holding large flocks of birds at once for its sturdy and well-built. 
The insect and rot-resistant cedar wooden frame surely grab your attention at first sight. The good part is it stood up to any weather condition without issue. In addition, hanging wires and screws are rust-proof, which is a key point for any outdoor item.  
A removable perforated seed tray used in the bottom and rubber-coated prevents rust. In addition, the perforated design allows moisture to drain and air to flow around the seed, which keeps the seed fresh and viable. 
But, Holes are large enough, which causes an unnecessary mess as large holes let some smaller seeds escape from the tray. Like other platform bird feeders, CWF3 Platform Tray Feeder wouldn't come with any squirrel protection.
Pros
Simple but attractive design
Attract a variety of birds species
Weather-resistance
Reasonable price value
Easy to fill and clean
Cons
Large holes cause seed waste
Difficult to hang
Verdict
Nature's Way Hanging feeder is a great option for beginners who want to attract chickadees along with other large and small birds. It has a large seed capacity and needs less frequent refilling, which makes it perfect for a large yard.
Mrcrafts Window Bird Feeder
The feeder comes with four suction cups. These suction cups are easy to mount with windows and stick to the windows perfectly, even full of seeds and bird flocks. 
The seed tray has two individual seed compartments. So, you can offer chickadees their favorite black oil, sunflower seed, and peanut at once, which keeps them happy and provides good nutrition. Plus, You can enjoy their beauty for a longer time period due to a dedicated perch.
The tray at the bottom slides out easily, which means refilling and cleaning are super easy. In addition, drainage holes keep the seed dry and fresh for a longer time. 
The only drawback is that you will notice that the feeder won't protect the bird foods from heavy snow and rain.
Pros
Clear bird view for glass acrylic material
Can offer two food options at once
Well build
Suction cups are easy to mount with a window
Easy to refill and clean
Cons
Not weatherproof
Not squirrel resistance
Verdict
If you like to invite chickadees in your window, Mrcrafts Window Bird Feeder is a good option. 
What type of feeders do chickadees like?
Chickadees are fond of different types of foods such as suet, peanuts, insects, and high-quality birdseed. Here are a few popular kinds of bird feeders which might attract them in your yard by providing their favorite food.
Hopper Feeders
Window Feeders
Platform Feeders
Peanut Feeders
How to Choose the best chickadee feeder?
Chickadees are the most popular backyard bird among beginners and older. These North American songbirds are easy to attract in the yard by providing a feeder with good quality seeds. We need to consider some factors before buying one. Here are a few which you need to consider before buying a feeder.
Feeder Type: As chickadees are fond of different kinds of food. You need to select which food source you want to use to attract them to your yard. In the above list, you will get a few top-rated bird feeders for chickadees considering different food sources. For example, If you want to offer them suet cake, go for the suet feeder.
Material use: Good material ensures how long the feeder provides your better service. In my opinion, You can go with polycarbonate plastic or metal-made bird feeders which last long. You can choose a wooden feeder if you are fond of nature. But, Select one which has a rot-resistance feature.
Size and Capacity: It's simple math. For the small yard, go for a smaller size feeder and less seed capacity as 1 pound. For the bigger yard, go for a larger one that has good seed capacity to keep the bird happy.
Easy To Install: We don't like to go through complex procedures. When you are thinking about purchasing a new feeder, also consider it.
Easy To Clean And Refill: This is a recommended feature for any kind of bird feeder. You need to select easily cleanable ones, and refilling is super easy. Otherwise, If you are lazy like me, you won't like to go through a complicated process to clean and refill. That might cause growing mold and bacteria, which cause our beloved chickadees and other birds' health issues.
Related:
Final Words
Chickadees are adorable little birds that make our mode happy when they are on our ground. You already know that attracting them to our yard isn't hard. The best bird feeder for chickadees with proper food is enough to attract them in our yard.
We already introduced you to some top-rated chickadees bird feeders, which easily attract them to your yard. The above attraction guide will also help you to invite them into your yard with ease.
If you want to know our recommendations about which one is best, go with Perky-Pet 312B Blue Sparkle Panorama Bird Feeder.