With bird feeders, the choice is endless. You can find copper, metal, plastic, or wooden feeders at all price points and designs. Most are available in a large selection of colors and styles. But, choosing the right one for backyard bird feeding can be a little challenging.
Copper feeders are the best in their category. These are useful to birds and a great addition to any garden. They are easy to clean and maintain a natural look. Also, a range of designs and shapes caters to different tastes and preferences. Here is our list of the best copper bird feeders which may fulfill your needs.
Editor's Choice
Different types of copper feeders for birds 
When you are considering buying a copper feeder, you need to know that you can find two types of copper feeders for wild birds. They are pure copper and copper alloy or other metal with a combination of copper coating.
The pure copper-made feeders generally come at high prices, whereas other copper feeders are inexpensive due to the low-priced material. Also, sometimes few feeders are just painted with a copper finish to look like a copper feeder.
Sometimes it is hard to say whether the feeder is made with copper or not. So, it will be a wise decision to read out the product description before purchasing one.
Is copper safe for bird feeders?
Copper is a great material for bird feeders because it is lightweight, durable, and lasts a long time. In addition, copper is a very safe metal to use for seed feeders. It is not toxic to birds, and it does not rust or corrode like other metals.
As the copper feeders are safe for birds. You might know ask Do birds like copper bird feeders? Let me clarify.
birds are attracted to copper, and it is one of the most commonly used metals in birding. Many birds are attracted to copper. Some of these include pigeons, sparrows, robins, and blue jays. Copper is a metal that attracts many birds because it has an appearance that resembles the shiny color of their feathers.
6 best copper bird feeders
1. Dress the Yard Genuine Copper Bird Feeder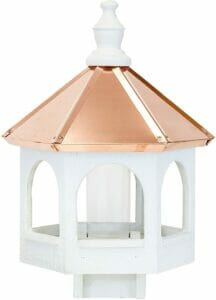 Dress the Yard bird feeders are made with high-quality materials and craftsmanship that will last for years. The Genuine Copper Roof is hand-formed from rot and decay-resistant painted MDF board. The built ensures that it will withstand extreme weather conditions.
It has a unique design that allows it to be mounted on the ground or a pole – it is compatible with posts up to 3.5″ in diameter. The roof is slightly wider than a standard bird feeder, but the extra width is not noticeable once you hang it on your post. Also, it saves the bird seeds from rain.
You do not need to worry about frequent refiling as it holds up to 6 pounds of bird seed. It has a large bottom hole that prevents it from tipping over, which is excellent for smaller birds like sparrows and finches.
The bird feeder is easy to install, and it's very durable too. The copper roof is rust-proof, and it is also coated with non-toxic paint. But, you will find it a little hard to clean and refill the feeder due to its narrow plastic tube seed container. Also, the tube is not chew-proof.
If you want a feeder that will make your yard look beautiful, then the Dress the Yard Genuine Copper Roof bird feeder will be the best pick for you. It is sure to attract a variety of birds to your backyard, and it will keep them entertained for years to come.
2. Woodlink Brushed Copper Mega Tube Bird Feeder

This feeder from Woodlink has all the qualities you love – it is well-designed, easy to use, holds a lot of bird seeds, and looks great on the garden or deck. Also, the tubes are made of polycarbonate, which is especially strong and will not damage by squirrels or by drops.
It has a capacity of 5.5 pounds, which is more than enough to please adorable wild birds. If you have finches or other seed-eating birds, this feeder will hold plenty for them. It has 8 full looped perches so that your birds do not have to fight over them and they can eat in peace.
You can easily hang the feeder from a tree or post using the hanger. You can also use the included 1″ pole mount to hang the feeder from a fence post or similar structure. The good part is: that the feeder comes with a 1-year warranty.
However, you will face hard to clean the bottom of the tube as debris tends to gravitate. Also, you are not getting a pure copper feeder as the feeder's top and bottom are poised with copper rather than pure copper. But, it will not disappoint you in terms of satisfaction and reliability to attract the adorable birds.
3. Woodlink Coppertop Hopper Bird Feeder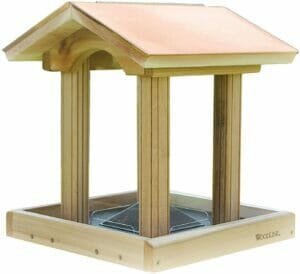 The Woodlink is the easiest way to attract and feed birds to your backyard and it is great for any backyard enthusiasts. The seed hopper is made from real copper, adding an elegant touch to the feeder.
At first glance, without any seed, the feeder looks like a "fly-through" design. The twist is four sides of the feeder are protected with acrylic panels. The height of the feeder is perfect for backyard birds.
It's the perfect size for a couple of birds or a small flock. The seed hopper has a convenient spout that is easy to fill, and it has a built-in seed diverter to ensure that seeds do not get scattered all over the ground. This feeder will hold up to 13 lbs of birdseed, and it is constructed to last.
The feeder is designed with a powder-coated perforated metal tray. It will keep the seeds from clumping together and also allow water to drain out. This tray can be removed and cleaned when necessary.
However, if you are located in an area where it frequently rains, then the feeder is not ideal for you as the drainage hole will not perform well in such conditions.
4. Woodlink WLCOPCAGE6S Copper top Cages Seed Feeder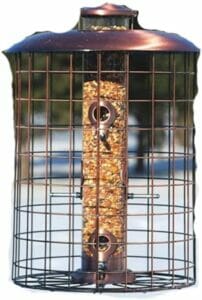 The Woodlink bird feeder is designed with a 1.5″ square metal wire mesh cage atop a powder-coated steel frame. The entire structure is made of die-cast steel and has a brushed copper finish that stands out.
This unique bird feeder has a removable polycarbonate tube that runs the length of the cage on the bottom. This allows you to remove the whole thing for cleaning and refilling. The tube also helps keep the snow, dirt, and debris off the bottom of the cage, preventing it from becoming clogged.
The tube feeder has a 1.25 pounds seed capacity, so you do not have to worry about frequent refilling. It also features an easy-open latch so you can fill it up whenever you need to.
This bird feeder is perfect for attracting various small birds, including chickadees, goldfinches, grackles, nuthatches, sparrows, titmice, and woodpeckers. Also, the cage design keeps the squirrel and other larger birds away from the feeder.
However, a few previous users complain about its cheap plastic cylinder. Due to this, the seed will be wet from the heavy rain or storm.
5. Perky Pet 8110H-1 Bird Feeder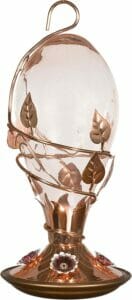 The Perky-Pet 8110H-1 Bird Feeder is a great all-purpose feeder to attract hummingbirds. It comes with four flower feeding stations. The feeder has an integrated perch, making it easy for the hummingbirds to get a sip and not fight over it ( though they like to take meals on a flight).
The glass nectar container can hold 32 ounces of nectar. The hummingbird feeder is made of sturdy, heavy-gauge steel, ensuring that it will last for years to come. It has a copper base cover that is easy to clean and keeps ants and other insects out. The cover also acts as a thermal mass that helps maintain the nectar's temperature.
This will be a good option if you want something cheap and cheerful to attract hummingbirds in your yard.
6. Good Directions T01P Palazzo Bird Feeder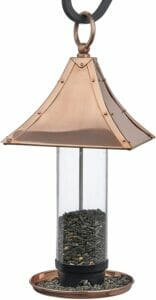 Good Directions T01P Palazzo Bird Feeder will be an ideal option for your garden or patio. Its polished copper color provides a vintage look which makes it unique. The feeder's top and bottom forms with 22-gauge pure copper, ensuring its longevity.
The seed container is made with a high-quality plexiglass tube. The pagoda Style roof protects the seeds from rain and unwanted creature like squirrels.
The bird food will stay dry and fresh for a long time due to its lipped feeding tray along with convenient drain holes. Also, it provides enough room to sit for the wild birds to enjoy their feed.
You can easily clean the feeder and refill it due to its easy access. Also, you can hang it anywhere and remove it when needed as you can easily unscrew the hanging ring. However, a few users complain about its shininess. So, it will be better to use copper cream when cleaning it.
How do you clean a copper bird feeder?
Step 1: First, soak the feeder in a solution of white vinegar and water for 10 minutes.
Step 2: Next, use a scrub brush to remove any remaining bird droppings or other debris from the feeder.
Step 3: Lastly, rinse it with cold water and dry it thoroughly before refilling it with birdseed.
Final words
Bird feeders can be an effective way to keep your feathered friends fed. You will get different types of feeders for wild birds. Among them, copper-made bird feeders are so common. If you are looking for the best copper bird feeders, you can select one from our recommendation in the above section, which fulfills your needs and preference.