If you want the best tripod head for bird photography, the marketplace may disappoint you. We've seen expensive tripod heads, but when it comes to functionality and user experience, we had to give thumbs down to many products.
Now, we actually did find 4 tripod heads that are pretty much great if we judge the overall thing. These tripod heads have got absolutely everything to meet the mark with durability, lightweight design, and stability.
We also went through lots of customer opinions too before concluding. It seems like no one's talking bad about them too. If you want to know about these tripod heads, you should give these reviews a read.
Editor's Choice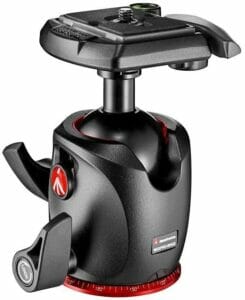 Overall best
Manfrotto XPRO Ball Head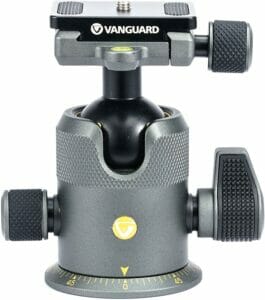 Handle 66 pounds of gear
Vanguard Alta Ball Head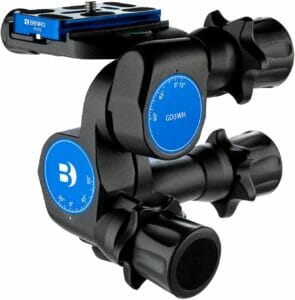 Can move it 3 ways
Benro 3-Way Geared Head
4 Best Tripod Head for Bird Photography
With so many tripod heads available in the market, which one do you choose for bird photography? Well, don't worry. Here are the 4 you need to care about.
Manfrotto XPRO Ball Head
One of the best things about it is just how precise you can get with it. There is a leveling bubble and a triple locking system which ensures that the tripod stays in place when you take your next masterpiece photos. It will keep your shot in the frame and will help you capture that perfect shot when shooting birds.
You won't tire yourself out either. Thanks, to the very lightweight build, you can carry it around with you with utter ease. Moving and maneuvering it is also easy. Don't mistake lightness for shoddy build quality though.
This piece of kit is made from magnesium and is very strong. That's something you will appreciate when taking it to those tough remote spots to click the picture. Whether you're just taking photos of birds in the city or a jungle, this tripod can handle it all.
It will lock tightly and keep your camera in place, which means it's perfectly safe to use as well. You don't need to worry about your camera falling off.
Pros
Strong and durable build for long-lasting performance
Great locking system that will keep the camera in place
Helps you frame the shot with precision with wide accessory compatibility
Lightweight construction makes it easy to carry around
Cons
Finish scratches easily which might not look good aesthetically
Verdict
The perfect overall choice that will work for most bird photographers.
Vanguard Alta BH-300 Ball Head
Apart from the great build, we will touch on a bit later, the coolest thing about this one is the speed it lets you take the shot. When photographing, the perfect moment can slip by very quickly.
You want a tripod that lets you be ready whenever and wherever. Vanguard built this one with a very intuitive positioning system, so you won't miss those crazy shots. For fast-paced bird photography, this is a great choice.
All other necessary details like a lightweight body and durability are all here too! The aircraft aluminum Vanguard used makes it very light and yet doesn't skimp on the build.
You get a max load of 66 pounds! Yep, you read that right. This will let you easily mount multiple gears without worrying about any damage. Speaking of mounting gear, the 3 independent knobs help you adjust the camera in any way you like. That's a definite plus.
Pros
Aircraft aluminum construction makes it very lightweight and easy to use
Great locking system which will keep your gear in place and all safe
Quick setup that won't cause you to miss any important shot
Can handle 66 pounds of gear and that makes it perfect for multi-gear setups
Cons
Some might feel it's a bit stiff
Verdict
Lets you get set up and ready within just a few seconds. If you don't want to miss the perfect shot ever again, get this one.
Manfrotto 502 Video Head MVH502AH
Whether you are video recording birds for the next National Geographic documentary or taking stills for your collection, you will love how stable this will keep your camera when you're taking those shots.
And when clicking pictures, you want that. Otherwise, the camera can move and cause your picture to be out of frame or focus. Thanks to the fluid drag system of this one, that won't be an issue anymore, whatsoever.
Attaching accessories is super easy too. Manfrotto has an Easy Link system – you can mount all the accessories you want that are compatible of course, in just a jiffy.
Something you won't miss is your camera feeling out of balance when shooting. The high-quality counterbalance system will correct any movement and give you still shots every time!
There are ball bearings that give you smooth movement no matter how difficult the shot you're taking is. Honestly, we think this kit can even be good for professional photographers.
Pros
Solid build-quality with long-lasting durability
Superb counterbalance that gets rid of any jitteriness
The drag system is fluid with a ball bearing that gives you smooth movements
A cool minimal design that won't get in the way
Cons
Although the durability is good, the alloy used could have been better
Verdict
Want versatility? This video head will let you take stunning pictures and videos as well. And you can't complain about that.
Benro 3-Way Geared Head
You can move it 3 ways, independently! That only means one thing, greater position with ultimate precision. You can maneuver it the way you want to frame the perfect shot.
Speaking of precision, the 3 control knobs can be rotated to improve your precision even more. Looks like adjustability is something this one has figured out completely.
On top of that, there are independent release controls as well. If you happen to have some bigger camera equipment, the independent release controls will come in handy.
It also plays nice with other Benro accessories. Arca-Swiss compatible QR plate means if you have Benro accessories already on hand or want to buy them in the future, it should work without much hassle.
All is not rosy in Benro-land, though. Although there are plenty of adjustment and positioning options, the build quality could have been better. It's not a flimsy product but not quite on par with the others on this list.
Pros
Superior adjustability that lets you position it precisely
Lightweight and easy to use means you don't need to deal with any extra hassle
Arca-Swiss compatible QR plate is compatible with other Benro accessories
3 bubble levels will assist you in getting the perfect positioning
Cons
Build quality could have been better
Verdict
This one takes the crown for adjustability. But watch out for the build quality. It isn't as durable as the others.
Related: Top bird photography camera.
How to Choose the Best Tripod Head for Birding?
Choosing the best tripod head is a matter of balancing a key factor and then picking the one that's right for you. When you know what to look for, it will make choosing one easier.
Positioning and Precision
Positioning options and precision should be the top priority when choosing a tripod head. Without the correct positioning and precision, you may miss out on the shot you want to take. And we can't have that happen, can we?
Look for heads that give you greater control over your camera with smooth movement.
Mounting
Then comes mounting. A solid mounting mechanism is crucial to keep your camera and other gear safely locked in place. We love the fact that some tripod heads in our list allow you to mount in just a few seconds. That's also a bonus to have.
Durability
You just can't skimp on durability. A tripod head is an investment. It will be a piece of your photography arsenal for quite some time. The last thing you want is it kicking the bucket during an important shoot. Look for durable build quality that will stand the demanding needs of bird photography.
Lightweight
Don't forget about getting a lightweight tripod head in search of maximum durability. At the end of the day, you still need to carry the thing. A durable plus lightweight tripod head is your best bet here. There are plenty of brands that make tripod heads with a good mix of the two.
Brand and Price
Speaking of brands, that's our final consideration. Picking out a brand is easy. All the ones we mentioned here are reputed and should work for you just fantastically. Settling on a price point, however, can be a bit tricky.
You don't want to overspend on professional-grade equipment if you don't need it. On the other hand, you also don't want to miss out on important features to save a few bucks.
Settle on a price point and pick the one that meets your needs within that price point. Of course, the tripod head has all the features we mentioned above.
What Type of Tripod Head Is Best?
There are different types of tripod heads if you aren't aware. Where it gets tricky is picking out the right one. Different heads have different benefits. Ball heads are perhaps one of the most common ones.
Other options include gimbal heads and pan-title heads. Pan-tile will give you greater precision positioning which is important. But if you want to photograph wild animals, birds in our case, a gimbal head is probably the best option.
You get fast movement and also stability. So, it's sort of a 'best of both worlds' scenario. You will love the overall versatility and ease you get with these types of heads.
Should I use a tripod for bird photography?
A tripod is a device that supports the camera and allows it to be stabilized. It is also used for long exposures in photography.
It depends on what you are trying to achieve with your bird photography. If you want sharp, clear images of birds, then yes, a tripod will help you get sharper images by providing more stability and reducing blurriness.
Wrapping Up
By now, you should have a pretty good idea about which is the best tripod head for bird photography. The thing to remember here is what might be a good choice for someone might not be for you.
It all depends on what kind of bird photography you want to do. We recommend Manfrotto XPRO Ball Head as the overall best pick. It has great positioning and controls and is durable too.
On the other hand, Vanguard Alta BH-300 is great for setting up your shot quickly. Other options here will fit different needs as well.