If you like to watch wild birds from up close to you, then nothing better than having a deck bird feeder. It will allow you to enjoy the beauty of colorful birds when you are sitting with a cup of tea or coffee on your deck.
But, many bird feeders are present on the market; among them, all are not preferable for decks. Also, you need a perfect bird feeder pole or hook to place the feeder on your patio or deck. My today's guide will help you to find the best deck bird feeder and pole for your deck.
5 Best deck bird feeder
| | | |
| --- | --- | --- |
| Model | Capacity | Best For |
| Squirrel Buster Standard Bird Feeder | 1.3 pounds | Deter squirrels |
| Urban deco deck bird feeders | Water and seeds | Both feeder and bath |
| More Birds Suet Cage Bird Feeder | 1 suet block | Suet lover birds |
| Perky-Pet 8133-2 Hummingbird Feeder | 24 oz  | Hummingbirds |
| Perky-Pet 312B Blue Sparkle Panorama Bird Feeder | 2 pounds | Large flocks |
1. Squirrel Buster Standard Bird Feeder

You can easily attract lots of songbirds to your deck by using a proper feeder. But, if you live in an area where squirrels are present, then feeding wild birds will be challenging for you. They have the ability to finish a whole bag of birdseed within a day. 
First of all, you need a feeder which can deter them to enjoy the beauty of wild birds. The Squirrel Buster Standard Bird Feeder will help you to do this task without any complicated procedures. The feeder comes with an adjustable weight mechanism. 
When squirrels or bully birds land on the feeder, it triggers the shroud and closes it within a second. So, they miss access to birdseed. Plus, the good part is it does not harm squirrels when following the process. Also, the chew-proof material makes the feeder unbeatable in front of squirrels. 
You can enjoy both clinging and perching birds on your deck due to its surrounding metal surface and built-in perches. The hanging mount allows you to hang it easily with any deck pole or hanger. 
Squirrel Buster Standard Bird Feeder can hold up to 1.3 pounds of sunflower seeds to keep birds happy all day long. But, if lots of sunflower seed lover birds are present in your area, you need to refill the feeder frequently. 
However, sometimes you will notice that birdseed is stuck in the ports due to the small port size if the seeds are chunky. To avoid such an issue, you need to clean it properly after a month or try to clean it every 15 days. 
You do not need to follow any hard procedure to clean the feeder due to its apart able part allowing it to clean easily. Also, You need to avoid using the dishwasher to clean the feeder. Otherwise, you will notice a melting issue.
Overall, the feeder is a good option for your deck if you want to keep squirrels and large birds away and feed adorable small birds.
Pros
Sturdy and chew-proof material made
Weight adjustable mechanism keep squirrel away
Easy to clean and refile
Ideal for both perching and clinging birds
Has seed ventilation feature which keeps seed fresh and dry
Affordable Price
Cons
Some users complain that it fails to fulfill its purpose after 6 to 7 months
2. Urban deco deck bird feeders deck mount bird bath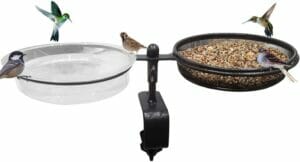 Birdbaths are one of the best ways to increase bird presence. If you want to increase the bird traffic area, then you should try a birdbath. But what for your deck? Sometimes it is not possible to introduce both bird bath and feeder due to space issues.
Here comes the Urban Deck bird feeder with an attached birdbath to solve this issue. So, you can watch birds dip into the water as well as take their food to the same place. Its round platform design allows many birds to sit and take their food and bath.
The main fact is that you do not need to get any hanger or pole to attach it to your deck railing. The feeder comes with a dedicated clamp along with a securely mounting screw. You can easily connect it to your deck railing without getting help from an extra tool.
Also, the feeder is made with heavy-duty thick steel, which makes it sturdy enough. The plastic bath pot is deep enough for birds to bathe and drink water from it. Also, you can enjoy the beauty of wild birds when they are taking a bath due to the clear plastic made. However, the bath bowl comes in a 7-inch diameter which is smaller than a standard size birdbath, but birds will not mind this.
The mesh design keeps the food fresh and dry for a long time. The platform style allows you to serve more seeds, reducing your frequently refiling issues. Also, you do not need to worry about cleaning due to the wide opening. 
However, some users find the clamp is too big from their deck railing, but proper angling can easily solve the issue. If you find any issue, you can easily replace it within one year.
Pros
Multipurpose bird feeder
Sturdy build
The platform design allows lots of bird feed and bath at once
It comes with an attachable clamp
Easy to install
Cons
Smaller than you expected from looking at the advertising image
Some users find issues with the clamp
3. More Birds Suet Cage Bird Feeder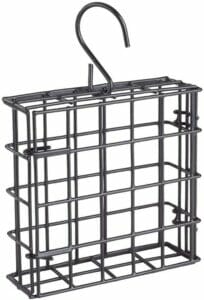 The main difference between More Birds Suet Cage Bird Feeder and the above feeders are food serving opportunities. If you want to attract suet lover birds to your deck like woodpeckers, nuthatches, chickadees, and many more, you should offer them their favorite suet cake. Plus, the suet blocks work as a savior for birds in the harsh cold weather.
The simple design with a powerful approach to attracting suet lover birds makes the feeder a perfect choice for any deck. You can offer single suet blocks in the feeder, enough for keeping happy birds all day long.
The feeder aims to attract clinging birds like woodpeckers and chickadees. Also, you can offer fruit in the feeder in the hot summer when suet is not appropriate for birds.
The price point amazes you. It comes for around $2.5, which is lower than your expected price range ( My Guess). But, it does not sacrifice any quality except due to the low price. It is formed with solid steel with a powder-coated black finish, which allows it to survive any condition.
You can hang the feeder from any deck pool or hanger using its durable hanging mount. However, the feeder cannot protect suets from squirrels. They can easily knock it and take the food from inside.
Pros
Simple design
Easy to use 
Ideal for clinging birds
Can offer suet as well as fruits
Cheapest price range
4. Perky-Pet 8133-2 Hummingbird Feeder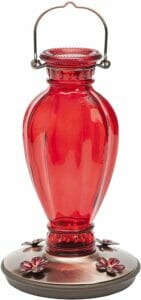 If you love to watch our favorite speed star hummingbird in your deck, then you should get a special feeder to attract them. Hummingbirds like to drink nectar from feeders. For this, the above feeders differ from hummingbird preferences. 
Perky-Pet 8133-2 Hummingbird Feeder will be an ideal option for your deck to serve nectar. Its bright red color easily grabs their attention as they like the color red. Plus, the vintage-style glass reservoir increases the beauty of your deck. You can also select a white color option which is cheaper than the red option.
The deck feeder can hold up to 24 oz of nectar which can be enough for large flocks of hummingbirds. The 4 flower-style ports allow them to take a sip from the nectar. Plus, the flower ports deter wasps and ants from accessing the nectar. However, some users notice ants' presence in their feeders.
You can easily hang the feeder using the decorative hanger. The base and top are formed with sturdy material with a copper finish which provides a gorgeous look. Plus, you do not need to worry about refilling and cleaning due to its wide mouth opening. 
However, the feeder does not come with any perch, but it is acceptable as hummingbirds like to take a sip on the flight.
Pros
Vintage and attractive look
Large nectar capacity
Easy refill, clean, and hang
No leaking
Affordable price
Cons
Several users find that the feeder fails to attract hummingbirds in their place
5. Perky-Pet 312B Blue Sparkle Panorama Bird Feeder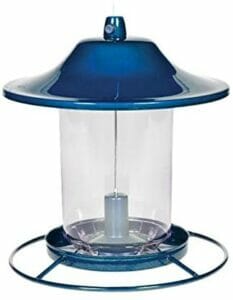 If lots of birds are present in your residence, you should select a feeder with a large seed capacity. For this, you can try the Perky-Pet 312B Panorama Bird Feeder. It can hold up to 2 pounds of birdseed.
The convenient 360-degree circular perch allows lots of birds to perch in the feeder at once and take their meal. However, You can only attract the perching birds due to its plastic tube reservoir. But, the clear plastic reservoir can help to know whether you need to refill the feeder or not.
Plus, you do not need to worry about following a hard procedure for refilling the feeder due to its easy twist of the lid. Also, the sure lock security system has the ability to protect the feeder from squirrels but is not as convenient as Squirrel Buster Standard Bird Feeder.
You can easily clean the feeder for an easy dismantle option. Plus, the feeder comes with ventilation holes that help to drain water and keep the seeds dry and fresh for a long time. The powder-coated finish keeps the natural look for a long time.
The feeder is ideal for small birds due to its small perches. So, you cannot get the opportunity to watch medium to large birds in the feeder. Also, when the amount of the seeds reduces, it tends to be seed wastage.
Pros
Grab top ten positions in the wild bird feeder category
Easy to hang in a deck with any deck hanger
Easy to refill and clean
Acceptable squirrel proof feature
Keep seed fresh for a long time
Birds like it
Cons
Some users find that the lid lock doesn't fit well for them
2 Best bird feeder pole for deck
More Birds Clamp-On Deck Hook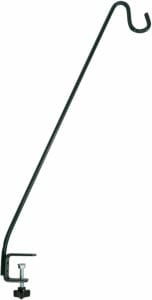 If you are worried about cleaning your deck when you mount any feeder, then More Birds Clamp-On Deck Hook will be a good option. It comes with a 33-inch long hook which keeps the feeder around 13 inches away from your deck, which means no food waste or bird poop falls into your deck. It also works better for keeping off squirrels.
 You do not need to worry about your heavy bird feeder, as the deck mount hook can hold up to 11 pounds of weight. The durable metal construction provides a long life circle. Due to its durable construction, you can use the hook for multipurpose.
You can attach the hook to your deck without any tool. But, you can fit it up to a 2-inch horizontal railing.
Urban Deco Deck Bird Feeder Pole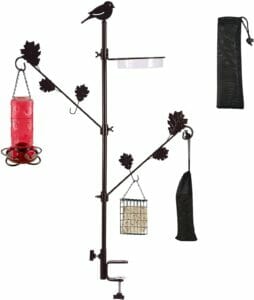 If you like to watch birds like hummingbirds, woodpeckers, or other seed-lover birds on your deck, you cannot attract them in a single feeder. For this, you need to hang multiple feeders in your deck. Here comes the Urban Deco Deck Bird Feeder Pole to make this task too easy.
The deck mount bird feeder pool is capable of holding around five feeders, which is enough for watching large flocks of birds at a time. Plus, the top part of the pool can work as a perch but for only one bird. 
The adjustable hand knob makes the installation process far easier. You can easily tighten and loosen the pool for easy installation and removal without the help of any tools. Plus, the clamp is large enough to allow you to attach it to almost any deck railing. 
Like the More Birds Deck Hook, you can also use the feeder for multipurpose. Plus, its two arms make it so easy to arrange bird feeders. But, the arms are lightweight, which might cause problems when trying to attach heavyweight feeders.
Related: 5 Best bird feeders for apartment balconies
How to hang a feeder on deck?
The easiest way to hang a bird feeder on any deck is using a hook or pool. Generally, most hook or pool comes with a clamp that can easily attach to any deck railing. You just need to attach it to your deck and start tightening. After tightening the pool, you can simply hang your feeder on the deck.
However, if you purchase a pool that needs tools to install it with your deck, you will find the instructions as well as the tool for attaching the deck pool. 
Final words
Deck feeders are the easiest way to watch the beauty of colorful birds from up close to you. But, you need to get a perfect feeder according to your area preference. I hope the above guide will help you choose the best deck feeder according to your needs and help you get a perfect deck bird feeder hook to hang it.