Hummingbirds are adorable little creatures that increase the beauty of our yard and provide us enormous pleasure. We want to invite them into our yard by placing an attractive feeder with good quality nectar recipe. 
If we select the wrong feeder, It can also attract sweet-loving bees. These insects take the feeder controls and sometimes attack our beloved hummingbirds. The best bee proof hummingbird feeder is mandatory to control their presence.
The following are my top 5 recommended best hummingbird feeders to keep bees away.
Editor's Choice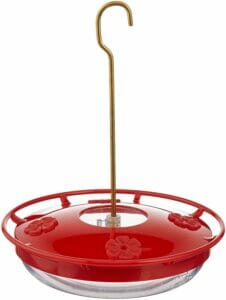 Overall best
Aspects Hummingbird Feeder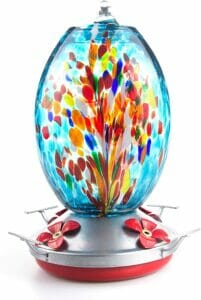 Attractive look
Muse Garden Hummingbird Feeder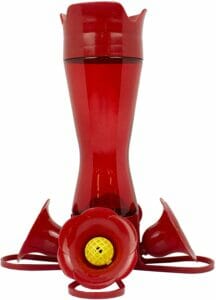 Affordable price
Perky-Pet Hummingbird Feeder
5 Best bee proof hummingbird feeder
Aspects HummZinger HighView Hummingbird Feeder
Saucer shape allows you to enjoy the 360-degree view of cute little birds and place nectar in the bottom dish. That means no leaking! Your favorite hummers can feed nectar without facing bees and wasps problems. A built-in ant moat protects nectar from ant attacks. If you're planning to hang it on trees, this feature is a savior.
It is constructed with durable plastic, which lasts for years. you can claim the lifetime guarantee by finding any signs of cracks or weak points.
The red top is easy to remove; just lift it up. That makes refilling and cleaning super easy. The transparent reservoir holds 12 ounces of nectar and comes with four feeding ports. So, You don't need to worry about frequent refilling. It will turn into a headache if fewer hummingbirds visit your area. But, You can provide less nectar and water or select an 8 ounces HighView feeder if you face this problem.
Overall, The unique design makes it our favorite pick for keeping bees away. 
Muse Garden Hummingbird Feeder
Aside from its gorgeous and attractive design, hummers prefer this feeder most to have a drink and rest at the same time because of its comfortable perch position.
Want to know the best part? Each feeder is hand-crafted and unique, which means each has a unique pattern, shape, and color ratio. Ant moat hook and unique bee resistance feature is the plus point. 
The container is glass-made and holds 25 ounces of nectar. That reduces the frequent refilling problem. The base is constructed with two separable parts and comes apart easily, and the glass bottle is large enough for easy cleaning and refilling. But here's the kicker: It doesn't easily collect dust or deposits quickly, so frequent cleaning isn't necessary.
On the other hand, It comes with a serious issue and needs to be fixed before hanging it. Flower ports are very sharp which might scratch hummers beaks. You can use a hot glue gun to end this problem.
Perky-Pet 203CPBR Pinchwaist Hummingbird Feeder
It has both red-tinted and clear reservoirs where the clear option allows you to see the nectar level, but the red one will invite more birds into your yard.
Glass pick holds up to 8 ounces of hummingbird food and is perfect If you're new in this field or have fewer birds in your area. Plus, a Smaller feeder means less waste. If you find nectar is running low rapidly, move into the larger one or add a second one.
Here's the deal: Each feeder port has a built-in ant moat with a bee guard to protect food from insects. The base of the unit is easily apartable, and a wide mouth opening makes cleaning easy. Plus, The manufacturers improve the perches quality than prior models.
However, Few previous users claim that this particular bird feeder has leaking issues.
Juegoal Hummingbird Feeder
This dish-shaped feeder base can hold up to 12 ounces of nectar and includes 5 ports that birds can sip through the ports. Also, The all-around perch allows birds to land and take rest. The placement of perch allows one to get a great view of those beautiful birds.
The unit comes with a double insect prevention feature and a built-in moat to capture unwanted insects who want to take the taste of sweet syrup. The saucer base is made from clear plastic, which reminds you to refill it when the food level is low or needs cleaning.
If you live in a windy area, this feeder won't work for you because of its lightweight design. So, The Juegoal feeder is easily blown away by a moderate wind. 
More Birds Glass Hummingbird Feeders
Moreover, It comes with glass made reservoirs, and the bottom and top pieces are plastic. If you find lots of hummingbirds in your area, then go with the Big Gulp model which is capable of holding 40 ounces of nectar.
The oversized hummingbird feeder has five flower shaped ports, and each comes with its own perch. However, The previous version comes with seven reservoirs. Also, The large glass reservoir has a wide-mouthed bottle and flat top for easy access for refilling and cleaning. 
Tips for selecting the best bee proof hummingbird feeder
If you want to keep bees out of hummingbird feeders, you need to consider a few things before purchasing a feeder. Here is a guide that helps you select a perfect one that prevents bees from accessing the nectar.
Color: First of all, Keep in mind that bees and wasps like yellow colors. They can perceive the color and this color easily draws their attention. So, Avoid placing a feeder which comes with yellow ports.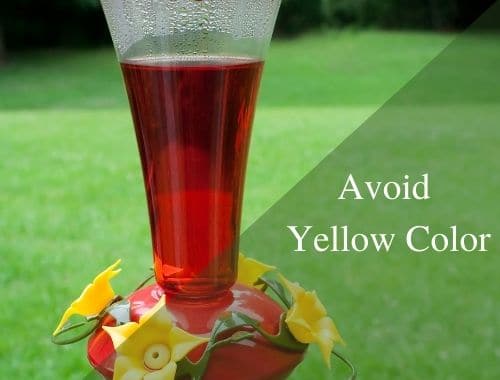 On the other hand, Wasps and bees can't detect the red color, and they identify the color red as black, so they comprehend it as a threat. The feeder that comes with red color will be a good one for bee proof feeders.
Capacity: Capacity is another factor you should consider. The capacity and size will depend on the hummingbird population in your area. If you don't know the bird population in the area, then first place a low capacity feeder as 8 ounces. After placing the feeder, if you find more bird visits than its capacity, use several feeders or replace it with a bigger one. 
Built-in ant moat: As like bees, Ants also attack the feeders. A built-in ant moat will help you keep them away and cut down your extra cost.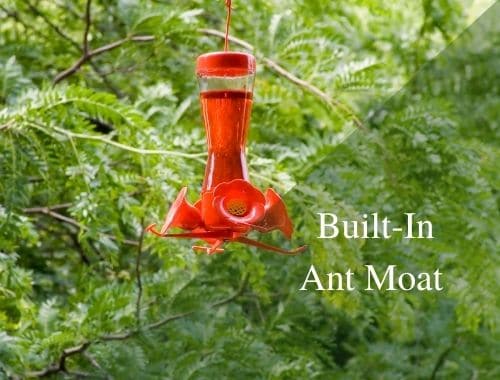 Bee guard: Select a feeder which comes with a bee guard, but if there isn't any bee guard, just ensure that hole is small enough for bees to access nectar and fit through.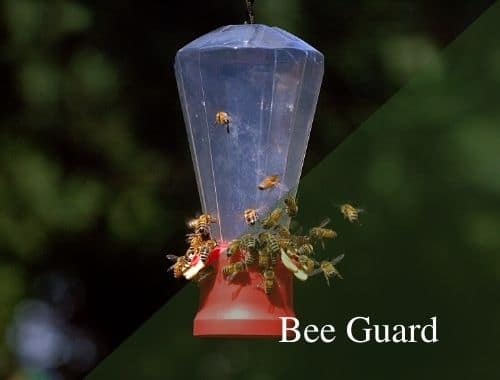 Easy to clean: When you want to invite birds into your yard or garden, you need to keep responsibility for keeping their feeding pot clean. Otherwise, Bacteria and mold can quickly build up. So, You must clean the feeder at least once every week. But, If the cleaning process is complicated, you will be demotivated to do this work. Therefore, Select an easy-to-clean feeder and avoid narrow necks bottle feeders that are hard to clean. 
How to keep bees off hummingbird feeder?
Here are a few helpful tips which help to keep bee free hummingbird feeders. 
Relocate: Hummingbirds like to visit an area frequently where they find a food source. Also, They are looking around to find new sources. But, Bees or other insects like to visit convenient food sources and are less interested in moving or relocating food sources.
So, Follow a pattern to confuse insects. You can safely play the game; just relocate the feeders by 3 or 4 feet. For this, Bees will easily lose track, but birds easily find it. However, Don't move the feeder too often, which also confused birds along with bees. 
Shady Area: Place your feeder in a shaded area which makes your feeder less attractive for bees as they prefer to take their meal in full sunlight. Also, It keeps nectar fresh for a longer time.
Keep feeder clean: When birds take their food especially liquid, from a feeder, surely these drip from their bills. These falling nectar easily grab insects' attention and attack the feeder. So, Try to clean the feeders frequently.
Leakage: This is one of the most common reasons why it's hard to deter bees from feeders.  Having minor leakage doesn't cause any problem, but when the leaks and drips are consistent. You need to pay attention to prevent leakage. 
Avoid Yellow colors: We already mentioned in the previous section why you need to avoid any kind of yellow colors in the feeder.
Bee friendly plant: Providing an attractive alternative source for bees can keep them away from your feeder. For this, you can plant some bee-friendly flowers in your garden.
Frequently Asked Question
Do hummingbird feeders attract bees?
Simply yes. Nectar is a sweet fluid that is most popular among both hummingbirds and bees. So, When you offer nectar in hummingbird feeders, it easily grabs the attention of bees and wasps. Also, The bees prefer yellow colors. If a feeder comes with yellow color, then it grabs their attention more than others.
Can a wasp kill a hummingbird?
The heartbroken answer is yes. You will find several cases of wasps killing hummers at the feeder when you ask a hummingbird enthusiast. Wasps are very aggressive insects, especially when they are feeding.  Also, When they feel any threat, they just start attacking. As Hummingbirds are so small, a single wasp sting can easily injure them as well as kill them.
Will ants in hummingbird feeders hurt the birds?
Ants are very fond of nectar, and they can contaminate hummers' food which sometimes changes the taste of food and discourages hummingbirds from using the feeder. But, there isn't much evidence showing that ants killed hummingbirds.
Do hummingbirds eat bees?
Though both hummingbirds and bees compete for the nectar, there isn't any evidence that claims that hummers eat bees. Generally, Hummingbird's beak size is 15-18 mm, which is quite impossible to eat a 15 mm bee.
Final Words
Attracting hummingbirds in our yard is easy if we follow the proper way. There are many things needed to consider before purchasing the best bee proof hummingbird feeder. Today's guide helps you to select one according to your preference. 
The Aspects HummZinger HighView Hummingbird Feeder is our top recommendation because of its unique and leakage-proof design, which keeps bees away.