Birds are a very interesting subject to observe. Inviting them to our ground helps to grab this opportunity. If you want to count the number of different species over time, peanuts might be your best bet! Also, One of the easiest and cleanest ways to feed birds is by using a peanut feeder. It has some other benefits, such as being natural food for our beloved wild birds.
So, the best bird feeders for peanuts will help you to attract them more easily. In the following article, We will talk about 6 best peanut bird feeders, which will be a lovely addition to your garden.
Editor's Choice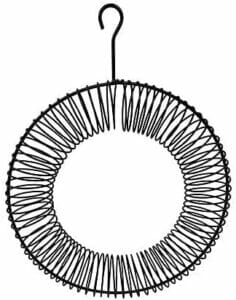 Overall best
Gray Bunny Peanut Feeder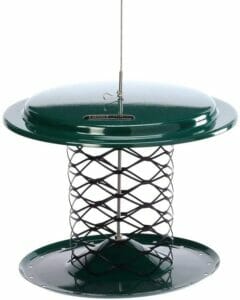 For whole peanut
Birds Choice XWPF Feeder

For shelled peanut
Gray Bunny bird feeder
Top 6 best bird feeder for peanuts Review
Gray Bunny wreath peanut feeder 
This Gray Bunny feeder is popular among wild birds as well as squirrels. It is made of steel wire which makes it durable and chew-proof that provides a solid foothold for wild birds. 
For its unique wreath-shaped, nut-loving birds and squirrels can take their feed without a struggle. And, This unique shape allows this feeder to hold more peanuts. Aside from that, It features a hanging hook that helps you hang it easily with the whole peanut.
However, its small spacing between the spiral wire makes it harder for birds to get peanuts out from the feeder as well as hard to refill. 
Overall, If you are looking for a sturdy, durable, and reliable feeder to attract beautiful nut-loving birds to your yard, then this feeder by Gray bunny is one of your favorite picks ( if you like to feed squirrels along with birds). Also, It helps to distract squirrels from your other feeder if they find their favorite food.
Birds Choice XWPF whole peanut bird feeder
The Bird Choice XWPF Whole Peanut Feeder is specially made for attracting small peanut-loving birds like blue jays. The clearance from the roof to the bottom platform is small enough which prevent larger birds from perching and feeding. 
The good part of this feeder is everything is made of powder-coated metal. So, The feeder won't rust for years. The roof protects the peanuts from rain and a platform that can be used as a perch and a dispenser.
You can offer wild birds 2 quarts of the whole peanut, which is enough to feed birds for a week depending on the activity of the feeder. The mesh housing is large for peanuts which makes it easy for birds to take their food.
However, Squirrels can get access to the feeder, If you won't mount it with a baffle. Also, When lots of birds perch on the feeder, it easily falls off. So, to reduce this falling problem, you need to twist the hook to lock the feeder into place.
Gray Bunny shelled peanut bird feeder
The Gray Bunny bird feeder is made from premium steel. It can hold up to 2 cups of bird feed, and the seed compartment comes with chew-proof mesh wire. So, Multiple birds can enjoy their meal simultaneously.
The clinging birds and small birds like chickadee and tufted enjoy taking their food from here for its small mesh holes. Also, For its small screen hole size, it's perfect for holding shelled peanuts and sunflower seed.
This feeder is pre-assembled, so once the purchase is made, just hang it. The refilling and cleaning are so easy. You will like the way how you can elevate the roof cap to refill the feeder or get access to the seed compartment. The base and lid can be taken off easily. So, You can wash out the entire unit without any trouble.
However, Larger birds will find problems taking food from the small mesh hole. 
Overall, The price of this feeder made this more worthy for your backyard. In addition, It is easy to hang, weatherproof and durable. The squirrel won't destroy this feeder due to its chew-proof materials. But, The determined squirrel can easily reform the wire.
Brome squirrel proof peanut bird feeder
Quick Summary:
Weight activation mechanism to keep squirrels away
Place it at least 18 inches away from anything to make it fully squirrel proof
Can hold up to 1.3 pounds of shelled peanuts
Metal made and chew-proof
2 years warranty
If you find that squirrels have destroyed every peanut feeder you serve for the wild birds, then the Squirrel buster peanut feeder is the best one for your backyard or garden.
The design of this feeder is so clever. It comes with an adjustable weight feature that helps to control the presence of unwanted creatures. When squirrels or larger birds wanted to get access to peanuts, the feeder detected the weight and automatically forced the shroud down and closed the port. So, They lose food access and leave your beloved wild bird feeder.
The good part is you can adjust the sensitivity of the feeder. A free information guide also provides to see the variety of bird weights and select which species you want to feed. Also, It is made with chew-proof material.
The feeder can hold up to 1.3 pounds of peanuts and is a bit smaller than the squirrel buster plus because They can easily waste if they are kept outside for a long time. So, It is built to keep the feed fresh for a longer time. Also, replenishment and cleaning are easy. 
Cedar Alpha Cat Grandpa Wild Bird Feeder
If you want to decorate your backyard with an attractive feeder along with inviting peanut lover birds, then this cat-shaped bird feeder is an ideal one.
Grandpa cat bird feeder is constructed with metal and powder coated gold color. The metal made can help to outstand the feeder in any weather condition. Also, It comes with drainage holes that ensure the peanut and seeds will stay dry.
The sure-lock cap helps to keep squirrels out and makes refilling super easy. Just open the lid and refill it. Also, This feeder is ready to use; after purchase, just hang it using its hanging wire cable.
This unique animal-shaped feeder can hold up to 2 pounds of peanuts or seed mix. 
Glori-Be's peanut butter bird feeder
Why should you use a peanut butter bird feeder? Birds love peanut butter as it is a quick energy source and a better substitute for suet on hot summer days. So, A good peanut butter feeder is important to serve the wild bird's butter.
Our selected peanut feeder is homemade which ensures top-notch craftsmanship and thanks to the Amish for their good job. This feeder is made with weatherproof poly lumber wood. So, It won't fade up easily. The wider roof protects the jar from rain and extreme weather.
It can hold up to 18 oz butter jars. However, The feeder is not big enough. So, The standard jar won't fit with it. You need to transfer the butter to a small jar. Due to their small size, squirrels have a hard time accessing food.
Also, You can choose the color variant according to your preference. For this, just mail the manufacturer, and they will do the rest.
How to make a peanut feeder for birds?
If you do not want to get a peanut feeder instead want to make a DIY peanut feeder, then here is an in-depth guide for you:
Equipment you should need:
Flatwood
Hardware cloth
Threaded Rod
Nuts and washers
Locknuts
Wood Screws
Staples
Wire 
A turnbuckle
Step by step process:
Step 1: First, you need to cut out the wood to find out the top and bottom of the feeder. You need to cut tota four pieces where two will be small and two will be large. You should cut the wood in circular ways. For this, you can use a band saw or jigsaw.
Step 2: You should drill the ⅛ inch hole in both small wooden pieces. Now, you need to attach the hardware cloth around the base part and sew it using the wire. Then, you need to attach the large base part with the smaller one using the wood screws. Repeat the same process for the top circles.
Step 3: Then, attach both top and bottom parts using the turnbuckle. Now, your feeder is ready to attract peanut lovers birds.
Gets Visual Instruction:
Frequently Asked Question
What garden birds eat peanuts?
Though the smallest birds like hummingbirds don't like to eat peanuts, a wide variety of species will want to eat this food. The most common birds which are like to take this food a try are:
Woodpeckers, Blue Jays, Chickadees, Titmice, Sparrows, Cardinals, Magpies, Juncos, Doves, Wrens, Towhees, Titmice, Tits, Crows, Grackles, Pyrrhuloxia, Towhees, house finches, and many more.
Is it safe to eat peanuts for birds?
Peanuts contain high fat, calories, and energy sources for birds which is highly important, especially during the colder temperature. So, You don't need to hesitate to place peanuts in your backyard. No doubt that surely you are offering wild birds a very nutritional treat. 
Do cardinals eat peanuts?
Cardinals are fond of eating a wide variety of foods. Among them, Peanuts are also a favorite food on their menu.
How long can you keep peanuts for birds?
Peanuts can easily go moldy when you keep them for a longer period in damp conditions. So, keep a close eye on them, and when you find any signs of mold, then replace them as soon as possible. Otherwise, keeping peanuts for a longer period can cause infections among birds. So, Try to offer small quantities of peanuts or serve as much as they need according to their presence in your backyard.
Are raw peanuts safe for birds?
Peanuts are nutritious food for birds. No salt, no sugar, and roasted peanuts are the excellent and healthiest meals for birds. But, Peanut hearts and raw peanuts should be ignored.
can birds eat peanut butter?
There is a myth that "Birds will choke on peanut butter." But, there aren't any such evident or verified records showing that peanut butter stuck in bird's throat or bills. So, The myth is false.
On the other hand,  Peanut butter provides fat, high calories, and nutritious treats that will be a great energy source for birds, especially in colder weather. Also, Birds like chickadees, jays, and woodpeckers enjoy butter.
Final Words
If you want to attract lots of species to your backyard, then providing rich food is necessary. Peanuts are such kinds of food that are popular among different bird species. So, Adding peanuts to the backyard buffet surely attracts lots of happy and hungry wild birds. So, Bring the best bird feeder for peanuts to attract those nut-loving birds.