If you want to easily make DIY bird toys for your favorite pet birds, then the popsicle sticks are ideal for this. The popsicle sticks are easy to get and also easy to provide an ideal look as bird toys. 
The article will help you learn how you can make bird toys with popsicle sticks without any hard words. Also, your favorite conure or parrot will love to play with the toy.
What Is Popsicle Stick Made Of?
Popsicle sticks are mostly known as craft sticks. Due to their easy availability and usability, they are the first choice for making DIY crafts. Generally, popsicle sticks are made of birchwood, which is ideal for making bird toys.
Also, you can get plastic or another type of wood material used for popsicle sticks, but those are mostly used for ice-cream holders, and also you can use those for bird toys. 
However, birchwood is mostly used for all those purposes and gets top priority due to its smoothness, durability, biodegradability, and food safety.
Where To Get Popsicle Sticks?
As popsicle sticks are used as an ice cream holder, you can get it after finishing every ice cream which comes with sticks. But doesn't it take long to collect popsicle sticks for bird toys? Yes, for this, many manufacturers produce popsicle sticks to aim at people who love to make craftwork using popsicle sticks.
So, if you visit your nearby local store, you can get around 100 to 200 popsicle sticks for around $5. However, in my opinion, the Perfect Stix Mini Craft Popsicle Sticks will be the best option for making bird toys, and also they are made with natural birchwood. If you want colorful popsicle sticks, you can use the Zeenom Colored Wood Craft Sticks.
How To Make Bird Toys With Popsicle Sticks?
Here are a few easy ways to make bird toys using popsicle sticks:
Ladder Making
Step 1: First, you need to take 16 popsicle sticks. And, take a total of 12 popsicle sticks separately and make a decent gap like a ladder.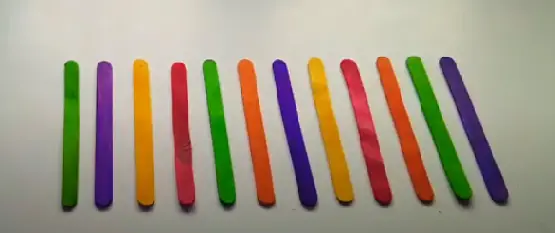 Step 2: Now, take four sticks and place them on the above and below length sides. Use glue on them and attach them with the sticks. You can attach a total of 6 popsicles using two sticks. So, you need to do this task again to attach the remaining popsicle.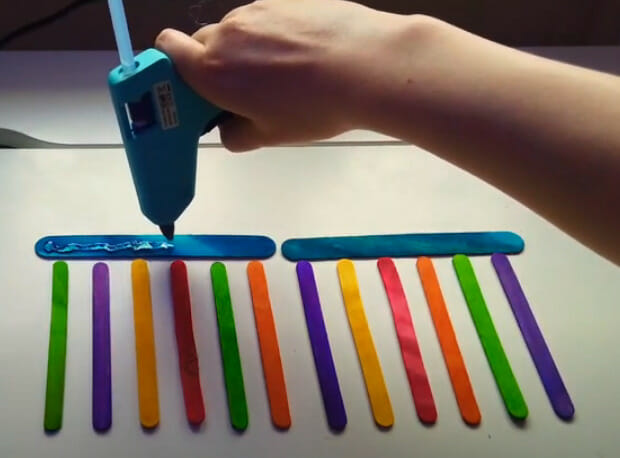 Step 3: Now, you will find two leaders and need to connect them to make the final leader. You need to cut a popsicle stick into two small sizes and attach them using glue. Now, your pet bird leader is ready for use.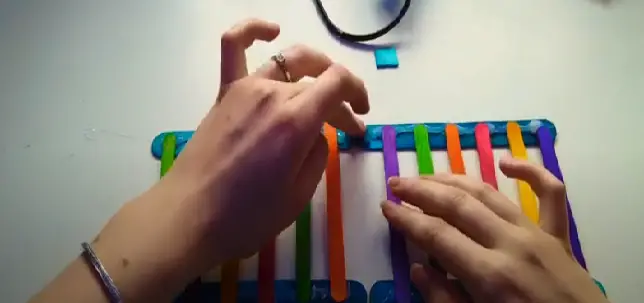 Bridge Making
Step 1: You need some popsicle sticks, and you need to place them on the table without producing any gap between them. You need to take some rope and place them on both sides.

Step 2: Now, you need to take 3 or 4 popsicle sticks and cut them into small pieces. The amount should double your previous taking sticks. If you take 14 popsicle sticks, you need to make 28 small pieces. 
Step 3: Now, place them with the sticks, and the placement should be above the ropes. After attaching them, the bridge is ready for using a birdcage.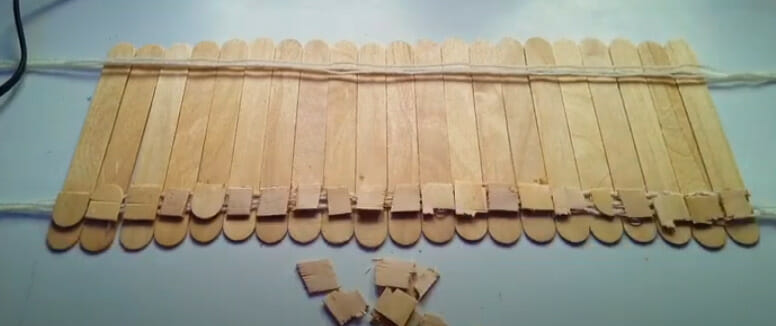 Hanging Toy 
Equipment needs along with Popsicle sticks:
Wood beads: 15 mm
Natural cord but not too thin
Hooks to hang
Step 1: First, you need to take some popsicle sticks and make a hole on both sticks' edges.
Step 2: Now, you need to take three cords and cut them according to the size of the birdcage. 
Step 3: You need to insert the cord between the holes. For easy insertion, you can use tape on the cord edge. First, you need to insert around 5 to 6 wood beads into each cord. Then, two wood beads on each cord and insert three popsicles into the structure. Also, make them a triangle shape.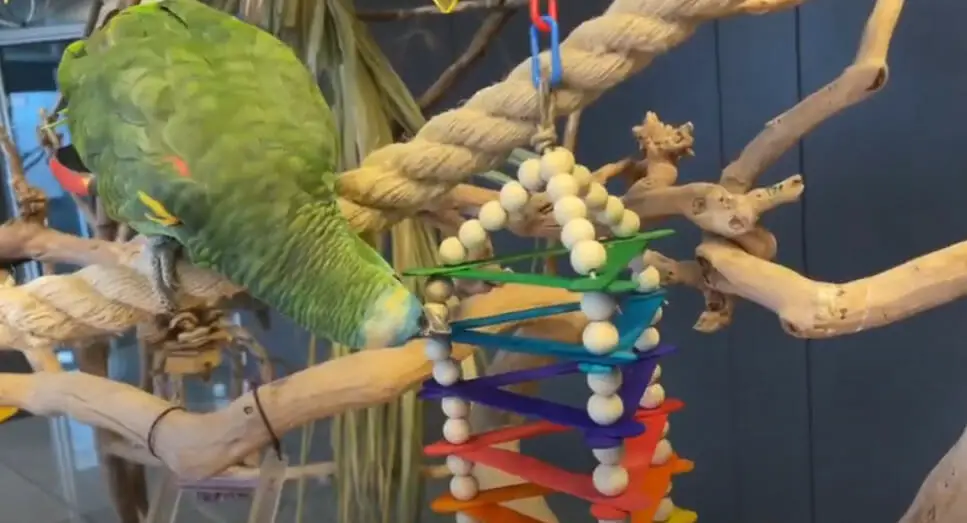 Step 4: Now, follow step 3 again and again until you find your desired size, and then tightly bind the cord to ensure that beds and popsicles are not apart from the structure. Yes, now the hanging toy is ready for your pet birds.
Visual instruction of the above hanging toy-making and some more DIY toys making ideas:
Can Birds Chew On Popsicle Sticks?
Chewing is important for your pet birds as it is their instinct, and mostly chewing keeps birds happier. It is necessary to provide your bird's toys that are easy to chew for them and keep them in a good mode.
For this purpose, popsicle sticks are a great option for birds as a toy. Along with providing good toys, popsicle sticks can work as an exercise machine for their jaw muscles and beak for easy chewing facilities.
Are Colored Popsicle Sticks Safe For Birds?
Whether colored popsicle sticks are safe for birds or not all depends on which types of material and color are used to make the popsicle sticks. If manufacturers use natural wood, non-toxic, and food color to make popsicle sticks, it is safe to make bird toys.
Final Words
If you are concerned about bird entertainment, you should offer them bird toys. But there are several options available in the market for bird toys, but all are not good for birds due to their material or other causes. 
Many bird owners want to make DIY bird toys, but due to the hard procedure, many ones did not make a perfect entertainment piece for their pet birds. 
But, as you read out the whole article, you know that making bird toys is not hard work. If you have popsicle sticks, then you can easily make bird toys that keep your pet bird happy in their cages.