Do you want to invite bluebirds to your yard? If your answer is yes, nothing better than offering their favorite food. They are fond of natural food sources; among them, mealworms are on the top list, and they eat those year-round.
You need to offer a special feeder full of delicious mealworms to enjoy their presence in your backyard. There isn't any easy exception to easily attract them in your yard without the best bluebird mealworm feeder. 
You will get lots of mealworm feeders in the market, but among them, few are best for offering mealworms. In the following guide, we will review the 6 best mealworm feeders for birds which are specially designed to serve mealworms and provide you with a better experience when watching those feathered creatures.
Editor's Choice
6 Best bluebird mealworm feeder Reviews
DutchCrafters Poly Hanging Bluebird Mealworm Bird Feeder
The feeder is well built and sturdy enough for the poly lumber construction, and stainless steel hardware ensures that it won't rust over time. That means long time service guarantee.
Both sides of the feeder have entry holes for birds that are small enough to prevent other birds except our favorite bluebirds. Also, Both side has perches which allow them to inquiry the food and provide them with a comfortable seat.
In addition, The removable plexiglass sides provide a better view and keep large birds or squirrels away from the feeder. Those removable glasses allow us to clean the feeder more easily. Also, The mealworm cup is attached to the feeder, which means less mess and better stability. However, The holes haven't any chew-proof guards, and squirrels might chew the holes.
Quick Overview
Several color choice
Better built
Less mess for the fixed cup
Rust-proof design
Keep large birds and squirrels away
Kettle Moraine Cedar Hanging Bluebird Mealworm Feeder
So, If you want to keep them away, Kettle Moraine is a savior. It comes with plexiglass on both sides of the feeder, which stops them from getting access to mealworms and provides you with a better view of beautiful bluebirds.
Its wooden made makes it durable and sturdy. The natural looks provide a beautiful and rustic vibe onto a pole. Also, The feeder assembles with stainless steel screw, which made the feeder rust-proof, and the hanging cable provides good support to hang it on a pole or tree branch. 
The extended roof protects mealworms from extreme conditions and won't easily rotten for cedar-made.
The glass windows help reduce the spillage, but sometimes birds fall into a trap and don't find a way to get out from the feeder after entering. So, At the initial time, Removing the acrylic side helps to reduce this problem.
Quick Overview
Attractive and well-made design
Easy to filling
It Keeps large birds away
substantially reducing the spoiling
Better view
Wildlife Sciences mealworms Bird Feeder
Also, The attractive silver finish top and powder-coated black mesh bowl provide a beautiful look to your yard. The mesh design keeps the mealworms dry and fresh, but the holes are small enough, which means dried, or live mealworms fit perfectly in this feeder.
The rust-proof and well-made construction allow the feeder to withstand harsh weather condition and last long.
Another good part of this feeder is: Its easy to clean and fill structure makes cleaning and filling super easy. A dedicated hanger helps you to hook the feeder anywhere.
However, As like other bowls or platform feeders, it also creates a mess for wide opening.
Quick overview
Quality built
Easy to fill and clean
Adjustable top works great
Attractive look
Rust and weather proof
Birds Choice BBFF Bluebird Flower Feeder
The feeder is made with thick polycarbonate plastic, and a dedicated wire comes with it for easy hanging. The platform design makes it easy to clean and fill. Also, It allows birds to sit on while feeding, which provides you with a better view to watch those beautiful mealworm-loving birds.
However, Birds Choice BBFF hasn't any drainage holes. So, If it rains, you need to refill the feeder again and dump all previous food. It's recommended that you make 3 or 4 tiny holes to protect mealworms from drowning.
The feeder is an ideal option for small yards where a relatively small population of mealworm lover birds visit due to its small capacity.
Quick Overview
Gorgeous flower design
Good quality plastic made
Best mealworm feeder for small yard
Lightweight but won't blown  by the wind
Stokes Select 38200 Bird Feeder
The pretty blue color of the feeder grabs their attention easily in your yard. You can move the tray from the feeder easily, and a large opening allows for cleaning it without any problem.
Birds can take their meal comfortably due to the dedicated perches. Also, A hanging hook includes with the package. So, You can hang it anywhere you want. Both perches and hooks are formed by powder-coated metal which means they last for a long time.
However, Squirrels will easily take access to the delicious mealworm for the large opening. If you find this problem, remove the feeder from its current location and move it into a shepherd's pole that has a squirrel baffle.
Quick summary
sturdy built and works great
Better air circulation and water drainage system
It's easy to clean
pretty blue color
Perky-Pet 388F Dried Mealworm Bird Feeder
The main attraction of this feeder is the flex ports which provide birds with more feeding angles compared to standard ports. Also, The gaps between the ports are the perfect size for dried mealworms that reduce messes and scatter below the feeder.
It has two flex ports which allow more birds to feed at once. Also, The flexible rubber port cover keeps mealworms dry and fresh and ensures weather protection. 
The tube feeder holds up to 3.5 Ounces of dried mealworms that means keep yourself ready for frequent refilling. The good part is, The removable lid does this job far easy as well as cleaning.  
However, The feeder is lightweight, so heavy wind might knock the feeder around.
Quick Overview
Enclosed design
inexpensive price tag
Two unique flexports
Removable lid allows easy cleaning and filling
Holds up to 3.5 ounces of mealworms
Weather-proof design
How to attract bluebirds to a feeder? 
If you're from North America, the chance of attracting them to your area is far easy than any other place. Here, I am providing you with some proven tips to which help you to attract them to your yard or garden.
Food
Offer food which they like most. It's the easiest way to invite them into your yard. But, If you think that typical bird food like sunflower, Nyjer, peanuts attract them, then you're wrong. 
In the wild, Bluebirds are insects, hunters, in warmer temperatures, but they switch their taste into fruit-like berries in the winter.
So, Offer mealworms in their feeding station that makes them irresistible to visit. 
Water
Add a water source in your area and watch the magic. All types of birds like a water source near their food source. So, Bluebirds aren't exceptional. A simple birdbath is enough to increase their presence in your yard. 
Bluebird friendly plants
In the winter season, Bluebirds like to eat berries and other fruit. Planting such fruit-producing shrubs and trees in your backyard attracts them more easily. 
Few bluebirds friendly plants are:
Red ceder 
Dogwood
Hackberry
Hawthorn
honeysuckle
Virginia creeper
Sumac
Blueberry
Wild grape
Pokeberries
Bayberry
You can make your backyard an incredibly attractive habitat for bluebirds by planting these trees and suburbs at different spots.
Eliminate Predators
Each year millions of songbirds died due to cats attack. So, You need to consider this factor and provide a safer place for birds. Some other predators like house sparrows, raccoons, and snakes also create a stressful situation for them. This might reduce their presence in your area. So, try to keep off predators from your yard, and if you're a cat owner, always keep them away from the birds' nesting site.
Pre-recorded song
Another easy way to attract bluebirds in your yard is by playing a recorded song. It will grab their attention to your yard from the neighborhood.
Quick note: Do not follow this trick frequently, especially during the nesting season. Otherwise, It affects their survival because when female bluebirds watch any predators, they make chirp sounds to alert others.
You can follow the above tips to attract bluebirds in your yard, along with offering bluebird-specific feeders.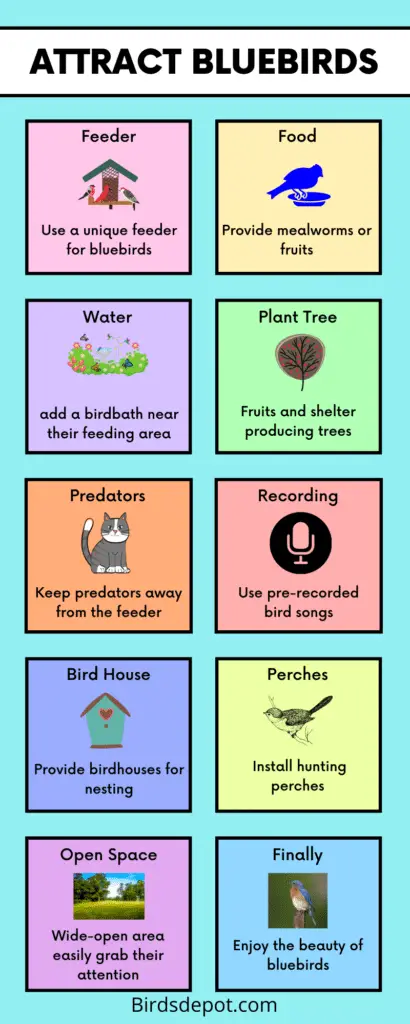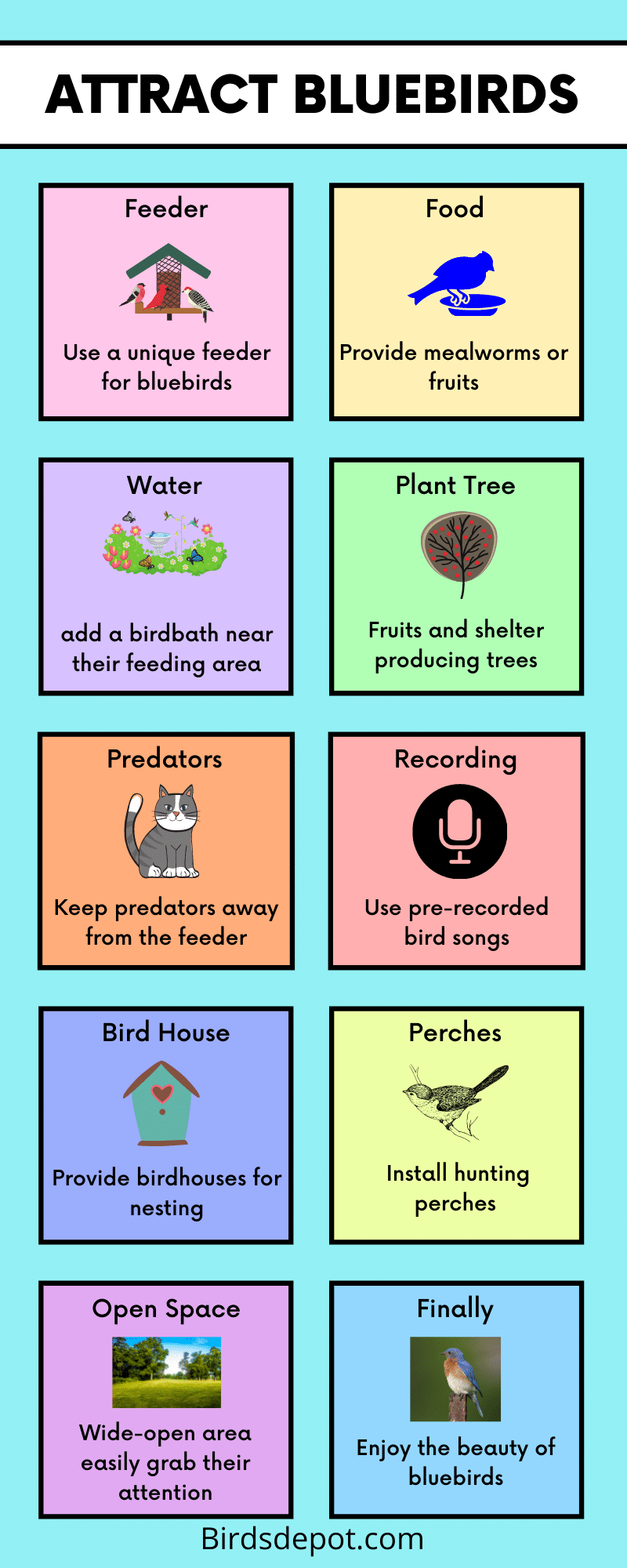 Share this Image On Your Site
How to choose a bluebird feeder?
Before purchasing a bluebird mealworm feeder, you need to consider a few factors to get an optimum result and keep them for a longer time in your yard. Here are a few quick considerations you need to provide before getting one:
Durability to outstand any harsh situation.
Size and capacity according to birds presence in your yard.
Easy refill and clean facility.
Weather protection to keep mealworms dry and fresh.
You can select a blue color to attract bluebirds because they like this color most and grab their attention far easily.
Select a feeder which have squirrel proof features.
How to make a bluebird feeder?
If you like to decorate and invite bluebirds in your yard with your own DIY project by making a bluebird feeder, then watch out for the video to learn how to do it.
How to grow mealworms for bluebirds?
Mealworms are bluebirds most favorite food, but in the market, those insects are also expensive. So, If you can grow and farm mealworms, then it efficiently reduces your extra expenses.
You don't need any special tool to farm mealworms. A single bucket or box with a top cover and a little bit of patience is enough to make a simple and small farm. 
Look out to the following video to get step by step process of how you can farm mealworms into a small box.
Frequently asked question
What do bluebirds eat?
Bluebirds' food menu changes according to season. In summer, when plenty of insectivorous is available in nature, Bluebirds are love to eat those delicious insects.  But, They change their food menu in the winter season and shift their food habit into fruits as insect populations decrease at that time.
2. Where is the best place to put a bluebird feeder?
If you have an existing nest in your area, keep the feeder close to it. Initially, place the feeder around 20 to 30 feet close to the nestbox. After bluebirds are familiar with it, you can move the feeder to your desired place.
3. Will bluebirds eat dried mealworms?
Yes, Bluebirds eat dried mealworms. 
4. How to feed dried mealworms to bluebirds?
Bluebirds prefer living and juicy meal worms most. So, You can mix dried and living mealworms to initially grab their attention more easily in your backyard feeder. In addition, It will train them to feed dried mealworms as well.
Final Words
Bluebirds always provide mealworms an exceptional priority over other food. Offering mealworms is an easy way to get them in your yard and enjoy their beauty. But you need to provide the best bluebird mealworm feeder, which is easy to access for them. 
I hope you already found the best mealworm feeder according to your preference from the above list and some valuable advice to attract them to your yard. 
Happy Bird Watching!